Ginger Software Review
By: Ginger software
Detailed Reviews
We write tons of reading stuff every day in our lives. It can be online or offline. While reading or writing anything, we often come across many mistakes in these writing like spelling mistakes, grammar mistakes, plagiarism issues, etc.
These issues can be rectified if you have a good hold of the language and so you yourself can resolve them. But the thing is that these mistakes often take a long time to fix, and many times writers don't find mistakes like repeating some spelling habits.
To resolve it, we can either rely on multiple peoples to proofread it or use an online grammar checking tool. You might have noticed several times while typing in your phone or desktop that an autocorrect function corrects inevitable mistakes automatically.
Similarly, we can use a grammar correction tool to auto-correct these mistakes.
Pros
Can be easily used by a novice.
Decent tool to correct grammar.
Translation feature comes in hand to learn other languages.
Text to speech reader for listening practice.
Personal trainer mode to help track your mistakes.
Available on multiple devices like desktops, mobiles, and a web browser extension.
Decent pricing for all round subscription.
Can be used for multiple users in the business plan.
Comes with MS Word add-on.
Has features to support people with Dyslexia.
Cons
Average accuracy compared to equivalent products in market.
Rephrase feature does not work properly.
The UFO bubble over the top in MS Word has very limiting features and restrictive UI.
Very fewer suggestions for punctuations and spacing.
The UI for correcting mistakes needs to be updated with better perks.
Buggy interface on desktop.
The Ginger Page app is also average and looks only a repackage of keyboard version.
Mediocre setup on a mobile.
Needs Internet connection to check for errors.
Average customer support and lacks multiple platforms for complaints.
Overview
What is then so different about this software other than manual corrections? Well, first you save lots of time from proofreading; secondly, it uses preset spelling and grammar rules from literature itself. You may not know every spelling and grammar rule, and so we need such software more than ever.
Ginger is such a tool to help you solve all writing errors. Founded by an Israeli company Ginger software in 2007, it has achieved an amazing market since then in the field of finding writing errors.
Using a patented NLP technology, it is mostly used as a desktop interface to monitor from the taskbar tray. This interface auto adjusts on apps like MS Office.
Ginger is amongst the top product in the market, and so we would test its feature thoroughly. Only then, we could decide if the product has really its worth.
Let's Hit the Streets
First of all, users need to sign up for an account with Ginger services. They do offer a free as well as a paid version. There is no trial version, although they should have allowed a trial version.
Nevertheless, we used the normal monthly plan to conduct our review and testing. The free plan had lots of restrictions, which would have stopped us from getting a solid review of the product.
The Ginger Grammar Check is available on various platforms. Unlike other software like Grammarly and ProWritingAid, they have given a floating widget that hangs itself on the screen.
This UFO is attached to the top end of desktop screen and is movable only on that plane. Whenever you open any window, it'll be present there, and you can simply click, and press run button to start evaluating your writing.
This interface saves the trouble of installing separate plugins for desktop, web, or any other writing software. Supported by many platforms like iOS, MacOS, Android, etc., they have given a short and lightweight utility for everyone.
The top UFO has a number of options to engage with error findings and other such techniques. The main options given in that floating tools are Speak Command, Rephrase, Write, Personal Trainer, And General Settings.
We will investigate these features as we go through the review. On web interface, chrome and safari both have this extension, but there is a big disappointment from Ginger here. It is sadly not available for Firefox and other non-chromium browsers. Given the popularity of these browsers, Ginger Software should add support for them too.
It is now time for us to jump the train and move on to assess the features that it offers.
Features
When we start checking for features in a grammar checking tool, remember that nowadays they are not limited to check spellings and grammar only, they do some extra activities like word suggestions, language improvement, and such work.
Grammar Checking Tool
The main purpose of this software is to check for any grammatically wrong sentences. This is the main goal with which they were created, and it is a must to check them for a proper review.
For checking the grammar, we had many sample texts with several types of grammar mistakes in it. The sample text had issues with tenses, spellings, articles, and some random errors which we expected Ginger to find.
To our surprise, Ginger Software was able to find many of these mistakes easily. However, some of the sentence-break suggestions were missing. This can be rectified if the developers input better AI for assessing sentence completion and punctuations.
We did not see much suggestion for commas and full stops, even though at some places it was advisable. Ginger has given a brief architecture on how and which mistakes they point out while doing the grammar check.
As per their website, Ginger focuses on following grammar checks viz. subject-verb agreements, singular/plural nouns, consecutive nouns, spelling corrections, phonetic spelling corrections, irregular verbs, etc.
The suggestions put forward by Ginger were good, but still not as good as provided by Grammarly. Also, Grammarly had a knack to point out punctuation errors more frequently than in Ginger.
This is one issue with current version which we expect will be patched soon. Even default check in MS office did a better job than this paid service to suggest commas, periods, etc. at proper place.
Another thing we found a bit annoying was lack of proper spacing suggestions. This is supposed to be one of the basic things you carry in a grammar check. We intentionally removed spacing from many simple sentences, and Ginger did not suggest corrections for all of them.
Grammarly did an excellent job of finding these spacing issues. Moreover, they had a good dictionary for suggestive editing, but some parts like sentence redundancy, lengthy quotes, etc. were not suggested.
Applications like Grammarly and ProWritingAid have categorized their grammar mistakes separately, which was not visible in Ginger. This categorization makes it easy for writers to learn their mistakes and keep a note of it, eventually reducing same errors.
The grammar check missed to properly show specific errors like dictions, echoes, clichés, etc. We found both Grammarly and ProWritingAid better in these suggestions too. Not only that, many suggestions very awkward and even unpaid programs like OpenOffice had better suggestions in their auto-correct feature.
This is one big flaw with Ginger, and they need to rectify it to keep up in the market. They need to add all these separate categories as in grammar structures, phrasing, spellings, punctuations, etc., like in other grammar checking software.
Rephrase Tool
As we can easily guess from the name itself, this feature is supposed to suggest better options for current sentences. To use this tool, simply add text to desktop app and click rephrase button.
We have once again used our sample text to find if Ginger Software comes up with good suggestions. Judging based on the popped suggestions; we would say that they did a decent job here.
The sentence suggestion performed averagely. We were expecting more from it, but it only gave us limited and basic suggestions. They should have given a way to choose the level of vocabulary while adding suggestions.
Some users might want simpler words, while others may be writing literature and may need heavy words. Such a system could adjust automatically and give advice on replacing words, changing sentences, etc.
Now we will use the rephrasing feature in Ginger Software to test its capabilities. What we found was that the rephrasing did not work as expected. In our testing, we used sentences from complex, simple sentences to some random quotes from the Internet.
To our surprise, the rephrase function didn't show any rephrase alternative. This shows that there are some faults in this system. This was frequent only in the native windows app.
The algorithm itself may be tweaked to correct grammatically incorrect content only, but under normal usage of rephrase button, there were no suggestions.
It makes this feature a liability and will hit their reputation with such a half-baked feature. Even online tools like QuillBot performed way better than Ginger in rephrasing the words. At least QuillBot returned us min 3 or 4 results than zero from Ginger.
This is a big disappointment from Ginger. We did meet some suggestion here and there out of the blue, while we scanned this review using rephrase tool.
We would suggest Ginger to work hard and improve this feature to encompass both paraphrasing and rephrasing along with good accuracy and features. The native windows app needs to update this feature in it.
Personal Trainer
Every day we see people going to gyms, races, sports, etc. and we often see personal trainers going with many of them. What if we can have a personal trainer for improving our grammar? Won't that be such an amazing thing?
Indeed! Ginger Software has come with a solution for that too. They have equipped a personal trainer along with the premium plans. So, what does this personal trainer exactly fixes?
Whenever you are writing anything and using Ginger service to correct your mistakes, Ginger comes up with some solutions. Once you apply that, Ginger takes note of your mistakes.
They have an AI system to make it learn your regular and most frequent mistakes. After this, Ginger's Personal Trainer will list out all these mistakes you make frequently. It will show you some topics that your mistakes often come from, like constant spelling mistakes in word "pneumonia," incorrect article usage, overuses, etc.
The short lessons are quite simple. You can so choose to check significance of these errors ridden areas by lessons given in Ginger learner. As you will see, Ginger allows the users to practice against mistakes.
This is done by giving a sample sentence to check. There are two sentences, with one being correct and another wrong. The users need to choose a correct one, and as the test goes, you will learn more about these mistakes.
Personal trainer in Ginger suggests training for definitive articles, prepositions, capitalization, indefinite articles, split/merge, common/proper nouns, pronouns, tenses, etc.
As we can clearly deduce from the list above, all these items are under the radar, to be checked while proofreading for grammar. There is a practice test given for all these sections and for free users, and they can try five tests only, while premium users can enjoy unlimited tests.
The personal trainer will show a statistics dashboard above top and sideways. They display data for a number of mistakes you have done, and a number of practice questions attempted.
All in all, this feature performed quite ok. There was nothing too extraordinary with it.
Even writing practice apps like typing tutors performed a better analysis of written mistakes, especially most repeated spelling mistakes. Till now, we felt that many of the above features needed a good brush up if they want to continue making this service better.
Text to Speech Reader
If you are appearing for exams like IELTS, TOEFL, etc., or even so if you are trying to learn to pronounce certain words in English properly, you will need to listen to them first.
As we all know, only by listening to our parents, we learn languages and their accent. Similarly, to perfect our English, we will need to learn speaking as well as writing the language.
To help users with listening practice, Ginger is equipped with a text to speech orator. This orator can be accessed from clicking the sound icon over any of its interface.
Once you click on the icon, it will start reading the written texts for you. However, we found that although orator was good, it was missing some more features.
First of all, the orator had only one voice. This should not have been an issue honestly. Almost every other text reader, even the free ones come with more than one voice, be it male or female. This gives readers a diversity in speech, and they can choose from multiple voices whichever may suit them.
Another thing was lack of multiple accents. This too was a big problem according to us. If you are looking to offer world-class services to your customers, a variety in your product, its features, and its origin is likely to affect it.
Currently, as per our testing, the accent is only a US accent. There is a choice to change the English dialect from US to the UK, but that does not affect spoken English.
In our view, they should add more accents and dialects other than these two. A text to speech converter with a different accent can not only help users to learn different accents but also for native speakers to catch words faster in their accent.
We can only hope that they produce new dialects and accents added in program next update. Also, we would like to have some more control over speech like slowing/pacing it, and much better UI and control features.
Translate Function
Another useful item given by Ginger is translate function. It is quite remarkable even as a grammar correction tool, they have given a translate option.
This tool may be useful in side by side learning about some other language, but this is merely a tool to quickly translate written text in other languages. The sound feature given is mostly unable to use correct voice translation and doesn't give a traditional accent of that language.
Once again, this is what we call a half-baked function. Honestly, if they are trying to add some good features, they must try to work on them properly and not just add them for the sake of advertisements and must justify its subscription.
Overall, they have given a translation for around 40+ languages. However, some Indic languages returned us white boxes only when under translation. This may be due to fonts error, but most of the languages in it had given a proper translation.
All in all, this feature is good, but it still needs much more work to be called a full-fledged feature. In the current form, we cannot give this feature anything more than 2/5 stars. They need to increase its features like proper voice translation with an accent, show fonts of the languages properly and also give users related language keyboard.
Dictionary
Well, isn't it almost a millionth time you've heard this word? From being kids until we become adults, we keep using a dictionary not only to know the meaning of words but also to increase our vocabulary day by day.
Dictionary is very useful for us to find the meaning of words quickly. Now with the advent of computer typing, almost every other program has an inbuilt dictionary to correct our spelling errors.
In Ginger, this dictionary is not only used to correct spelling errors but also to improve your vocabulary. Users can go to the Dictionary Tab and directly search the term from there.
The Ginger dictionary provides meaning of words, its audible pronunciation, and synonyms. The results are ok, but unlike other software, they have again given a very mediocre feature.
Good dictionaries not only include above things but also have translate option, antonyms, thesaurus, sample sentence, written pronunciations, etc. We can only be optimistic that this is still under the radar of Ginger to be fixed and they will improve it one day.
Options like auto correct can really annoy users by constantly changing the spellings. In a regular scenario, there are company names, product names, or some slangs that people may use in their writing.
These terms are generally not stored in a native dictionary, and so they will be shown as spelling mistakes. To correct this, we need a personal dictionary where we can add certain new or revised words so that we do not confuse them as errors in future writings.
To help with this thing, Ginger is also given a Personal Dictionary. This personal dictionary is like any other add to dictionary button we see in writing programs. Users just need to open the Personal Dictionary tab in desktop interface and insert relevant words in it.
The entire setup is easy, but, in our view, there is one big flaw here. Talking based on the services that an English grammar checker must provide; this feature needs more efforts.
The users cannot add a meaning of the words they add. This is a bit lazy because what's the point of such a dictionary that only add words and not their meanings, especially if has a big role in error checking. There is also no share button using which we can share added words to any other dictionary setup.
We cannot judge what developers had in mind while assembling these features, but since we are giving our users more than a simple dictionary, we should always try to improvise features to be added in the program.
Spelling Checker
Just the perfect thing we needed after dictionary is a spelling checker. Technically, both of these features must be placed together to give combined access and ease of service.
The spell check can be accessed in main window of the desktop interface. The write section itself allows a user to access spelling check features.
In Ginger, incorrect spellings are highlighted by a blue tint. Like before, we used some new texts to test the spelling features, and we did find some discrepancies in it. It returned us good results for most common words.
For long spell checks, most of the phobias are to be started with. The real deal is to see its performance for unconventional spellings, in which it performed ok. Sometimes, it got confused while using similar words altogether in a sentence.
Some errors were very strange, where it got confused like in word defendent and defendant. Another was in word severely. We evaluated many such items randomly and found that this is some sort of bug with its functioning, and we hope it is addressed soon.
Overall, most spelling checkers use standard dictionaries to check the words written on these fields and may sometimes confuse things. The personal dictionary function also did an excellent job and spelling added in it were not shown wrong by spell check.
Miscellaneous Features
Let us go through some of the minor features that Ginger has to offer.
Starting with Synonym Tool, this is one of the popular tools used by most grammar checking tools. The synonym tool returns a word closest in meaning to the inputted word.
We tested out around 50+ words, from easy to intermediate level and got good results in it. Not that it produced extra unique words, but it gave us satisfactory results.
However, antonyms were missing. They can easily add this to the same tab, and so it'll be easier for users to get both antonyms and synonyms at one place.
The next part is favorites section. In this section, users can bookmark any text that they are reviewing. This allows them to continue with their work directly without opening the files from where they took the content for proofreading.
One more interesting item that they have given in it is Phrase of the day. As we have seen in many apps and other sites, this feature may be somewhat helpful if you are looking to learn some more vocabulary and idioms.
They had also displayed the dates below these phrases to see when they were added. It would have been much better if they added a way to sort out these phrases in alphabetical order.
The general settings do not include anything significant. The users can change dialect, that too only for US or UK, and select font settings, and turn on/off live corrections.
User Interface
Since we have explored and reviewed most features of Ginger, it is time to see how the user interface performs and what more features it needs to become a top grammar error correction tool.
Ginger has given its services on two major platforms. One is over desktop, be it either on Windows system or Mac. For mobile phones, they have given a different application in the form of a keyboard app.
Web Interface
In the web interface itself, we have included the browser extension. This extension is useful while we carry out typing over web and helps us correct our mistakes. The error checking settings are same as the windows interface.
The browser extension has only two options with a switch on it. One of them is to select the dialect for checking; other is for using double click to select and check the meaning of an item on the web interface.
The browser extension also offers a Ginger Writer window to check the grammar on web browsers. Click the Ginger Writer, and it will open a new window interface. In this interface, users can see all the features like a writer, personal dictionary, translate, synonyms, and help section.
They have nicely arranged some features in this interface. The central text zone is used to check for grammar while the second text space on screen, in the right side pane, has translate, dictionary, and synonym functions.
Like we discussed before, all these functions are very simple to use, and in case you cannot access the windows application, you can use the browser extension to open this interface and do corrections.
They have given some nice UI features like displaying total characters, sentences, grammar errors, and spelling mistakes at the bottom of writing as we see in MS word.
The users also have a personal dictionary here to add their words. This dictionary automatically collaborates with the cloud, and so whatever word you add in any version, it will be accessible among each interface.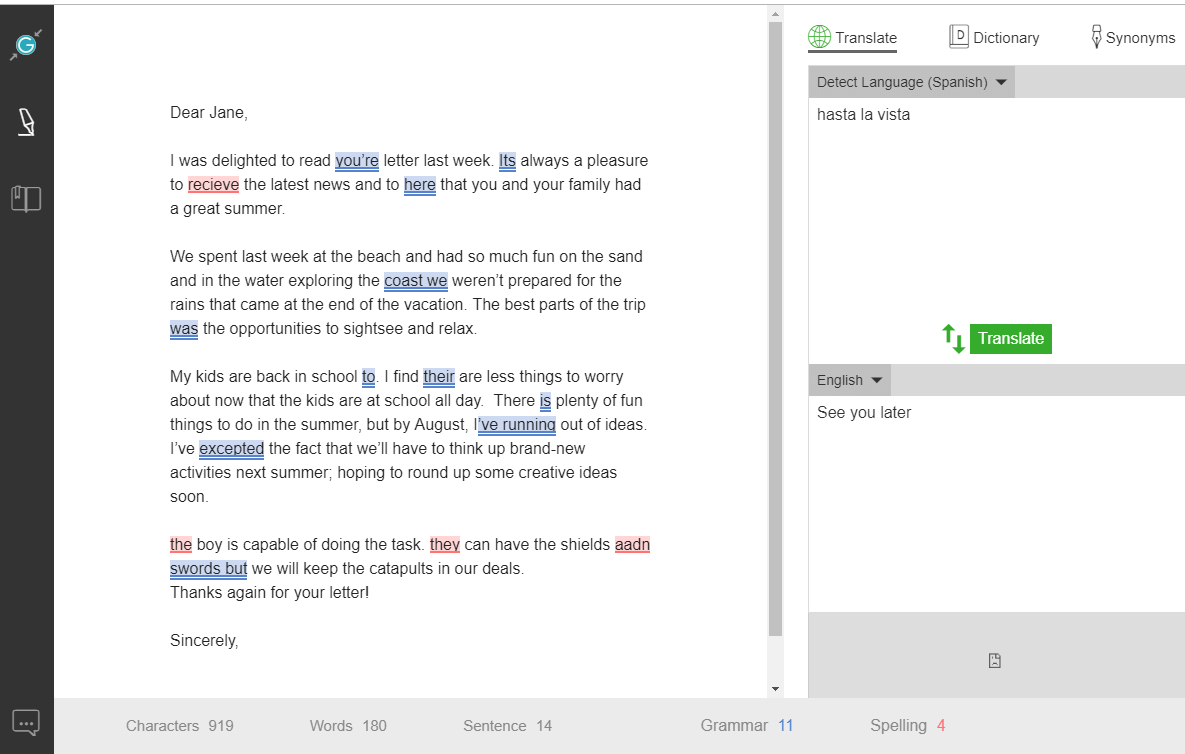 The arrangement of translate, dictionary, and synonyms button has been made very smartly. You can switch back and forth them in right side pane like switching browser tabs.
Now, there is one more thing they've added in the browser extension. Wherever you select a text, and double click on it, you will see a pop up above it. This small pop up will display the meaning of that selected word.
Overall, this interface is decent or perfect if you do not want extra programs on your desktop, or you are unable to use the desktop version for some reasons.
Windows Application
Let us now talk about desktop application. Unlike a web browser, desktop application is a bit different in terms of working. For desktop application, Ginger has given two setups.
One of them is a native app to use its functions, whereas the other one is a floating UFO over the top of screen.
Let us review the native OS app first. In this app, users will need to login into their Ginger account. The new window will show all features that we explained earlier viz. Write, Translate, Dictionary, Synonyms, Trainer, etc.
There is a pin button at the top using which the users can freeze that window, and it will always be on top of other windows.
Honestly, there is nothing noticeable in this setup. They have given settings to change the font type and its size and dialect, hotkey settings for launching the app, and help center.
There is also a share button given in this interface. Sadly, this is only to promote their own product. They should have given the share function to exchange the proofread work directly with anyone.
There is no formatting option for the texts that you input. They support some basic formatting like numberings, bullets, etc. to keep the text as original as possible. Users cannot export the documents with the same formatting as given in Grammarly.
The next one is the UFO button over the desktop screen. Like a real UFO, it likes to appear and disappear. When you are using programs like MS Word, you will see a floating UFO with the letter G sign over it.
This bubble is draggable on top. When you click it, options like write, rephrase, trainer, speak and settings will be available.
To start checking the text you've written, users need to click on the bubble and hit the write button. Unlike other interfaces, there is no separate window here to analyze the errors.
Rather than that, they have given an old Windows-7 style widget on top which runs error check function and stops scan wherever it finds an error.
When the users click on any white space outside this widget, the scanning stops. Although the entire feature looks cool, it is still nothing compared to basic setup by other top products like Grammarly, WhiteSmoke, ProWritingAid, etc.
This is because it's an annoying feature. First of all, if the scanner goes on checking till 5th page, out of total 10; and then if you click somewhere else, it won't resume back. Quite a pain, isn't it?
Other features like rephrase, also perform same. The personal trainer does nothing but redirects to the web page of a personal trainer. There is no good trainer feature separate for desktop interface inside this app.
Overall, bubble/UFO feature is also mediocre. We expected something different than other products, and it turned much worse than their app on desktop.
All in all, we would say the two interfaces, i.e. on a web browser, and another one with a separate desktop app were decent. The add-on in MS word was ok too. However, we would not advise anyone to use it in its current state.
They need to add a pin button on bubble tool, to pause the scanning and hold the error checker at that position of the page. This is needed to resume the error checking from same point again. They also need to add trainer feature to desktop app rather than making it for browsers only.
Concluding to this, we would say that only the desktop version is balanced currently. Other are just like small investments, and so not much feature and UI capabilities are given to them.
Mobile Interface
Similar to desktop interface, mobile interface is also used quite frequently on Android and iOS platform. The functions given in this interface are exactly the same as above.
There are some differences in way of implementing them. The mobile interface is not given as a separate app or a floating widget.
They have given it in form a keyboard app. Once you have installed the app on your device, users need to allow it to take over other keyboards.
The keyboard app allows a user to engage in all functions, as mentioned above. They have given it a self-assessing algorithm. This means that whatever spelling mistakes you do will be recorded in its database, and those words will be auto-corrected by the app.
For some local words other than English language, users can directly add them into dictionary database by just tapping on suggestion field. This technique is used by most keyboards in mobile apps.
One more thing that Ginger has added to its mobile interface is keyboard themes. These themes are not for the mobile screen, but they are for keyboard. The keyboard theme comes in a variety of colors and appearances.
Now, Ginger has not left even this app from monetization. Even on a premium account, it takes users around $5/year to get every keyboard theme. Leave that; the entire app is infested with ads!
You heard it guys; it is filled with ads even for premium accounts. Users need to pay around $2 to get rid of ads. They have restricted translation feature too. It also requires around $5 to get unlimited translation throughout the year.
Not that we are complaining over their monetization, but it seems too much to try and squeeze people with all these microtransactions. At least for pro users, ads and unlimited translation must be given free. They can charge for themes regardless.
Other than this, we didn't find any big issue with a mobile application. One advantage of Favorite option can be seen here. You can proofread your documents on the go from your mobile phone without worrying about how to transfer files in it.
Concluding to the UI section, we would say that Ginger has tried their best to give the customers a simple and unique UI. They still need to work on some of the features as we have discussed above. Apart from that, this product is indeed worthy of being amongst the top five grammar checking tool in the market.
Final Verdict
As we have walked through every feature that Ginger possess, it is now time to pass our verdict. If you look from the perspective of a simple grammar checking tool, without needing any prior knowledge and least complicated to use, Ginger is on the go choice.
Spread across three major platforms, Ginger can also do portable proofreading. However, Ginger lacks comprehensive dictionary and algorithm to check for high-level academic grammar.
Under many instances, it did not return errors when dialects were changed like the word learnt and learned. This cross-confusion thing is easily caught by Grammarly and ProWritingAid.
There are no errors for passive voice usages. There are no suggestions for redundancy, clichés, sentence structures, etc., which above two mentioned products supply.
The features like Personal trainer, Rephrase, Private Dictionary, Bubble/UFO interface were not properly maintained. The application uses advanced NLP with patented technology, and so we expect it to perform the best in this field. They also have done a great task by adding support for people with Dyslexia.
Unlike Grammarly and ProWritingAid, Ginger has not given a classic error description and explanation. The punctuation issues were not highlighted quite often, and this is actually what most people forget while writing.
The text to speech has limited voice packs, and we recommend them to add more voices with typical accents like UK, US, Irish, Russian, Indian, etc. Due to this, users from different regions can quickly learn in various native accents.
Finally, we would conclude that Ginger is great as a plug and play type grammar checker and if they improve and add some of the above suggestions or produce many advanced features, we would undoubtedly give it number one place. Currently, it is suitable for average level academia and daily usage, but if you want to go for advanced grammar and much detailed error checking and reporting, Grammarly is your savior.