Magix Movie Edit Pro Review
By: MAGIX Software GmbH.
Detailed Reviews
When was the last time you watched a video online? A few minutes ago, I guess! Well, isn't it so tough to live without social media and all these content consumption we are addicted to?
Some people like to make new videos, some like to be part of it, and yet some like to ignore such entertainment modes. For those who watch online videos, most of them are familiar with the concept of video editing.
Video Editors are tools that are used to rework videos from scratch and enhance them. We can even add effects to it, add different sound, text, etc. All of these is done to get superior quality and amusing videos. They can then be shown to the public or even edited like CGI movies.
Let us review one such Video Editor.
Pros
One of the most novice-friendly video editor with adequate editing tools.
The UI is designed for one-click video editing. Even then, we can do some fair amount of changes in the preset templates.
The preview and rendering were way too smooth. Works nicely on low budget systems.
Lots of editing templates with least editing requirements, adding to its plug-n-play glory. You can explore the store for more special effects.
The final video rendering interface has all the advanced parameters with fantastic output quality.
Cons
The UI in the editing section needs to be a bit more user-friendly.
It lacks many unique templates in the setup itself. It can become quite tedious for users to download them one by one from the store.
It lacks a video creation wizard to guide new users. The tutorials also require more details in them.
Only good up to mid-experienced folks. For pro-users, it needs more editing features and a much complex UI.
Introduction
For this review, we have Magix Movie Edit Pro. The company was formed in West Germany in 1993, with the product's first version coming out in 2001.
The first version used the principle of non-destructiveness and object orientation. It was overwhelming to the masses. Over time, it became quite famous owing to its features and price range.
Magix Movie Edit Pro has a basic UI, but it still keeps a detailed setup. They claim to have over 15 million registered users and 100 awards globally. The primary source of its userbase are some EU countries and the USA.
It supports many sophisticated features like 4k support with Infusion Engine, dynamic animations, image stabilization, chroma-keying, scrubbing, and many other features that a video editor must-have.
Regardless, there are many top products in this category. Before that, it is better to first focus on what Magix Movie Edit Pro is capable of.
Initial Runover of the Video Editor
Before simply gunning down every feature of this tool, our task is to know more about it first. A rough idea regarding its working is now directly shown in the help site.
Currently, they are populated by video tutorials only. There is very little written info in guides or forum requests. Nevertheless, we install the product first.
To do that, head to their website and then download the Magix Movie Edit Pro trial version. There is a minor difference in it compared to the paid version.
The downloading of the setup was quite annoying. Even with a 60 Mbps connection, it wasn't able to utilize that bandwidth properly and would lag the system. Magix must have given an offline installer instead to save us this trouble.
Once downloaded, run the setup and then register it. As the products get activated, you can now use the designated functions of Movie Edit Pro as per plans.
The initial UI has a dark look. It contains lots of templates to pick from. The project can be started from the file menu, along with adding its name, movie device, sample rate, and project folder.
After that, import the files needed to be included in the project and start experimenting with the effects. For such scenarios, a visual guide would do much better than videos, especially for a quick, readable overview.
While creating a new project, there is an exciting option called Proxy File. This is a dummy file used solely for the purpose of faster playbacks. As often seen, editing a bigger file creates many issues while previewing it. The richer its format and quality, the more sluggish the playback becomes.
The UI of the Main Panel
Once you have created a new project, you are directed to the main panel. Like other video editors, this panel is split into several sections. One of them is the Preview Pane, then Media Pool, and in the bottom is the Timeline Pane.
The media pool lets you access all the drives and directories of your device. We can directly select multiple media files with left click and dropping them in the timeline.
The timeline zone will show the list of videos we have used for editing. We can drag them to change their order. The timeline pane lists these videos in the form of small icons at their launch. There are several rows given in this timeline pane.
These rows are used to add effects in the desired timestamp. The playback buttons also have markers that can be placed directly in the timeline. Using them, we can directly add our items in the marked timestamp.
We will discuss it in much details in a later section. So far, it has quite formidable editing features. The UI is supportive and almost keyboard-free. Other functions are accessed by the tabs provided in their menu bar.
The preview has every playback buttons we see in most media players. If we compare it to the UI of other video editors, Magix Movie Edit Pro has done some arduous work.
Not only is the UI so predictive and usable, but it requires minimal efforts in simple tasks like trimming videos, placing markers, adding audios, etc. They also have a very comprehensive export and burn features after you've finished the project.
Essential Video Editing tools in Magix Movie Edit Pro
The basic special effects of a video editor software are shown here. However, the central panel of this editor itself has many intricate editing in it. From a mouse click, we can organize many editing features without a flinch.
First things first, use the import button to bring in a sample video. You can do that by trailing a video file into the timeline panel via the file explorer pane on the top right.
Once you have imported the movie, it is now time to do various operations on it. The list of these operations must be very familiar to most people diving in for video editing.
Understanding various functions in the timeline view is crucial to master this video editor. You can always look in the help section and learn from the videos themselves.
Sadly, as pointed out earlier, there is no written content on the website. There is a PDF file manual, which was average.
From the timeline view, the movie is segmented into various parts automatically. It can be accomplished per frame/second. Typically, we use markers to do editing in a particular section of videos.
As you move on the timeline, you can use numerous functions as per need. Some of you might feel very confused with all this. The good part is that we can view a function name by hovering mouse over it.
There is a red record button in the video preview mode for AVCHD devices. The bottom pane provides three display modes viz., Storyboard, Timeline, and Scene Mode. It is the same in other video editors.
Options like trim, copy, extract, etc. are all viable. There are zoom buttons given in the panel beneath, to zoom in/out of scenes or frames. This is all in this movie editor tool.
Now, we head to see what effects or changes we can do to a movie or an individual part of it.
Inserting Video Editing Effects in Movies
Once all the trimming and adjusting is done, it's time to test the effects for editing video. To get into it, make use of Effects Tab on the top right explorer pane.
Click it, and you can see a big list of effects to be added to your videos. There are core 7 types of effects to edit a video. These are frequently exercised, and contains the title editor, video effects, animation, 3D effects, 360° panorama, audio effects and so.
Out of many effects, we will review only crucial ones and then decide if this video editor packs a punch. So, the first one, i.e., the Title Editor, is a simple text editor.
Like a text editor, we can make formatted texts and then place it at the start of a video. This is similar to the movie credits. This title is highly formattable and supports animated effects too.
We can use Star Wars intro style and also add 3D effects to it. So overall, it's a classy title editor and affluent to use. We anticipate that they'd have more preset themes in later versions.
Nevertheless, the next part is checking video effects. There are many types of video effects possible in it. From a color enhancer to speed/frame changer, sharpness, distortions, chroma-key, etc., there are a whole lot of things to be organized here.
Now, normal color correction is seen everywhere. Some unique effects we can add here are chroma keys, mask generators, lens flare, art filters, video stabilization, and video analysis from the proDAD Mercalli plugin.
There is a reset button after each of these effects to restore the original film. Chroma key application was pretty much essential in it. Not complaining, but these effects are limited.
We certainly can't except a full movie maker suite like used in professional filmography. Overall, you will enjoy these effects. There is a lot of learning curve here, and so focusing is essential if you really want to master it.
The proDAD Mercalli is used to identify the camera setup of a video and add effects in it accordingly. Shot Match lets you copy a frame from another location to the position where you put the marker.
Other than these, there are some direct effects given by Magix Movie Edit Pro. These effects are fundamental color change and pattern motion effects like B/W filters, color filters, lens effect, negative, old movie, water rings, etc.
Just pick the one you like, and it will auto-apply. The only complaint here is that they are quite constrained. We expected more such preset effects, with detailed editing.
The next part is the Animation/View Effects. These effects allow users to add some peculiar animations. These effects alter the size of various elements on screen like distortions, camera zoom, fisheye effect, rotation effects, and many more.
There are explicit special effects like panorama, shake effect, linear effects, entry/exit zoom, and so. Similarly, we can even add 360° video effects like rotation, stitching, stabilizing, stereoscopy, etc.
Overall, for beginners, it'll be a nightmare to learn all these terms and their outcomes, and so be prepared. Then you have the 3D effects from the get-go. They are also sophisticated for getting a detailed 3D detailing.
Next, we have the Audio Effects. As for audio effects, they have very fewer choices in the bag. In Magix Movie Edit Pro, there are some general audio effects like echo, tremble, room effect, hall effect, etc. So, nothing extraordinary!
Lastly, we have the plugin manager. From here, add/remove/run additional plugins for video editing. This is a great feature where we can include our customized programs to edit videos.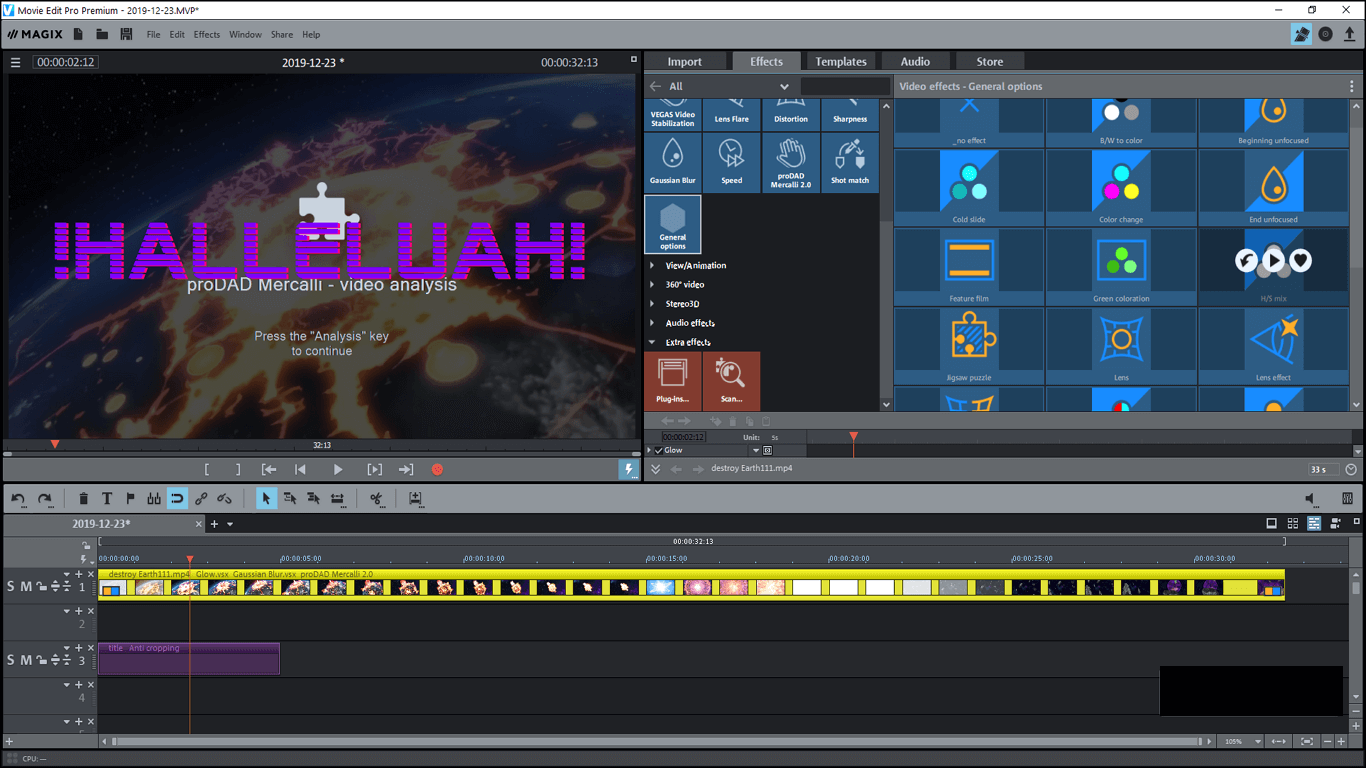 Huff! Moving to conclude the video editing effects, we have to pass on a verdict to conclude. And our observation says that Magix Video Edit Pro has done some thoughtful work to add complex effects and tried to keep them simple to learn and execute.
If you drive with these effects in better editors, you'll notice these effects to be way more detailed. Judging from this, we say that Magix Movie Edit Pro is targeting the novice and mid-experienced folks in video editing.
The UI itself isn't that tough to grasp. The issues novices will face is in the terminology used across the board. Adding these effects separately will also be a challenge for many. All in all, practice will make you an experienced video editor.
We head to subsequent editing feature called Templates.
Checking the Video Editor's Templates
As we saw above. Most of the things have to be executed manually. This means that you will need some hands-on experience too. And without such experience, it can be difficult for newbies.
For such users, Magix Video Edit Pro employs preset templates. These prototypes are for plug and play editing. Out of the entire software, this area requires the least attention.
The templates are shown in multiple effect categories like transitions, title templates, movie templates, looks, design elements, and image objects. Does something seem familiar?
They are all the same features that we discussed in the above sections. But here, they are all predetermined, called templates. One can see their previews directly.
It does stress for decent hardware. The various preview and effects can lag or even crash the app if sufficient memory resources aren't available.
If you like an effect, press the left curve arrow, and it will be added to the video at a selected timestamp. Some effects, like title templates, are only meant for the initial and last segment of videos.
They are like the credits we see before and after a movie. We can even add subtitles to a movie in a unique way. Overall, these templates support the novice users to inject some common effects in the video.
Exploring Audio Track and Checking the Store Feature
Now, we move to one thing that is often weighed high in videos, i.e., Audio. After all, we aren't watching silent movies like in olden days.
Adding audio to a track is quite simple. You can choose from the loaded songs or add your own too. For that, go to the audio section in the file viewer.
The tracks here are only 4 in number, and so you will need to add some more to it. For that, simply guide the file explorer to the folders where you have kept the audio files.
From there, we need to see what methods are employed to modify audio in Magix Video Edit Pro. There is an audio section in the timeline view. Just drag the audio from file viewer pane to this segment.
We haven't discussed much audio editing possible in this software except general effects. For details, right-click the audio section in the timeline view.
From there, we have several options like normalize, snap marker, audio cleaning, wave editor, etc. Out of these, most of them are customary in any audio editor and also well-defined.
The Audio Normalization helps to regulate the audio amplitude for constant gains. Frankly speaking, it will try to give the same volume level across an audio file, and also balance the left/right stereo settings.
The Snap Marker helps to access the marked locations on the audio track quickly. Even when you are zoomed out, it will place the mouse cursor to the marked location. Such markers are absent in many top video editors and can pose much confusion in their absence.
Next comes the Audio Cleaning Wizard. It primarily involves stuff like noise reduction, equalizer, comparative, and stereo FX. All these tools are all-inclusive.
For more advanced audio editing, they have included their product Magix Audio Editor. It will open an audio in the external app, and then you can edit this audio and later import the changes to the current setup.
This proves that Magix Movie Edit Pro is more than a simple video editor. Comparatively, they have done incredible work into providing multiple features into a single product.
For us, we are satisfied so far with both audio and video editing. Lastly, there is a store feature. As we have checked the templates above, we can download these themes. So overall, if you are serious with video editing, Magix Video Edit Pro won't disappoint.
Saving the Video Project
We have done the desired editing in both the audio and video section of the video. What else to do now?
Well, we need to save a video too. The instigating part about saving a video-project is to check what format and what personalization can be done while saving it.
There are quite a few ways in which we can export the projects created in Magix Movie Edit Pro. One of the formats is an MVP extension. This is the default save method for this video editor. Using it, we can modify videos any time from the saved data.
Next comes the Device Export. Here, it won't mention any particular device name, but only show the device types like mobiles, tablets, and desktops. We can also stream on Vimeo using it.
Producer Planet, YouTube, Shutter Fly, and Magix's upload libraries are also available in the online sources. We can directly save multiple videos and audio formats like MP3, MP4, WMV, M4V, etc.
Overall, it is sufficient to do the conversion in any form as desired. Most video editors won't lack at least in this obligatory feature.
And so, Magix Video Edit Pro has once again satisfied us. With this, we walk towards the final words that will judge its performance.
Conclusion
After going through its complex setup, we can favor Magix Video Edit Pro to be a pleasant video editor. The optimized UI, as well as austere and thorough editing tools/effects, have left their mark.
It might seem a bit lacking in terms of preset themes and detailed formatting. So, if they can come up with more unique templates and modify setup for pro-users, it will be a cherry on the cake.
The support options are also great. The only thing we feel needs to be upgraded, is their knowledge-base and written tutorials. Other than that, Magix Video Edit Pro can placate the demands of every video enthusiast; albeit, they agree to join the learning curve.