LiveHelpNow Review
By: LiveHelpNow LLC. From USA
Detailed Reviews
The main goal of LiveHelpNow is to build real customer relationships. For achieving this target, they provide multiple ways by which your subscribers and potential customers can communicate with you. However, you will only know how effective their numerous techniques are, by going through our review.
Pros
You can embed multiple ways to communicate, such as calling window, chat box, and ticket support.
You can also create a knowledgebase using the application which will help users to find out the required information themselves.
There are numerous features related to every single attribute rendering a remarkable user control.
Along with customer support, you can also use Analytics for the further growth of the company.
It provides the possibility of selective sharing of data with different
Cons
The learning curve cannot be concluded gentle due to the presence of so many features that they make the user interface complicated.
There is no option to add a post-conversation survey for calls which would have helped us to identify the performance of operators talking over calls.
Chat System and its customization
The company holds a motto- Don't wait, which seems like two simple words, but they are not. The motto defines the problem why companies are losing their customers: lack of fast communication.
Consumers need to wait for long before the company replies to them. The solution to this was found by introducing the live chat widget.
Exchange of information became easier, but still, issues exist. The time messenger consumes in loading, the queue before the conversation starts, the easiness to deliver the information, possibility of rating the chat, etc., all aspects combine to determine the appropriate live chat widget.
The service provider offers you with two different types of messengers which you can install on your website.
You can either create an embedded widget or choose a classic popup after selecting a widget button.
What we have seen while reviewing other applications, they generally provide a prewritten widget code you need to paste on your website editor. Appearance and other attributes of the code will depend upon the code.
In case of live chat, user control is comparatively higher. They ask a user to set various details about the messenger after which the code is generated.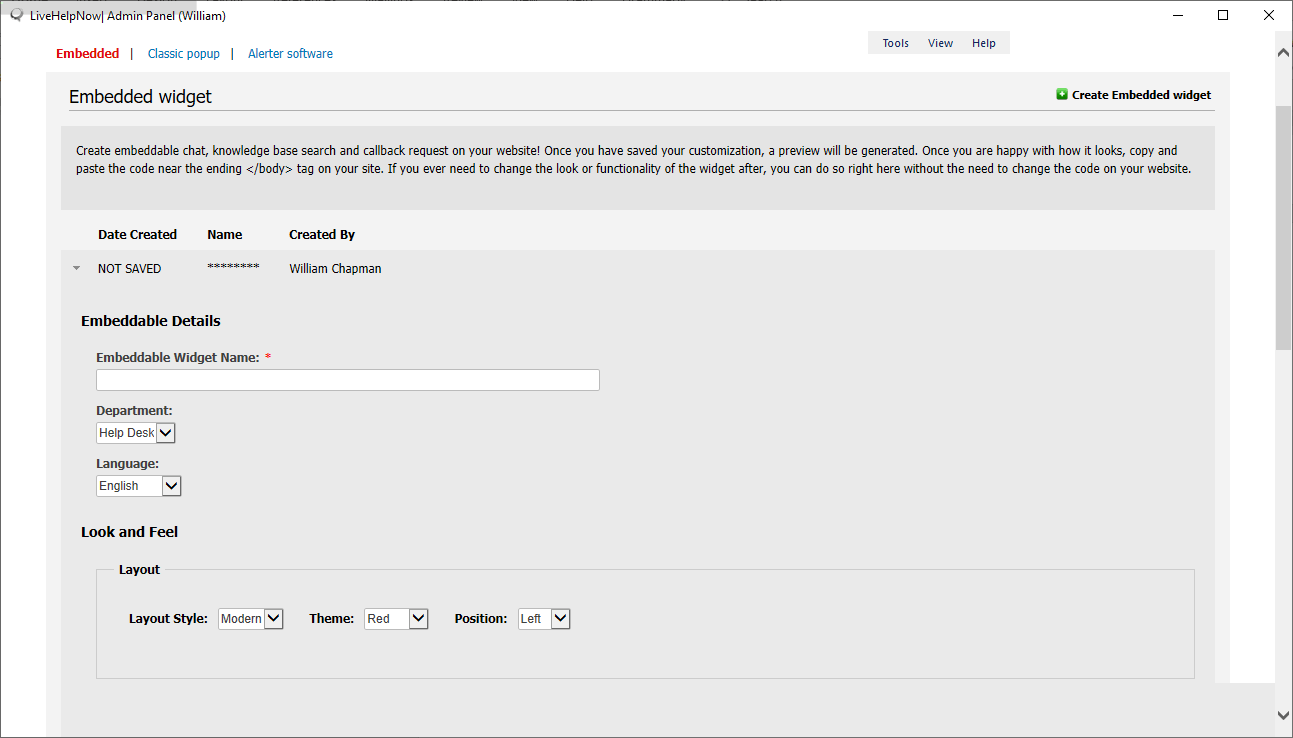 You need to provide a name, department, and language in which the widget is going to appear. Talking about the appearance, even the layout, theme, and position can be specified before getting started.
A few options related to the chat button and content provided on the messenger are also offered here. Showing or hiding the post-chat survey and/or pre-chat form is in your hands.
After you are done with providing all the specification, you will get the code which you can embed on your website.
Creating a messenger according to the required design, will consume some time. It's a worthy deal looking at the flexibility that comes along with it.
But if you do not want to spend a single minute, you can choose the classic popup option instead. You only need to select the button, and the application will generate the code. These codes are actually based upon the combinations of various features which we discussed in case of the embedded widget.
After you are done installing the chat box, it's time to check whether any further improvement is required.
For making the live chat more engaging, you have customization options. One thing you will find amazing about this application is the segmentation of the features.
For instance, in the present case, the customization options are divided into five tabs: chat window, pre-chat requirements, billboards, invitation window, and system messages.
More the segmentation, it is easier to find the feature. But because there is an immense number of features under every tab, complete ease cannot be guaranteed.
LiveHelpNow displays the presence of some rare attributes such as setting a time for session time out. Although it is an important feature, we have not found many products which have considered adding it.
Along with these rare features, ordinary ones (email transcript settings, offline pre-chat form, and system generated text) are along placed very well.
There is a dedicated tab for pre-chat requirements. The application allows adding fifteen fields in the pre-chat for pre-chat form. It is usually not appreciated to keep these many fields.
However, here the application leads a user to confusion. While creating an embedded chat, it was possible to edit the form. But you can also edit it using this section.
Now, the question arises what will happen when you edit the form from both the tabs? The editing done through "pre-chat requirement" tab will overwrite any changes made using the form setting while creating an embedded chat.
It is appreciable when an application strives to add as many features as possible. But adding them twice can be stated unnecessary, and this will surely lead to misperception.
LiveHelpNow gives you an exclusive marketing tool which is editing "Billboards." You can set up to ten messages as billboards messages.
When you will be done writing all the messages, save the settings, and check the chat box. You will find a message on the top of the chat window. Billboard messages will keep changing as the conversation goes forward.
Call feature
Customer support acts as a significant pillar for building a company's reputation. And we would always prefer using a service whose customer care is easily reachable.
Live chats are always good, but still, some communication gap is present while using them. Rather than live chat, if the calling option is available, the visitor will not need to make efforts to type the message.
The calling feature available in JivoChat allows the visitor to provide his number, and the support team can directly contact him from the application's user interface. This method is simpler than what LiveHelpNow has adopted, but it is also less efficient.
In LiveHelpNow, all the features related to the support options (chat system, ticket, calls, and knowledge) are segmented under three tabs: Installation, Customization, and System Setup.
Before installing the calling feature, you can select a Callback Request Button from their library or else you can provide the URL of an image which you want to add as the call button image.
After selecting the button, you can even choose the department for which you wish the selected button to appear. This feature was missing in many other applications which provided callback facility.
The calling feature comes with a separate window which comes with form filling options. You are allowed to edit the messages too.
For adding a field to the form, you need to specify the field label, field placeholder text, requirement, type of content the field contains, and whether it is private or not. Adding a drop-down list to provide ease to the user where he needs to select one out of many options.
Now for knowing that there is a callback requires, there are notification options present. The application will notify you about the call back request through email, or you can provide the mobile number. Every time there is a callback request, you will get an SMS on your number.
After setting the button, customizing the window, and placing mediums to get notifications, you are ready to add the callback feature to your website.
There is a "Force spell check" check feature which is applied to every operator. The feature forces every operator to conduct a spell check of every input.
Creating and maintaining a knowledgebase
Generating a knowledgebase using LiveHelpNow would be a tough task. As there are a lot of details you need to add, it is confusing from where one should start.
It would be recommended to start with adding information in the settings section. The basic details such as company name, website URL, and links to social media profile are asked here. You can embed a JavaScript such as Google Analytics.
This will provide you with the idea of articles getting more attention which will eventually let you know the concerns of your users.
There are few admin settings as well which are adding a contact email, notifying agents about the changes made, and allowing comments.
After you add all the information, you can move ahead to edit the glossary. Here it doesn't contain an option to add the article, but only the option to add a label to various elements of the knowledgebase.
From the publish page, you can add a custom CSS to overwrite the predefined style provided for the knowledgebase.
There is a subtab with the name 'comments' from where you can check all the provided comments for your various articles. You can even view the preview your knowledgebase from the application itself.
There could have offered an easier way to create it. You need to add the articles through your website editor. There is only one predefined layout if they would have added multiple, then one will not need to add a design from our end.
If these suggestions are taken seriously, the improvement would be exponential. Even now, the knowledgebase features are acceptable as there are only some customer support applications which provide such an option.
Surveys and forms
As we have seen till now, the application permits a user to add as many details as he wants. In the case of surveys and forms also, the application has not disappointed us.
Clicking on Surveys option will open a long list of input boxes where you will need to add details.
You can give a survey caption, set a URL to your widget logo, give a short and a long intro.
Even the text placed on the survey button and message after a visitor submits the message can be edited.
You can rate the chat poor or outstanding, and label for these options can also be changed. In total, you can add ten questions in the survey which are more than enough.
There are not many things left which we can ask LiveHelpNow to add to their survey builder.
The same can be said for the form builder as well. Actually, the application has no predefined input boxes for forms.
Therefore, you need to make more effort here. However, as it has no predefined input boxes, you get more control over its formation.
First of all, you need to select the type of form: credit card, custom, and ADF form. You can give a form name and description for internal use and can also assign a department to it. These forms can be used for data mining, but in case the data is sensitive, it is suggested to encrypt it. The option to encrypt the data is provided in the form builder page itself.
When you select the form type as 'credit card,' the data will get encrypted without choice. Also, for credit card details, you need to select the purge.
After selecting the various options, it is required to add fields. There are six categories in which fields are divided: text box, drop-down list, text area, file upload, country, and field group.
You need to set a field label which becomes visible to people viewing the form. The field placeholder text is also required. You need to set whether the field is compulsory or not, also choose whether it is private or public.
After you are done with the form, just click on 'save form,' and your task is done. Therefore, LiveHelpNow effortlessly renders form building without compromising with its efficiency and without making the process complicated.
Department and operators
Every element of LiveHelpNow asks for a lot of information. While adding a department, you are going to face such a situation. Adding a name of the department and assigning an email address to it is mandatory. You can also provide a description and phone number to it. From the same window, it is possible to add operators to the department.
For giving access to a user, you need to go through a long process equivalent to filling a detailed form. Although most of the fields are compulsory, it would be suggested to fill even the noncompulsory fields to make the chat more engaging.
In case you want to allow the operator to have complete access of the account, you can click on the checkmark option with the name "Admin." However, we would recommend taking benefit of the selective sharing feature.
There is a long list of checkmark options present under various headings. You need to checkmark the options for which you want to allow the agents to make the changes.
The permissions are divided into separate headings depending upon the factor to which permissions are related.
Above all permissions, 'extra permissions' are placed. We can not discuss each and every permission but can mention selected ones. Extra permissions allow a genet to manage other agents' permission, he gets control to manage canned content, reassign tickets, and much more.
When you add a person as an administrator, you need to give him these permissions without choice. In case you don't want to give someone all extra permissions, it would be better to add him as an agent.
The other accesses are related to visitors, tickets, and callbacks. Using the 'visitors' permission, you decide whether an agent is allowed to see all chats or selective chats.
You can choose whether he can see only chats assigned to him, or also the unassigned chat. It is also possible to make the chats of his departments observable to him.
For tickets and callbacks, lesser access levels are present in comparison to chats. You get five options here: only assigned to the person, all department, add unassigned to these two options mentioned and show all tickets and calls.
Such flexibility is very rare. If selective sharing is your priority, then it will be tough for you to get a better application than LiveHelpNow.
Detail Analytics
The customer support is an essential division of a company as it serves dual purposes. The primary purpose, which is familiar to everyone, is to help the customers by providing them with the information they need and solve their issues.
The secondary purpose is the one which directly encourages the growth of the company- Analytics. With pre-chat forms and post chat surveys, many important details are gathered about the visitor. There are other ways too; using the cookies and embedding trackers.
The advantage of the live chat is, whatever data it collects, will be shown on one single platform. Hence, you will know about all the visitors' details through this one application.
Now, after the data is gathered, proper segmentation and presentation are required so one can easily go through the details.
As LiveHelpNow never disappointed us in terms of features, we were already expecting the availability of a huge amount of analytical data. However, we were worried about its presentation.
LiveHelpNow followed the technique of rich segmentation of the data. Under every data, the information arranged is related to only one aspect. For instance, there is a particular tab whose work is just to identify which search engine people are using to reach their website.
Now, for a detailed study of their analytical feature, we will move to the menu bar present on the left panel. First of all, finding such a rich menu for analytical purpose in live chat software is far from reality. Thus, the application must be appreciated for housing it.
The top menu options are the "Exclusive" tab which contains multiple subtabs delivering graphs and statistics about the overview of all the engagements, marketing overview, content overview, website errors, and total conversions.
MyLivechat also had a chart and reports sections which were similar to what LiveHelpNow has offered under Analytics. However, it was not this much detailed in case of MyLiveChat.
Similarly, companies make attempts to provide analytics along with the live chat, but a few successfully achieve an appropriate way of delivering the details. HelpLiveNow is one of them.
The Marketing section concentrates on the medium from where the visitors are reaching to their website: the referral, its URL, search engine, keywords, and Landing Pages. There are third-party applications which are specially designed for this purpose.
However, it obviously renders an advantage here which would aid you to eliminate the use of third-party applications.
While going through the Website Visitors tab, we realized how minutely they have divided the information. As the tab houses a long list of analytics done by the application, we can't go through all of them. However, we can deliver an example to you that will give you a complete idea about the intense research that you can conduct through this tab.
You will get a list of pages which acts as the exit points of the website; the last page which a visitor viewed before leaving the website. That way, you will know from where you lose the traffic.
Other than that, it is possible to arrange them according to their ISP, country, language. They have added separate tabs for this kind of options but adding a filter would be a good replacement of so many tabs.
The Chat System tab doesn't take part in the further growth of the company. Its job is to track the chat sessions going on every day. An 'operator time clock' is added under this that would help to identify the amount of work performed by the agents.
From this tab, you can also download the chat transcripts. These transcripts can be filtered with the agent name. A tiny XML link provided on the right side will let you export all the transcripts at once.
The tab also provides access to canned responses and the form data provided by the visitors.
Such a detailed breakdown for Ticket system analytics is done by segmenting the data in thirteen different tabs. Here also, all these tabs can be replaced with the help of a filter. It is just a matter of choice. Some users, unlike us, would prefer multiple tabs. The most useful amongst all options present here is the "Ticket System Performance" window.
As you can see in the image, what we have got here is the different tables containing several columns. Different tables indicate different departments and, on the top, a table for overall performance is included.
Through this, the company will get the idea of how fast their ticket system works. In the ticket system, information is passed from one email to another. Through this insight, it becomes easier to identify which part of the whole ticket system requires improvement.
Other than these tabs, you can find out complete call logs of visitors who requested a callback. That data can be exported easily through the export call log option.
For knowledgebase, the analytics contains separate tabs for most viewed content, highly rated content, least viewed content, and poorly rated content.
However, what we feel here is, this all information can be provided under a single tab. They could have also provided a section from comments on knowledgebase could be viewed. That would act as feedback which will explain to us how knowledgebase can be improved. However, that section is present under various sections from where you edit the knowledgebase.
Though there are so many features, they missed a major one or else, have not included it purposely. You can create post-chat surveys which will help to provide feedback about the user. Such a survey is not offered for calls. Thus, it is not possible to judge the operators' working for calls.
Overall, with all these tabs and subtabs, the hard work of the developers is visible. It is an amazing fact about the application that with such ease, you can find the required information.
Operator panel
The operator panel has nothing to do with any settings. From here, you won't be able to make much change in the application.
Still, it is one of the most important elements because it is the interface where agents and users communicate. From here, you can also get information about the customers.
You can check the screenshot having four tabs above. Generally, you will not find applications having more than one tab here. It is because those applications only offer the chat facility.
If we first let you know about the visitor's tab, it shows information about visitors who are currently browsing the website.
From the left-hand side window, you can know about the hostname, state, user agent, visiting time, and contact info. On the other side, you can find a chat box with various options. You can open the list of canned responses, add a GIF, Transfer Chat, translate chat, add a form, and a few more options. Overall, we found these options enough for having an engaging conversation.
Below that, you can check the chat and call history. From history itself, you can choose a visitor to activate the chat.
It is expected that they add an option to view the IP address, browser, and operating system of the subscriber. Though it is not visible on the left-hand side window when you click a visitor, his general information will appear below the chat box, here you can check all the missing information.
When you open the ticket window, you will find a list of all the tickets there. Clicking a ticket will open ticket info window where you find the three actions that you can take for the received ticket.
You can choose to acknowledge it, reassign it to someone else, and add comments to it. If you acknowledge the mail, another option appears letting you resolve the problem.
Below this, you get information of the ticket such as ticket status, priority, created date, department to which it was assigned, customer details, etc. After you solve it, you can choose to notify the consumer through email.
Here again, the LiveHelpNow has not disappointed us in terms of features. For call service as well as for knowledgebase, the same efficiency is delivered.
Data remains secure
Security is highly important when you are relying on a live chat service. Whatever conversations you have with your visitors can be obtained by these companies. If any breach occurs, the details about the visitors as well your agents will get leaked.
To avoid this trouble, LiveHelpNow has added a purge schedule feature. In case you do not trust the security standards of the service, it is not necessary to have them to host your data.
They will transfer all your transcripts and visitors information to a secure location of your choice. After the data get transferred, all your information will be wiped from their servers.
However, they have not provided us with information about the encryption or security layer placed with data transfer.
Conclusion
The application has numerous features- just a little lower than uncountable. With the user interface, you may get confuse about what would be the first step. But with time, it becomes easier to use the application.
Initially, you will need to provide a lot of information and alter a lot of settings, add users, and create forms, set knowledgebase page, etc. But when you are done with everything, you will just need to work through operator panel.
Taking about operator panel, you can get all the information of online users within moments. You will also come to know about visitors who send tickets or callback requests to the company.
This data is used for analytics whose efficiency we have already discussed. There are seven different tabs which are segmented into multiple subtabs. The analytics is directed towards delivering data about one aspect at one time.
This helps a lot in the company's growth. You can even check analytical details for a week, month, or custom dates.
Adding other users is also facilitated by selective data sharing. This gives you the control of agents whom you add.
Overall, the application leaves us with not many suggestions for improvement. However, we would like them to craft a simpler user interface to deliver an easy learning curve.