Flixpress Review
By: Flixpress LLC
Detailed Reviews
Videos are one of the most preferred forms of content on the internet. However, it can be painstakingly challenging to create good videos. Flixpress helps users create amazing videos full of advanced effects with almost no effort. All it needs from the user is to take care of the title of the video, images, and sometimes the audio. Flixpress is one of the fastest and easiest to use video makers out there.
Pros
No learning curve
One can create a video in a matter of seconds.
Videos consist of advanced graphics and effects, which may be very difficult to achieve by any other means.
Great for creating promotional videos, intros, teasers, etc.
The templates take care of a wide variety of niches.
Cons
Not much room for creativity.
You can't control much of what's happening in the video.
The content may seem too vague at times.
Introduction
Videos have always been more fascinating than other means of broadcasting information and messages. Since there are so many tools available for video creation these days, more individuals, groups, and businesses are creating videos.
Videos find application in all kinds of fields. It can be anything ranging from promotion and entertainment to tutorials and guides. Videos are much better at grabbing attention and much more interactive than written content.
While there are tools which allow one to create videos right from scratch with easy to apply effects and filters, it is still a much more difficult task to create videos which stand out of the rest.
You need to have a video filled with 3D animations and special effects to make it interesting for viewers. Sometimes, an excellent intro to the video can make the viewer take video much more seriously as opposed to the video starting with a plain old welcome slide.
Similarly, you can make some other section of the video more eye-catching than usual with the use of stunning graphics, and it can do wonders for the video.
Flixpress is a video creator which specializes in helping users create spectacular videos clips filled with amazing special effects. There are some apparent differences between Flixpress and other video makers, and this review is all about going through those differences.
We will analyze how efficient is this unorthodox video creating software when compared to the usual ones.
Flixpress doesn't require the user to do much, and we will be getting deeper into the pros and cons of this kind of mechanism.
By the end of this review, you will know what can be the appropriate situations in which Flixpress can turn out to be much better than conventional video makers. It will help you decide if the tool is worth investing in it or not.
How it works
When we talk of conventional video makers, we refer to the ones which allow the user to control each and every aspect of the video right from the beginning to the end.
Some of these video creation tools will deal only in animations, or there can be some which are rich in graphics and video clips. No matter what kinds of animations, styles, formatting, and effects a video maker has got to offer, you will always get complete control over the timeline of the video.
However, Flixpress is more about stunning effects and visuals, and it prevents them from letting the user control the entire timeline. Instead, you get minimal to almost no control over the timeline in most cases.
Flixpress comes with templates and allows the user to personalize the template by adding images and text in prescribed sections. It will depend upon the template as to how many text lines or images you can insert the video.
It might be a complete turn off for users who prefer to have better control over what they are doing, but that is just how things are on Flixpress. If you want to have those effects, you will have to let go off a lot of control.
Things are much better when it comes to the audio department. You can add audio files for the templates you are using. But since Flixpress doesn't come with an editor, it is a challenge to synchronize audio and video.
You will have to add a soundtrack which is perfect sync with the special effects on the template or you will need to content with only background audio, which does not need to sync with the video.
On the bright side of things, the user can create fabulous video clips in a matter of minutes or even seconds in some cases. All one needs to do is choose the template, customize the text and images section, take care of the audio, and it's done.
It could not have been much more straightforward and simpler. For some, this can be a great barter for the loss of control over the video timeline.
Not all the templates work in the same way on Flixpress. As you get to access more templates available in better subscription plans, you will get much more flexibility and control over elements.
Some templates will have multiple actors in various segments of the template, and you will able to choose between actors and segments.
Some templates are created for specific tasks, such as to promote a service, and then it will come with multiple options for the user. For instance, the promotion template will allow you to choose one of the business options. You will be able to pick one from options such as car dealer, hospital, accountant, etc.
After choosing the niche, you can proceed with taking care of other details such as text and images. Some case will also let you take care of colors and additional specifics.
The crux is that whatever can be modified within the template, will be presented in front of you in such a manner that you can deal with it efficiently.
So, if you prefer the way in which you don't need to worry much about stuff other than the written text and images, then you will definitely like the way Flixpress works.
The templates
Now that you have a fair bit of idea of this video maker works, you can easily tell that most of what happens on Flixpress revolves around templates.
It is the templates which have all the amazing effects and graphics that you want to have in your videos. The templates available on this platform involve the use of actors, green screens, exotic locations, computer graphics, and a lot of other things which would have burned a hole in your pocket if had to care of them by yourself.
If you want to create a great video, then you will come across way too high production costs way more than what you would've have predicted. Better equipment to shoot high-quality videos, skilled actors, picturesque locations, advanced special effects, etc. do not come cheap at all.
The good news is that you will not have to worry about spending money on all of that stuff while using the Flixpress templates.
These templates involve the use of everything that we just talked about. You will have plenty of options to choose from and freedom to choose as many of them as you want.
The only drawback of using templates on Flixpress is that they are the way they are. You can't have the actors speak different dialogs or have one effect applied in a slightly different way.
All you will be able to do is change the text and images when possible.
In some cases, such as the one of advertising businesses, the lack of personalization can be a huge drawback. If you have an actor on video talking about your company or business, then you would want the actor to take the name of the company at least once.
Sadly, the actors in the video will always refer to it as 'they,' 'them,' 'this,' etc. It can be extremely challenging to make viewers believe that the content is exclusive in any way.
In some cases, the lack of personalization can end up hurting you more than doing any good. It is highly unlikely to go well with viewers when they realize that it is an actor claiming to be one of your clients.
One can't rely on such tactics to make the viewers trust their service.
Even though the templates may not be suitable for a few situations, they can still help you in most of the cases. A professional-looking intro for your YouTube video will help attract and retain more audience. Same goes for creating presentations filled with spectacular special effects.
You will find templates sorted into various categories such as intro, slideshow, ads, etc. The classification makes it much easier for one to find the right kind of template for their need.
The number of templates you get to access depends on the subscription plan you get. A better plan will give you access to more templates.
The one thing which can easily go against Flixpress is that most of their templates seem outdated. Even though the special effects are impressive, they appear to be from the previous decade.
Flixpress needs to address this issue as soon as possible and make sure the templates do not look so outdated.
The editing options
The editor is usually at the core of any video creating software. It is the editor where you get to execute all your plans and design the kind of video you wanted.
But Flixpress is a slightly different beast to handle. There is no editor for you to show your magic. Instead, there will be a customizations section where you can modify details that the templates allow you to.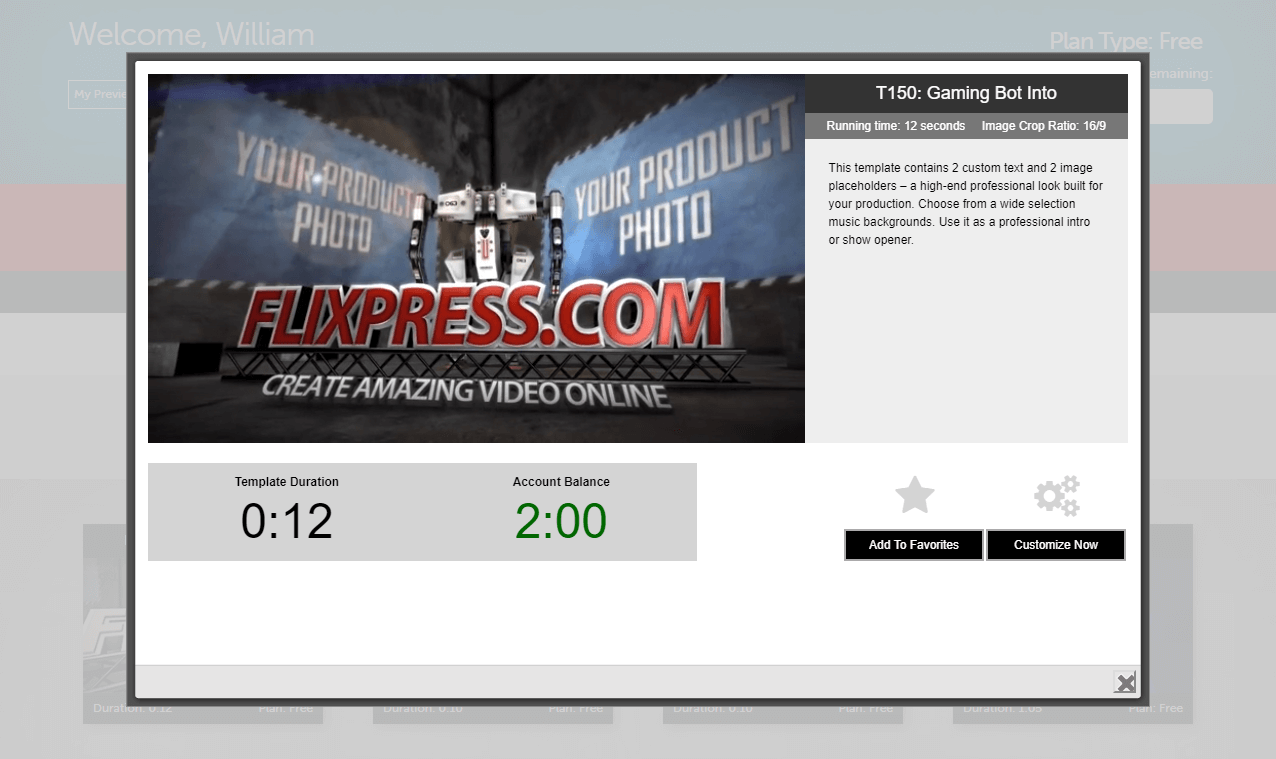 Since the number of things you can change for each video varies with templates, you get a different editor almost every time. The templates which have spaces only for text will let you enter text and those which allows images will let you upload pictures, as well.
There are also some versatile templates which are made up of a combination of independent subjects, and you get to decide which subjects and elements you want to include in the video.
In these cases, you get a drag and drop editor. But the only things you can drag and drop are the individual elements of the template.
Once you have placed the elements as per your liking, you can continue with the usual editing options for text and images.
One apparent flaw with the design mechanism on Flixpress is that there is no easy way to preview the video. One needs to specify the details, and then get into the preview section to check the end-product.
The whole process can be annoying after going through a few iterations. They should have provided an easier way for users to make changes in the videos and have a look at them.
Flixpress does not allow one to do much of changing and chopping on the video. This is both a merit and demerit for this video making tool depending on an individual's preference and need.
When to use Flixpress
You can work only on one template at a time on this platform, and it imposes a lot of limitations on how you can use the end videos.
This is not a video making tool intended to create full-fledged videos conveying stories and long pieces of information. Instead, one should consider Flixpress as an auxiliary tool that you can use to enhance your existing videos.
If you want to use the videos created on Flixpress independently, then it can be used for short commercials, infomercials, teasers, promos, and other such stuff.
You will notice that video templates on this platform are not very long. But they are filled with more special effects than what you may get on any other video maker.
Such intense videos work well only when they are short, and since the video maker doesn't come with a lot of editing options, it can be an extremely challenging task to create long videos using the combination of different templates.
One of the more common uses of Flixpress is for creating intro sections. If you want to have an intro section for all the videos you publish online, this can be an excellent tool to take care of the task.
The templates come with the necessary flair needed for promotional videos. However, it can be a challenging task to find the right kind of template for your specific product.
As we mentioned earlier, the advertisement templates which consist of actors, can turn out to be either vague or deceiving to viewers. The one with only text and images may not be as assertive as you want an advertisement to be.
However, it will boil down to user's preference if he considers the template appropriate enough for use.
Conclusion
Flixpress is quite different from usual video makers in the sense that you don't get to create a video from beginning to end on this platform. Instead, you get premade short video clips with special effects in which you can add text and images.
There are a lot of instances when one may need such clips, and Flixpress is appropriate for the majority of such cases.
But if you compare it to conventional video makers, you will feel that it is far too behind them. There is no editor, and the user doesn't get to control much of what is happening inside the video.
The advantage of using Flixpress is that you don't need to worry much about the need to learn how to use a video making tool. There is virtually no learning curve involved with this tool. All you need to do is take care of images and text at a few places, and your video is ready.
Flixpress is an excellent tool for anyone who wants to have some short into, promo, advertisements, etc. but without the need to put in much effort or time.
One of the possible drawbacks of using this tool is that you will not get to have some exclusive content on your videos. At times, it can be vague, and if the special effects on the graphic turn out to be great, then it highly likely that a lot of other users have it on their videos.
It is not just the effort to create a video which is reduced significantly on this tool, the price associated with creating video is considerably less, as well.
You don't need to pay much for this video maker. One of the possible reasons that they can avail the product for a lower price might be that it doesn't come with a lot of customization options.
In some cases, you may also get away with using the free version of the tool as it may turn out to take care of your needs.
Flixpress is a simple to use video maker to create short and impressive video clips. If one uses it only for the purposes for which it is designed, then it can be a beneficial tool. But if you try to use it to create lengthy and detailed videos, as you can do with other video makers, then you will have to face disappointment most of the times.