Weebly Review
By: Weebly, Inc. From USA
Detailed Reviews
Weebly is one of the prominent website builders which allow users to create full-fledged websites and webstores without much knowledge of coding and computing languages. The company is based in San Francisco, and it got acquired by Square Inc. in 2018. The acquisition has provided some significant boost to the e-commerce section on Weebly.
Pros
Lets the user choose between e-commerce and regular websites right at the beginning.
Provides a wide variety of themes/templates assorted under various categories.
Easy to use drag-and-drop editor.
Provides website preview for desktop and mobile screens.
It is stuffed with webstore management features.
Easy to manage websites from within the dashboard.
Has an app store with applications suited to most needs of a webmaster.
Takes care of SEO by providing options to enter titles, descriptions, keywords for pages and the site.
Comes with HTTPS protocol.
You can invite other members to work collectively on a single website.
Option to set up permission levels for page access by users. Can imply password protection.
Huge content gallery with stunning images and beautiful fonts.
Excellent customer support.
Provides access to codes.
Cons
Difficult to change the structure of a website.
Drag-and-drop items are not sorted properly, making it difficult to locate them.
No proper measures to take care of page load speeds. Websites generally take too long to upload.
App store does not contain some widely used applications.
Introduction
We all know the significance of having a website. It provides you an exclusive space on the vast internet. You can use this space to share your ideas, knowledge, art, or anything that you can possibly portray on a screen.
Exclusive websites are even more important for people who have a business. It can be the physical products that you want to sell, or it can be something intellectual you have got to offer. Websites extend your reach to customers.
Even if you don't have a business, a website can still help you in excelling in your career. One can create a website portfolio to attract potential employers and clients.
These were only a few examples. We can go on and on about the importance of websites and still miss something. It will be safe to say that a website can be helpful to people from all walks of life.
Website building used to be a complicated task at once. The kinds of which should be left to experts. One would need to have some in-depth knowledge of computing languages to create a functional website.
But things are not the same anymore. With the advent of website building software, anyone can build a website. The ease of use and the functionality of the end product varies from one site builder to another.
Weebly is one such software which can help you get a site up and running in a matter of a few hours. It is supposedly effortless to use and doesn't take a lot of time to get used to it.
There are many website builders which are incredibly easy to use, but they fail to provide essential tools to create a sophisticated site.
In this review, we will examine if users need to give up on functionality while using Weebly. We will compare this builder with other top players in the field and tell you how it fairs against them.
We believe that website builders need to have a perfect balance between usability and functionality. There is no point of creating a site in minutes if it lacks necessary functions.
Similarly, you would not want to use a builder which is stuffed with features but is a nightmare to use.
It will be interesting to see if Weebly can strike that balance. It is a rather popular product, so we expect it to be more than just satisfactory for most of the cases.
Beginning: Choose between a store and a site
Starting to build a site on Weebly does not take too much of time or effort. It is a simple enough process with only a few steps.
When you start creating a site, the builder asks you if you want to create a simple website or an e-commerce one. It is not a problem if you are unsure of your plans of having a store.
You can start with creating a simple website, and if ever feel the need to have a store, you can add one in your existing site.
If you choose a regular site, the builder will serve you with theme options which fall under various categories such as business, store, portfolio, blog, etc.
You can choose a theme from any of these categories irrespective of your site's niche. If it looks good enough, you can try it. You can click on themes to preview them and then accept or reject it as per your liking.
Even if you feel like changing the theme in later stages, you can change it without losing the work you have already done on the site.
There are categories above themes which let you pick from recently used ones, and there is an option for custom themes as well. However, we only found a blank window on choosing the custom option each time.
It might just be a bug or perhaps a big blunder on Weebly's part. Option to create sites from scratch was never highlighted on this builder anyway.
When you choose a theme, they ask you to choose a domain name. You can connect one of your existing domains with Weebly, host one through them, or even get a free domain name which ends with weebly.com.
If one picks store instead of the site at the beginning, then there would have been a couple of more steps to tackle. When you select the webstore option, they will ask you a few more questions regarding your plans for selling products.
Then it serves you with theme options, lets you choose store name, and provides choices for domain selection as well.
We acknowledge the fact that it is straightforward to start building a site on this platform. But this simplicity points toward one missing feature as well.
A lot of website builders offer two ways of creating a site. One is to create a new site from existing themes and templates, and the other option is to create custom templates for it.
Weebly allows users to change the structure of a site, but these preexisting themes take a bit of freedom away from the user.
Since they offer a lot of themes, it is highly probable that the user will find one according to his taste, but there is no option for those users who wish to create one of their own.
As we move to subsequent sections of this review, we will get a better idea of functionality and usefulness of the editor.
The dashboard
Before we take a closer look at the editor, let us have a brief look at the dashboard. Weebly does not provide two dashboards as it happens in the case of a lot of site builders.
There is no dashboard where you can manage all your websites at once. You can choose a website, on which you want to focus, from a drop-down menu.
There isn't much loss in flexibility or usability because of the absence of a place to manage all the sites at once. However, it would have been easier for someone to sort and categorize their websites if they have a lot of them.
It is not an essential feature on a site builder since people don't tend to manage a lot of websites, but it might have made life easier for a small section of users.
They provide dashboards for individual sites which you have created on Weebly. There are a lot of elements on this dashboard which will help you in every step of the way of website creation and management.
In the earlier stages, the dashboard gives you a checklist of items which will help you get your website going. The steps will be like getting a new domain or connecting your site to an existing one, publishing the website, adding products if you have a store, etc.
Once you get through the initial stage of creating and publishing a site, the dashboard will provide you insights every time you login into your account.
It will display information such as page views, unique visits, etc. If you have an e-commerce website, then it will show sales on the homepage as well.
There is a drop-down menu at the top left corner of the dashboard. Depending on the type of your website, it will show you options which can help with a lot of critical aspects of the website.
The 'Overview' does what it says. You can have a look at your blog comments, manage messenger conversations, manage emails, offer coupons, etc. from within this section. Features provided in this section will depend on your site's category.
'Store' lets you manage and monitor most sections of the store from within the dashboard. We will go through this feature in great details in later parts of this review.
'Marketing' helps to grow your business online and to make your website more visible on the internet. It contains checklists and plans for site growth.
This section also helps managing emails, advertisements, contacts, and other related stuff. There will be some suggestions for ads as well.
'Insights' gives some more information and trends for the website. You can monitor how your site is progressing against its own standards and rectify anomalies if any.
What impressed us most is that Weebly's dashboard acts more like a one-stop solution for most of the issues related to the website. It allows management of all aspects ranging from marketing to store administration.
The editor
There are only a few factors which separate mediocre and amazing website builders. All of them allow you to create websites and then manage it on a regular basis. You will find that all of them provide users with beautiful templates and useful widgets.
Most of them will even take care of SEO and related aspects as well these days. Yet there are a few website builders which enjoy more popularity among users when compared to others.
These builders also come up with regular features like others, but they make sure users neither feel intimidated by those features nor find them useless.
Editors are one of those areas where builders can excel the most. It is the creation and editing part of a website which concerns users the most.
As we mentioned earlier, Weebly does not provide two approaches to create a website. There is only one way to create a site, and that is too pick a theme and work upon it. They have an option which lets users import themes as well.
Themes come in different formats depending on the category of the website you chose. If you pick a theme from 'blogs,' then you will get one with pages for blogs. Similarly, if you select a theme from the 'Portfolio' section, it will come with pages more suited to a portfolio site.
However, Weebly provides enough flexibility where users can take a theme from one category and edit it into a site for an entirely different type.
The editor comes with two toolbars, one at top and another in the form of the left panel. The right side of the top panel is dedicated to updates and saving and publishing of changes made on the website.
Starting from the left, the first option on the top panel is built. It provides most options you will need for editing a site. When you are in 'build' mode, the side panel displays all items that one can add on canvas.
Weebly provides a drag and drop kind of editor for its users. The side panel contains nothing but elements which you can drag and drop on the canvas at places you intend.
How you go about editing a site on Weebly will depend a lot on if theme style matches your taste. If someone likes how elements are arranged on a sample theme, then they can simply edit content and change images wherever required to have things their way.
Editing textual content on this builder is as easy as it gets. You can double click on the text or on the place provided for text, and type in what you want.
When you select text or space designated to it, a small toolbar pops up which provides an array of editing option for this text. You can take care of alignment, color, size, etc. using it.
Editing images is equally comfortable. You can select a preexisting image and edit or replace it. Image editing options on Weebly are much better when compared to a lot of other website builders.
It allows one to crop images and apply filters on it as well. Even though these features don't sound like much, they prove to be a lot helpful than expected.
Weebly allows users to either search for an image on the internet or import it from their device. They provide professional as well as free stock images. You can upload one from Weebly to your site if you find a suitable one.
Editing images and text on a template prove to be sufficient when users like what they see. In case someone is not sure of how elements are arranged on a theme, or they want to add more items and sections on the pages, then side panel comes into play.
The side panel has a lot of items available on it to enhance the website and webpages. In fact, there are so many of these elements that all of them don't fit into the panel at once.
And this is where we can provide some constructive criticism. Instead of throwing all the elements together in one panel, Weebly should have tried to sort them into categories according to their functionalities.
It would have made it a lot easier for users to find items and then add them to webpages. A lot of the popular builders, including Wix, sort items into different groups to make it easier for users to find and add them.
There is a section panel present at the top of the side panel. You can insert this section at any place on the page and embed other elements inside it. You will get some default options to add in it such as the gallery, menu, team, etc.
When you choose one of these items, Weebly will offer you some templates which you can use directly on your site. We like how they have nested so many elements in a single feature. 'Section' is an excellent example of how this editor makes tasks easier for users without adding in a lot of steps and confusion.
Then there are individual items which you can introduce inside a section or on pages. They include regular ones such as for text, image, video, buttons, etc.
There are ones to determine structure and layout as well. Such items include spacers and dividers. When you add a new item form side panel into the page, you need to pay attention to the bold blue line on the page.
It highlights where items will go when you drop them on the page. So, if you wish to introduce an element next to an existing one, you will have to make sure that a blue line gets highlighted adjacent to the item instead of getting highlighted above or below it.
When elements are placed side by side, you drag the line in between them to decide how they will be aligned with each other.
You can introduce items which will enhance features on your website rather than its aesthetics. Such things will let you embed code, insert contact forms, add maps, etc. You will be able to add these items the same way you can introduce others.
There is a wide variety of such items which can help you take your site to a whole new level.
However, there are a few limitations on this drag and drop editor. You will notice that it is not easy to move sections around on the canvas. Even if items are nested within each other, you will not have the complete freedom to place them wherever you want.
For instance, if you insert a title element or a text element on top of a background image, you will notice that you have only got the freedom to choose the text's alignment and size.
You cannot decide its position over the image. The box for text will always get placed in a fixed position. This limitation may not let some users execute their plans, which can be annoying.
Weebly has an app store where you can get some additional elements for pages. Once you connect an app to your Weebly account, you will be able to see the related items inside the side panel.
'Pages' is the next element on the top panel after 'Build.' As the name suggests, you can manage settings related to pages present on the site.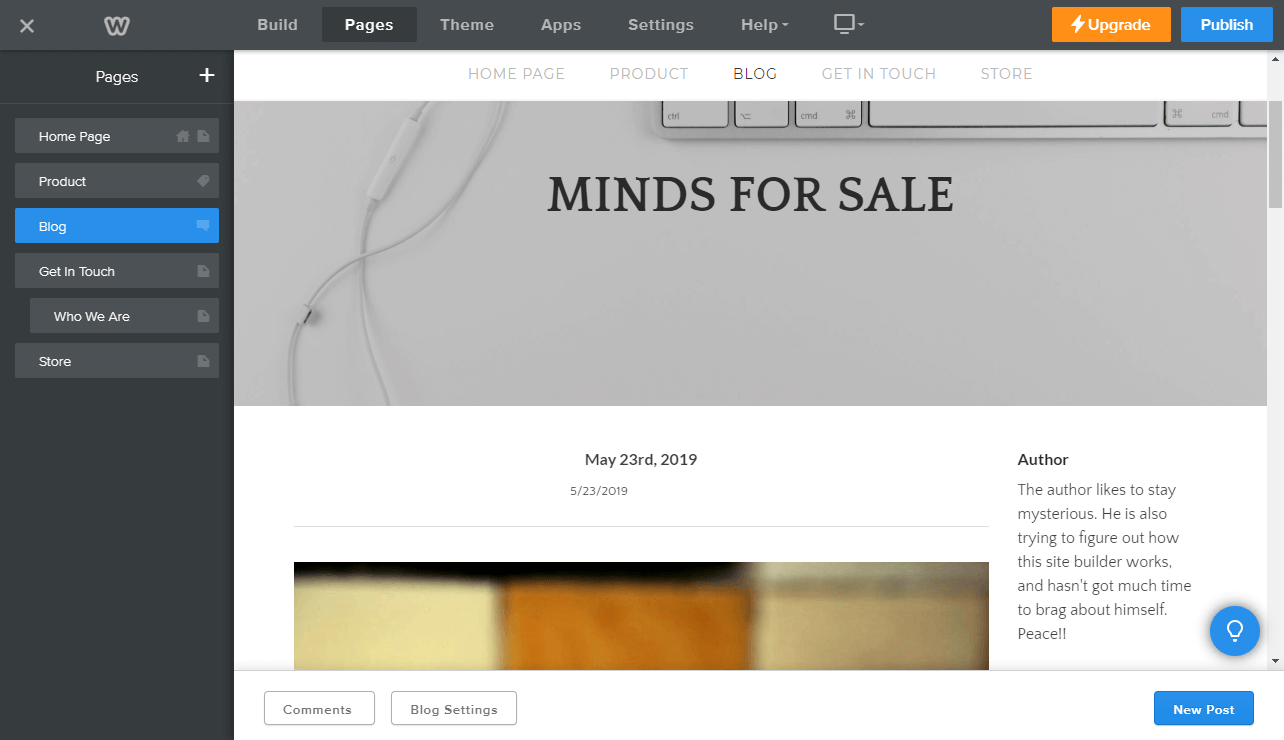 When you select 'Pages,' you will be able to see all the pages of your website on the side panel. You can drag these pages vertically to determine how they appear on the navigation panel.
If you want to nest one page inside another, then you need to select the page title on the side panel and place it under another page's title slightly on the right side. It will nest the lower page inside the upper one.
When you hover over the upper page on the navigation panel, it will display the nested page. There is an option to hide a page from navigation panel without nesting it inside some other page. You can use it for some of the less critical pages on your site.
When you select a page from the side panel, you will get to manage its header, decide upon user access, and manage SEO settings. You will be able to change its name from this selection as well.
For page access, you can decide if it will be public, password protected, or available only to some group members.
In the SEO section, you can add title, metatags, descriptions, etc. to make sure your page gets indexed easily on search engines and therefore, ranks better in search results.
Depending on the type of page, you will get some additional options to manage it on canvas. If it is a blog page, then there will be options to manage blog posts which will not be available in 'Build' mode.
Next item on the top panel is 'Theme.' It has got two functions. One is to let you choose a theme, and the other is to manage font across all sections of the website.
You can individually manage font style, color, size, spacing, etc. for all categories of text that appears on webpages. We feel that it is a slightly ineffective way to manage fonts on a site.
Users should be allowed to manage all settings related to the font, including style, from within the canvas. If one wishes to apply a lot of font styles over his website, then the current mechanism to change the font on this builder will turn out to be ineffective and tiring.
'Apps' takes you to Weebly's app store where you can find tools necessary for your site. We will discuss more on this in a later section of this review.
The next two options on the top panel are 'Settings' and 'Help,' which don't have much to do with the design aspect of the website. We will briefly go through them as well in subsequent sections.
Weebly allows its users to modify codes for a lot of parts of the site. You can access codes and change whatever you want on sites created on Weebly. This feature is available for free as well as paid subscriptions.
It is a useful feature for those who wish to learn more about coding and developing a website. There aren't many website builders who provide such freedom.
However, those who decide to take the help of a website builder are generally not very interested in learning about back end stuff.
Some people might enjoy the fact that such a feature is available on this builder, while others couldn't care any less. But Weebly can proudly claim it as one more trick up its sleeves.
E-commerce
The internet is the biggest marketplace with more buyers and sellers compared to anywhere else. It does not matter if someone wants to sell expensive enterprise level products or stuff made in a garage.
One can sell physical products such as sports accessories to services such as football training. There is no limitation as what is it that you have got to offer. If it is within the laws of the land, then you can put it for sale on the internet.
Weebly getting acquired by Square led to a lot of improvements in over e-commerce ecosystem on the builder. There is a lot more emphasis on e-commerce compared to earlier stages.
Weebly provides the user with two options of choosing either a regular website or an e-commerce one. It is not as is those who went for the other sites cannot sell products online.
Irrespective of the choice you made at the beginning, you can add a store on your website. E-commerce sites are for those who only want to sell products on their website.
The process of managing a store on Weebly is same on e-commerce and the other sites once you set up a store. There are some tiny differences but nothing significant or capable of affecting the user's experience while managing a store.
You will get the option a button to manage a store on the dashboard of an e-commerce site but not on dashboards of other websites. Adding a product into the store is the same for all types of sites on Weebly.
You can go to the 'Store' option on the dashboard to access the store management window on this site builder. It will serve you with all kinds of options relevant to managing a store.
The first tab in this section is 'Product Library.' It will list all the products in your store along with prices and inventory level. One needs an upgraded plan to manage inventory as well as a lot of other parts of the webstore on Weebly.
There is an 'Add Product' button, which lets users add more products in the store. It enables you to add all the important as well as tiny details about the product. You can add images, specifications, product id, tracking id, shipping options, SEO fields, etc.
Weebly distinguishes between physical products, digital products, donations, memberships, etc., and lets you add product from one of these categories. You may not be able to list your product in some of these categories if you don't have the necessary subscription.
They allow the inclusion of multiple images, but you can't set up any effects for them. There will not be an automatic slideshow when someone hovers over an image or something else to make the listing more dynamic.
Weebly should have provided a few options to make things more interesting when it comes to the layout of products.
However, we like how they took care of most of the tiny details that one may need to pay attention to while listing product. Features such as SEO management while adding a product may benefit when it comes to product listing on search engine results page.
It is convenient to manage taxes and discount rates, and you can easily add variants of products in a single listing which helps both buyers as well as sellers.
Once you add products with all the necessary details, product library will show you a summary of it.
When there is a lot of diversity or a lot of products to list, then it is better to sort them into as many categories as possible. It makes it easier for buyers to find what they are looking for, and sellers don't keep losing track of products.
There is a dedicated tab on Weebly to manage product categories. You can create and delete categories and enlist products into them.
You can then list these on a categories page on the website to help buyers find what they are looking for. There are some display and SEO settings for categories page as well.
Weebly lets you manage gift cards, user reviews, and all sorts of things which are generally expected of a webstore. However, sellers are more interested in actual sales, and Weebly provides enough tools for them to make sure they don't come across a lot of roadblocks.
One can monitor orders and their status from the 'Orders' tab. 'Abandoned Carts' tab helps you remind users that they liked something from your store and placed it in their shopping carts. This section can help you get more sales.
There is a tab to help you manage emails. Email management is necessary at every step of the way in an online purchase and sale. Weebly lets you manage all kinds of emails ranging from ones sent for brand promotion to the ones confirming orders and deliveries.
They have all the necessary features that one needs to run an online store. The only complain we have is that they could have offered a few more options for the display of products on the website.
SEO Management
With so many players, it is getting increasingly tougher to get some attention from online dwellers, especially if you have a relatively new website. It would not make much sense of creating a website if many people don't know about it.
It is nearly impossible to have a successful website without paying a lot of attention to SEO practices. A lot of things come into play for search engine optimization.
One needs to take care of the content on pages, link building, etc. Making it easier for search engines to crawl pages of a site are also among the essential SEO tasks. Weebly helps one take care of this side of things to help with SEO.
You can add titles, description, keywords, etc. for all pages you create on this site builder. If you are careful enough while filling in these details, then it will be easier for search engine algorithms to know what site and pages are about, and hence, display them in relevant search engine results.
There is nothing fancy on Weebly to take care of SEO. There isn't a dedicated section outside of pages. There aren't checklists for SEO the way they are available on other site builders.
All these factors may make one feel that Weebly doesn't do much for SEO on a website. But that's not true. Weebly provides all the necessary SEO tools that can help one take their website higher on search engine results.
There is only so much that a website builder can do and assist. Most of the work needs to be done by the webmaster himself. Metatags and descriptions don't weigh much in SEO recommendations.
This builder will make sure that the user doesn't fall back on SEO because of the absence of any feature on the builder. But one also needs to keep in mind that only these methods will not take him through.
The webmaster will need to take care of a lot of other things if he wants his website to rank better on search engine results.
Speed and security
So far, things have been bright and shiny in this review. We saw how Weebly allows its users to create pleasing sites and provides with enough management options.
But is that enough? Merely creating a good-looking website and publishing it does not mean your site will perform well on the internet. Even if your content is highly relevant to some users, there is a possibility that they might skip your website.
One reason for which visitors may skip your site is that it takes too much time to load. No one cares about slow loading sites in this world of instant gratification. People leave a website if it does not offer them something within seconds.
We guess we have emphasized enough on the importance of fast loading of sites.
There are several factors which govern how fast a website will load. If a site falls behind on even one of these factors, it may result in slower loading speeds.
Sadly, test results showed that Weebly fell behind on not just one but multiple factors which would have helped it load faster. We created two demo sites using Weebly, and both of them were diagnosed with the same issues.
Sites created were not browser caching. It means everything will be downloaded from scratch even if the website is being revisited. This translates into poor loading speeds and more work for browsers.
So, if you create a detailed website or one with a lot of resources, then it will always test visitor's patience. Browser caching is an extremely common phenomenon, and it surprises us that it is not happening on sites created on this builder.
Parsing of Javascript turned out to be an issue as well. It increases the initial load time of a webpage and raises the possibility of a user skipping the site as well.
Weebly does a poor job of combining images present on a site. It is evident that pages will take longer to upload if resources are not appropriately bundled.
In fact, these issues on Weebly, combine up and provide very slow loading webpages. This performance does not go well with Weebly's reputation among website builders, and they need to address these issues as soon as possible.
The next concern of a webmaster should be security on the website. Thankfully, things are not so gloomy in this section. Weebly seems to be following most of the standard practices required to make it safe to access a website.
They provide SSL cover for websites created on this platform. HTTPS protocol also does its part by removing the unsafe tag from browsers on the website.
Weebly allows users to set up privacy levels for content on pages, which is a form of security as well. It enables users to make some pages exclusive and protect them with passwords.
This section of review was a mixed bag with the builder doing well in one area and weak in another. The slow loading speeds on Weebly can haunt service providers for a long time if they do not come up with an appropriate solution very soon.
Applications and integrations
Creating an aesthetic website is entirely different from creating a functional one. One needs to take care of a lot of stuff to make a site practical and profitable.
You will need to manage emails sent on behalf of the site, take care of social media posts, manage forms, etc. It is possible to delegate some of these tasks to other team members, but it is a wiser idea to automate as many of them as possible.
There are a lot of applications which can take care of these tasks for you. It is easy to integrate them with websites.
You can get codes for these applications and embed them on your site. However, life gets a lot easier if the website builder has an application store. It eliminates the need to go looking for applications on the internet.
Weebly provides one such application store for users. You can browse apps in it and select the ones you want to be installed on your site.
It has a wide array of applications sorted into various categories. It helps users find what they want without wasting much time in going through all the applications.
They have grouped applications based on their niche of use. You can look for apps dedicated to e-commerce, communication, analytics, etc. under these groups.
Since there are multiple applications in each of these groups, it is highly likely that you will find the one most suited to your needs.
There are some filters within these categories which will help you identify ones you need. The applications are rated, which tell a lot about their performances.
Apart from ratings, you can sort apps based on their popularity, age, if they are free or not. These filters will help you reduce the sample space so that you can easily find what you want.
Weebly provides some good quality apps, and there are some applications which are native to them. It is natural that they want their apps to do better, and this is where things may not remain so much fun for users.
Since Weebly wants their native apps to excel, they strike out its competition. It means they do not provide any good alternatives to their native apps to makes the user choose their applications.
But the absence of popular apps from the store makes it less attractive and useful. Weebly should try to make their applications so much competent that market leaders can't affect them very much.
But keeping the popular applications out of store does much good to neither users nor the service provider.
Another thing which can be improved is that it should provide integration options with popular services such as Google Analytics. Majority of webmasters use Google Analytics to monitor their sites.
It will help users if some features from these popular services can be integrated on the website dashboard. A lot of builders allow such integration and Weebly should also strive for something similar.
The library
A lot of resources go into making a website visually appealing. You may source some aesthetically pleasing pictures from professionals or introduce some beautiful fonts. But there is only so much that one can do to make a site look stunning.
At the end of the day, it all boils down to resources available on a builder. A good website builder will expand your resources and give you more options at every step of website designing.
Weebly provides stock and professional images for websites, and there are more than enough font options that users may never feel the need for any more of them.
However, it is the themes available on these sites which affect visuals of a site the most. Weebly provides a lot of options for themes which help users create beautiful websites.
Overall, Weebly provides so many resources that one may not feel the need to outsources more exclusive content. It is possible to create a unique and appealing site on this builder using resources available within it. All you will need to do is type in some exclusive content.
Team management
If you have a complex and detailed site, then you may want to delegate some tasks to others or involve people who are experts in their fields. It doesn't matter what your reason to include more people in your site management team is, it is highly likely that it will only make the website better.
Weebly lets you collaborate with others on a single site. You can invite others to work alongside you to improve the website. All you need to do is send them an invitation on their email address using from the 'Editors' tab in settings.
The builder lets you decide what items of the website can be modified by these team members. There are three options when it comes to assigning roles.
Admin will be able to edit and manage all page settings on the builder. He will have authentication to install apps on site as well. You will want to give such extent of control to only those who you can trust and rely upon.
Author will be able to manage only selected pages and settings. While assigning the role of author, you can decide what pages you want to be managed by that person. You will be able to choose pages you want to be modified by them.
If you still want some more control, you can make sure that they can't make changes in a live site. You can keep those abilities to yourself and inspect changes before making them live on the website.
At last, there is a 'Dashboard only' role. These people will not be able to make any changes in the structure or content of the site. Instead, they will be able to view stats and manage form entries and blog comments.
You can take away some of these abilities as well. You can limit their access to only viewing of stats or to form entry management.
This feature not only made it easier for the webmaster to assign roles, but it helps in keeping the website safe in some ways. By providing limited access, one can make sure that they don't give away too much control of websites and pages to outsiders.
Customer support
Even though Weebly is so easy to use, there is still a significant learning curve for users who are new to the realm of website building.
It is highly likely that such users will come across issues they won't be able to solve on their own. Even if the user is aware of website building, he may want help with some exclusive features of Weebly.
It is necessary that there is a mechanism in place to help users get through these roadblocks. Service providers, who undertake suitable measures to handle these issues at a primary level, experience better customer loyalty.
Weebly has multiple avenues for helping their customers. They provide, chat support, mail support, support over a telephone call, and have a detailed FAQ section as well.
Their FAQ section is well laid out and covers most of the topics in details. They have categorized questions into various categories so that you look for items at the right place.
The community forum is an excellent medium of learning more about the builder as well. You will get help from both experts and fellow Weebly users.
You can send them a mail or initiate chat to have your problems handled by one of their executives. They usually don't make their customers wait a lot and reply within a reasonable time.
If you want a more direct way to get issues resolved, then you can get it done over a phone call. Their support executives are generally competent enough to take care of most problems.
However, there is still some room for improvement when it comes to Weebly's customer support section. They could have created some better videos to help out users. They have a lot of videos intended to help users, but those are not as effective as they should be.
One can take the example of video available in Webflow's help section. They are interesting and informative at the same time. They have covered all parts of the builder chronologically to tell users how to use it.
The verdict
Things haven't been entirely black or white throughout this review. There were sections where Weebly stood true to its promise, and there were also some when it was almost a disaster.
This radical shift in performance in various sections made it difficult to deem this builder either a good or a bad one.
It started with how simple it is to create and design a website on this builder. The drag and drop design kept it effortless to introduce elements to a site.
The themes looked stunning, and they were inclusive of so many website categories. Then we realized that designs are not that flexible on this builder and we need to make do with what themes have got to offer.
There are options to modify things by accessing codes, but most people who use website builders don't know much about computing languages.
It is extremely easy to create an e-commerce website or a webstore using this builder. It provides all the necessary tools to manage a shop. Features such as inventory management, payment gateway setup, options to include variants, etc. make it easy to manage stores.
There were some limitations when it came to product display. Otherwise, Weebly took care of most of the stuff related to the store.
The most disappointing part was page load speeds for websites created on Weebly. It is impossible to ignore this aspect as it directly affects the viewership of the site and its growth. They need to take some serious actions to improve page load speeds.
The app store does what it is supposed to do, and their customer support will be there to help you most of the times. SSL certification and other security measures for team management and page access were a confidence booster as well.
We found Weebly more than a satisfactory website builder apart from the page load speed section. If they can somehow manage to take care of this section, there would be nothing holding us back to recommend this website builder to our users.