Freshchat Review
By: Freshworks Inc. From USA
Detailed Reviews
Freshchat allows you to manage all your user and customer interactions at one place. It comes with ample integration options and features to help you connect with customers. It helps you devise and implement new strategies to gain more customers or serve any other goal, which involves user-interaction.
Pros
Provides ample information about the user during conversations.
Interactive chat options.
Options to classify user.
Ample integration options.
Options to set up multiple campaigns.
Flexible FAQ section.
IntelliAssign helps to assign users.
Bots can take over conversations when needed.
Set up triggered messages and emails based on user actions.
Cons
Inconsistent customer support mechanism.
Lacks attention to details in some sections.
Introduction
Nothing can be more vital than connecting with a potential customer or an existing one for a successful business.
There are many ways that businesses use to reach out to their customers or leads. Some use emails, while others may go for direct telephonic conversations. However, the most preferred way of communication, for customers and businesses alike, is live chat.
For users, talking over the phone may be a bit too direct approach when they are not sure of a service or product and want to avoid awkward conversations with sales or customer representative. And emails turn out to be way too slow for their liking.
For businesses, especially the bigger ones, it is tough for them to assemble a team with excellent conversational skills and knowledge of languages that customers speak. In some cases, the accents may end up being an issue, as well.
And since the customer may not remain interested in their service till they reach back to her via email, businesses like sealing the deal as fast as they can.
Now that we have established that live chat is the best way to go in the majority of cases, there are some nuances to having a perfect live chat conversation as well.
There are various live chat software available in the market, which will let you connect with clients and potential customers, but they may not provide you with enough tools to be efficient at the conversation.
It is why you need to be cautious while selecting a live chat software. Just any product will not do in this case.
Freshchat is one of the weapons from Freshworks' arsenal. This live chat application promises to help you connect with users at all stages of a relationship. You can use it to acquire new deals, to assist users while making purchases, to make sure they frequently visit your website, to provide support when needed, to gather feedback, and other similar activities.
They offer to automate processes when needed and make the whole process a lot more flexible for you as well as for the customer.
In this review, we will go through all the crests and crevices of this tool to find out if it has got what it takes to stand true to those promises.
Adding the widget on your website
There are primarily two ways for one to add Freshchat on a website. If it is a WordPress site, then you can install the WordPress plugin on your website. Otherwise, there is the usual way of directly inserting the code on your website.
If you wish to add the WordPress plugin, then you can add in the plugin from WordPress and paste the token code in that plugin. The code will be available in the integration section of Freshchat.
For inserting the code directly on your website, you can find the code in the 'web messenger' tab of settings. It will have a clear set of instructions on how to add the code on your website.
Even though both the processes are supposed to be quite simple and straightforward, it was not the case for us.
While adding the WordPress plugin, we came across a bug. In the end, it turned out to be a problem from our end.
However, it helped us get a firsthand experience of their customer support department, which wasn't even close to what we expected.
When you reach their website or start using the web application, you will continuously get pop-ups from the Freshchat widget. It somehow made us believe that their customer support team must be easy to reach out.
But when we ran into a bug and tried contacting them, it turned out to be an utter disappointment. They reply, but only after making you wait for a significant period. It becomes even more annoying when you see the message that their support team usually reverts within five minutes.
Even when the conversation once started, they would abruptly stop replying and make you wait for long. The representatives would try their best to assist you, but somehow, you end up being annoyed by the whole encounter because of unannounced and long waiting sessions.
We hope they will make their customer support mechanism more robust in the near future and assist customers better.
The next time they made us pull out our hair was when we were going through the instructions for adding the code to our website.
It is of no help to someone who is not used to dealing with codes and tokens like this. They had a trivial mistake in the instruction on how to add the code on your website. But, in our opinion, it was significant enough to trouble a person who is not used to inserting codes on the website.
It wasn't one of the best impressions, and we expected a lot more. But they made for this lack of professionalism as we progressed with the review.
It is much easier and fun to use the product when you are left on your own. We found enough features to keep us interested and even enjoy testing the product.
It just happened that we got a taste of the not-so-good part at the beginning.
Make the widget speak your mind
Let us start with the basics. You would want to ensure that the widget does not look out of place on your website.
It should match your website theme or look the way you feel like it would be most appealing to visitors.
There are three customizable properties for Freshchat widgets.
You can change the color of the widget. There is a wide range of colors to pick from the panel. If you don't like a new color you applied on the widget, and want to go back to the old one, then you will not have to browse through the entire color panel.
There is an option to take you back to the recently applied color on the widget.
Next, you can choose from one of the background options available. Even though there was nothing eye-catching for us in this section, you may find these background options interesting. It all boils down to an individual's taste in such cases.
Finally, you can manage the widget's size from the two available options.
The dashboard
Let us now move from aesthetics to performance.
The dashboard provides you a summary of how well you are managing all the customer inquiries and requests.
It shows how many team members are online at the moment, and how many of them are active on IntelliAssign. We have discussed IntelliAssign in a later part of this review.
You get to see a summary of messages sent by customers and users. It shows how many of the messages in the inbox are assigned to a member, how many of them have not been assigned to anyone for a set period of time, and how many haven't been replied after being assigned.
This section gives you an idea about the general health of your Inbox. Based on this information, you can decide if you want to make any changes in your strategy when it comes to handling user queries.
You will get to see how much time your team is taking to respond to requests. You can have this data for a time as low as 15 minutes to the cap being set at one day.
Nobody can better judge the performance of customer support representatives better than customers themselves. You get a peek into users' opinion in terms of how many users found the interactions satisfactory and how many of them were not so impressed by support representatives.
Finally, there is a metrics section where you get even more in-depth insights into the performance of members and other statistics for departments dealing with users and probable customers.
The final section of the dashboard is only for users with 'Estate' subscription.
The dashboard can be a more natural way to get a sense of how the team is performing if one knows where to look at.
Inbox: It all happens here
Next item on the navigation panel, after dashboard, is the inbox. What section could more critical than the inbox on a live chat software.
It is where a live chat software can show all its might. And Freshchat does the same in this section. There are plenty of features for one to manage chats quite efficiently.
The inbox contains three panels. Let us discuss them one by one.
The navigation panel
Let us call the first one as a navigation panel. You will soon find out that there are plenty of reasons to give it that name.
On this panel, you get to see all the messages sent by registered and anonymous users in chronological order. If you think that things may get messy this way, then don't worry, since it comes with enough filter options.
There are two modes for the inbox. You can either view the regular inbox or a 'Priority inbox.' On the priority inbox, those messages which are in pending state and need to be addressed first are promoted ahead of other messages.
The three kinds of messages which qualify for promotion in the priority inbox section are the ones which have a first response due, which have a response due, and the ones with no due responses but the conversation is still unresolved.
We felt that priority inbox is a useful tool to take care of stuff which matters more than others. It will help you keep pending chats from piling up and prevent any losses due to negligence.
Irrespective of whether you are in the priority inbox mode or the regular one, there are more filters to apply to the results.
You can see only those messages which have been assigned to you, all the assigned messages, resolved messages, and bot conversations.
If you are still not satisfied with the filters, then there is an option to create custom views, as well. You can choose the channels or incoming messages, their status, and team members. You can then have this space along with other filter options at your disposal.
The navigation panel provides enough options to ensure that you don't have a hard time looking for important conversations.
The conversation
The second panel will show you the conversation when you click on one. It is where you will directly interact with users and customers.
You get multiple tools at your disposal to handle this situation properly. You can use emojis to make your conversations a bit more interactive. You can attach files and images for a more natural exchange of information.
The user on the other side of the conversations has enough input options to reciprocate similarly.
But you will get a few more tricks up your sleeve to be more efficient while conversing. You get shortcuts to send canned replies or FAQs to users when necessary. However, one should stay away from the temptation of using these options a bit too much, as users don't find it amusing to get canned replies to their unique problems.
The conversation panel facilitates working in a team. You can directly assign the conversation to other team members if you think that they are a better fit for the job. If you have created various teams on the account, then conversations can be assigned to those teams as well.
For every conversation, you can see who else in the team has seen the messages in the conversation. You can send private notes within the conversation to get assistance from other team members when needed.
It prevents the need of you leaving the chat and explaining the whole situation to your team member.
Third panel
This panel is all about the person on the other side of the conversation. You get to see to who you are talking to and under what circumstances they have called you.
This information is particularly useful as you will not have to ask the user about every single detail. You will have all the information about their interaction with the website, company, and support representatives.
There will be primarily two kinds of users for you to deal with. The first kind will be registered users. You will get a lot of information about these users on the third panel.
The panel will show their contact information, how they initiated the conversation, some details about usage, attached user properties (if any), and a timeline of events.
The usage details contain information such as when the request was initiated, when did the last interaction happen, how many sessions have happened, and if the user has enabled chat notifications.
User property is something that you or your team members assigns to the user. It can be anything ranging from the nature of purchase made by the user to the request of their subject.
There is a section which will tell you about the device being used by the customer and some of its properties.
Assigning properties to users will help you and your team to sort them later when needed. You can assign customers to a relevant team based on user properties.
The timeline of events will give you a picture of how this person has interacted with your website or services until now. You can what pages of your website they visited before contacting you or if they are coming from an ad campaign.
Finally, the panel contains some plugin options. There are some from Freshworks and a few others from different sources. You can use these plugins and extensions if needed to make your job easier.
The platform allows you to rearrange the different sections in this panel as per your convenience. If you feel like you will be using the event timeline more often than others, then you can place it at above other sections on the panel.
Set up campaigns to boost your business
A few cases require that extra effort to seal the deal. Freshchat allows you to set up various campaigns to get an edge over others.
Campaigns allow you to be proactive and help users make up their mind. You can have campaigns set up to help new users explore the website or service, encourage people to buy products they have added in the cart for find suitable alternatives, inform users about new plans and discounts, etc.
Each campaign will differ in what it has got to offer and what is its target audience. While some user may like getting assistance, there may be some who get annoyed by constant pop-ups while exploring a site or a product.
You can set up various conditions and triggers to tackle such situations. For instance, you can have an assistance message pop up only if the user has been idle for some time.
The campaigns section of Freshchat helps you design and launch various campaigns for different purposes. They have broadly classified these campaigns into four categories.
Triggered messages
This kind of messages can be game changers when it comes to pitching your service or product to other users.
It makes a lot of difference when a person gets a usual vague message from the service compared to when it is a personalized one and relevant to what you were doing on the website.
If you set up your chat widget to generate a random message every time a visitor is on your website, then you will find it challenging to make the message appealing to users. Different people may have different agendas while visiting your site, and therefore, it makes no sense to have the same message for everyone.
Instead, if your message gets triggered from a certain action of the customer from the website or if it is based on other parameters such as how frequently they visit the site, then you will be able to craft more personal and contextual messages. Such conversations will give you a better chance of connecting with the user and be more helpful for the user, as well.
You can set up various trigger conditions for sending a custom message to the user. You can do it for when a person visits a particular URL, spends more than set time on a page, etc.
You can apply multiple conditions for one triggered message campaign. You can make it a necessity that all these conditions are satisfied before a message is sent or you can have it triggered by any one condition.
For every condition, you can vary the parameter. For instance, you can choose the exact time after which the campaign will send a custom message to a visitor.
After setting up the condition, you can set up a custom message and choose a team member on whose behalf the message will be sent.
There are two checkboxes, one to limit the number of times the message is shown to a user, and the other to make sure the message is not sent outside of business hours.
In-app messages
The in-app message campaign is quite similar to the previous class, but this time you get to factor in user behavior on the website along with his actions.
You can differentiate between different devices and user properties to send your messages. Device property includes factors such as browser, platform, and device info.
User properties will let you differentiate between customers from different regions, language, last seen time, and many more attributes.
You can once again set multiple attributes for such messages and choose to use them individually or collectively.
Once you are done composing the message and have assigned a suitable user, you can choose to send the message at that moment or schedule it for later.
In-app messages are one of the best ways to inform existing customers and visitors about all the new modifications and updates. It is equally helpful when it comes to connecting with new users.
Scheduled emails
Messages are an excellent way to connect to users and visitors when they are on your website. But there is generally a tiny window for any chat message to grab user's attention.
Emails come as the other forefront for services to reach out to customers. Unlike chat messages on a website, a user can refer to a chat message whenever she wants. Even though emails are not the best method to connect to a user, it negates some of the drawbacks of a chat message.
You can set up an email campaign on Freshchat very easily. You can choose the class of users to which you want to send the email, choose more filters such as country and status, and then compose a mail.
The platform even provides you with some template options while composing an email. You can use these to make your emails more appealing and inviting to users.
Triggered emails
Just like we had triggered messages set up for different actions of users, you can follow along the same lines to send emails to users based on their actions on the website.
These emails provide you a chance of connecting with a user even after he has left the website. It will help the user remember about the cool product they checked out on your website or the interesting content they found on your website.
You can again set up triggered emails based on various actions taken by the user on the website and use them as a reference to send personalized emails to users.
This campaign mode also comes with some email templates to make the job easier for you.
All the campaign options available on Freshchat are useful in one way or another if appropriately used. It is easy to set them up and monitor once you have launched the campaign.
Set up multiple FAQ categories
It is not in everyone's nature to be able to express themselves clearly to others. Some people may find it difficult to find the correct words while describing the issue to a support executive, while some may not fancy the idea of conversing with a person at all.
FAQ sections can help both users and support executives in such cases. A visitor can quickly go through the frequently asked questions to look for an appropriate answer.
With an FAQ section, one can include very detailed explanations for a problem, which is usually not so easy to do during a live chat.
Those who prefer detailed explanations can go through the documents to understand each and every concept around a topic.
Freshchat allows you to create multiple categories to help users trim down the questions right from the beginning. You can create these categories based on departments, your product range, and any other property you can think of.
Creating a new FAQ category on this platform is a piece of cake. You need to add a name to the category, give some explanation for it, and you will have a new category.
You can then go on to fill it with questions. There are enough formatting options on the tool to make your answers a lot more informative than what can be translated through simple plain text.
You can insert images, add links, and do much more with the answer. You can add tags to these answers to make them more relevant for everyone. There is an option to make the answers specific to different platforms such as web, Android, and iOS.
If you have added a particular question, but you still feel that there is more to do with it, then you can hide that question until you make it perfect. It allows one to work in stages and publish questions when they feel ready to do so.
Never miss a user
Freshchat lets you manage all the people who have been contacted using the widget at one place. You can go through user profiles based on various parameters and perform all the necessary actions.
Some of the categories to filter users are new users, recently active users, lapsed users, etc. If you are interested in one such category of visitors, then you can apply the filter to sort them.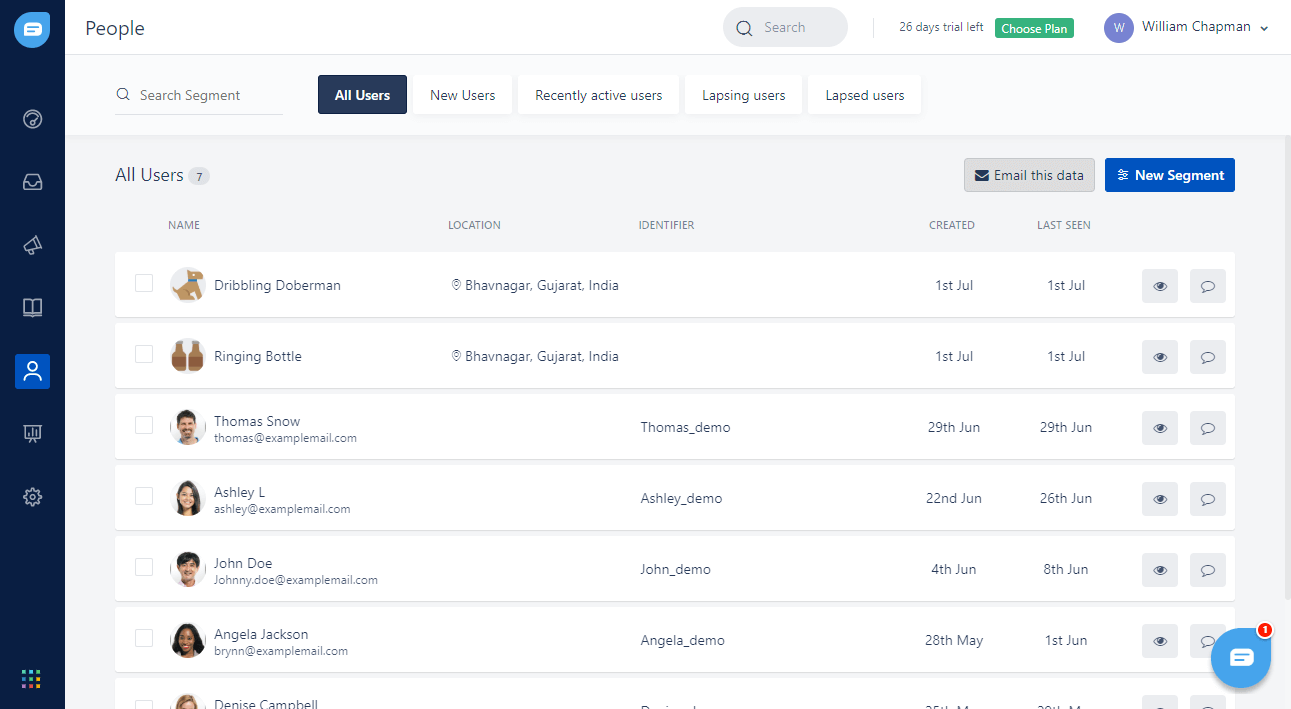 If you feel that the segments already available are not sufficient, then you can create new ones. You can add users in this new based on various conditions or a combination of conditions.
You can visit a user's profile and modify it if you feel the need to do so. The modifications will help you sort the visitor at a later stage or put them in a category you want.
You can use this section to send a reply to the user, as well.
The honorable mentions
There are few more features and options available on Freshchat, which make it easier for one to manage all the chats and conversations at one place. However, one excepts these features to be present on a tool anyway.
Let us have a brief look at some of them.
Integrations
Nothing beats the idea of having the ability to manage all your conversations from different applications at one place. Freshdesk helps you achieve this ability to a certain extent, with a lot of integration options.
Along with the other applications of the Freshworks ecosystem, you can integrate Facebook, Slack, Zendesk, WordPress, and a few more applications to begin with.
With these integrations in place, you can make Freshchat the hub for all your interactions with customers and visitors.
Canned response
Even though some people may frown upon the idea of canned responses, it is one of the best ways to provide professional and well laid out messages in no time.
You can save canned responses on Freshchat for different situations and have support representatives use them as needed.
You can put these responses under various categories to make it easier to locate them.
Bots
Bots can be fascinating to some while annoying to others. But in the end, it all comes down to how well you have designed the conversation flow for the bot.
It is you who sets up all the instructions and nuances, bots only follow the instructions. One can use bots for tasks which do not require much human touch, such as getting forms filled by customers.
A bot can also take over outside the business hours and help visitors using all the literature you have saved in the FAQ section.
There is an option to deploy bots on Freschat if you are comfortable with the idea. It is easy to set up how you want a bot to proceed with the conversations and set up various rules to a bot conversation.
IntelliAssign
This is another way to allow technology to do some of your work on Freshchat. As the name suggests, this feature will automatically assign conversations to various users.
The feature negates the need to assign conversation to users manually and is available only for the Estate plan. It makes sense since there won't be any point of automatically assigning users if there aren't a lot of conversations to manage.
The feature considers the number of conversations assigned per user. There are a few more settings that you can apply on top of it.
You can set the time interval after which a conversation is automatically assigned, you can select users who will be a part of IntelliAssign, and you can use skill levels to manage how many conversations can a particular user handle.
Conclusion
While reviewing Freshchat, we came across some flashes of brilliance and some moments of disappointment. However, none of the two phases was able to overpower the other.
The web application comes with all the necessary tools and features that you would expect from a live chat software. It has a functional interface, plenty of integrations options, user handling capabilities, flexibility in terms of campaigns, and a lot more.
The campaign section can be especially useful for those who are trying to improve the quality of interaction with users or want to enhance their outreach strategies. It can help you grow your business and serve your customers better.
Similar things can be said for the FAQ section. You get the independence of adding a lot of data in this section without making it inconvenient for the user. The different categories make sure that it is easy for one to navigate through all of it.
Integration options help one to manage all the customer interactions in one place. It turned out to be easy for teams to work together on this platform. It benefits users of Freshchat and their customers alike.
It is difficult to point out any significant drawback, but you may also feel that there is nothing very exciting on it, as well. The customer support mechanism has got some room for improvement for sure.
Apart from that, they don't let you point fingers at many things on the application.
It is one of the better live chat tools present out there, and therefore, worth giving a try.