EaseUS Data Recovery Wizard Review
By: CHENGDU Yiwo Tech Development Co., Ltd From China
Detailed Reviews
Did you lose your data from your disk? Oh, my goodness! I just deleted entire partition while reinstalling my OS! I had to delete those files due to storage issues and now boss is asking back for them, What I am going to do?
Worried about such data loss scenarios, well it happens to all of us at least once in a while. So, how do I handle such situations?
In many instances, the data removed from these storages is intentional. But what if I accidentally formatted my USB or hard drive?
Now all my data is gone! What to do in such a condition?
Well, if the physical condition of the storage is intact, users can still make some efforts to recover files from it using data recovery tools.
However, if the storage device is destroyed or is damaged severely, you must end the chase, since that data is lost permanently.
Pros
The setup is extremely easy to use.
It supports recovery for most storage devices in a sole product, from normal hard drives to RAID storages.
Has an amazing recovery method for mobile phones too, especially for iOS devices.
It can recover Emails, attachments, notes, etc. from Outlook too.
Can recover data in cases of hard drive crashes, OS failures, etc.
Comes with a bootable disk to restore boot failures or OS crashes.
Over 300 file formats supported, along with a preview for many media files.
Can recover large files like Blu-ray files without corrupting them.
Hassle free scanning and faster recovery.
Has fast and responsive customer services.
Cons
Sometimes, the scanning process can be slow and freezes for a while.
Android recovery needs mandatory root access to recover files.
Email recovery is limited to MS Outlook only.
No pre-scan filter to limit the scan results for particular files.
Even for the mobile app on play store, root permission is needed, which greatly halts it for Android customers.
For some users, an automatic scan may limit manual control over the process. Needs more customized scan options.
Overview
As far as recovery from sudden crashes or accidental deletion is concerned, there are powerful tools called Data Recovery Software in market. These tools can help you to restore data lost from storage devices.
Amongst such a tool, we come across EaseUS Data Recovery Wizard. Coming from the land of mighty dragons and Kungfu, this amazing tool was found in 2004. Since then, it has risen in worldwide market to support people with multiple products, mostly related to data recovery.
CHENGDU YIWO Tech Development Co. Ltd is the parent company under which EaseUS works. Apart from data recovery tools, they also provide partition manager, data backup, data transfer, and other such utilities.
Equipped with some of the amazing features to restore your deleted data, EaseUS lives to its name and is very easy to use.
To test the product properly, we used a premium version of the service. This gave us uninterrupted access to all its feature, and we evaluated them rigorously.
In current review, we are using EaseUS Data Recovery Wizard Pro -12.9.1. We will test if this software indeed recovers lost files and also check if they are restored properly or not.
Using the Tool
The most important part of data recovery procedure is knowing how to use the tool. When it comes to using data recovery tools, the first and foremost thing to decide is which drive you want to recover.
Once you have selected the drive, just select the drive and start scanning process. This will restore the files in the cache memory of a drive.
There is a big catch for free users here. The restrictions are very limiting, and so it is difficult to test free version of the software. They only give 500MB size limit for restoring the files in this version.
The free trial of pro version is quite nasty. Users can only view scanned results and cannot recover it. Nowadays, most software products offer a free trial to be used and tested by users.
This allows us to evaluate premium service before buying subscription package. To start using software, connect the drive to be scanned to current system.
After this, users must select files or folders they want to recover. Hit the recover button, and voila, recovery process will start. The entire process will take some time depending on the computer specifications and the files to be restored.
It is recommended to restore the files in a different location than current drive. This is done to ensure there are no discrepancies while recovering files.
Overall, entire process is very relaxed, and even noob users can work their way out in first try. Care must be taken to see if they do not restore any hidden malicious program using restore all button. Let us now see how the tool scans storage drives and how it restores files from it.
Deep Scanning of Drives and Results
Let us check how exactly EaseUS works and how it manages to restore data from your storage. First of all, we need to see in brief the entire process of data recovery.
Typically, data recovery involves use of a software to brute force into the drive and recover whatever data was deleted in it. So, how come these files get restored out of nowhere?
I deleted them just now! How did this tool restore them? This might be a question in some people's mind, and so we now clear their doubts.
For modern storage devices like hard disks, SSDs, USB drives, etc. memory is stored in form of blocks. With time, these blocks get filled by data of different types. Let us say there are 100 blocks for a storage device, and data is stored on 70 blocks.
As you keep on adding data, they will fill until memory is full, i.e. remaining 30 blocks are full. Now, say you remove data from them; but, this data is not completely deleted.
This data is in one of these blocks. Only difference is that they are under no use zone. This means that it will be there till you do disk wipe and clean this cache. With time, more and more data is being added to your storage; more of it is deleted, and so old data in these pseudo blocks get replaced.
Now you can understand that why recently deleted files have high chances of recovery. Files probably older than a year under normal circumstances are difficult to recover. So, the best chance is to use recovery tool as quickly as possible to get your data back.
Now that you have understood how these files are recovered, there are various ways in which EaseUS recovers lost files.
As we have explained before, on above is one way to retrieve data, i.e. by accessing these blocks to scrap deleted data from them.
It happens that some files can be recovered easily, if the blocks they found are healthy and the files themselves were not corrupted while deletion process.
Otherwise, the recovery process can be one big headache in many ways. Files related to OS like boot files, config files, etc. once deleted accidentally can make life worse.
For such files that are not in an organized form and are older, EaseUS uses a raw file recovery method. In this method, the recovery files are just seen as a form of data. The tool cannot retrieve information about the file like its name, date of creation, etc.
While using the raw recovery, this tool restores all the supported files and assigns random names to them. The chief aim of this recovery is to restore all supported files regardless of their status, corrupt or healthy, and these files may not have any info of their properties.
Both these methods are suitable in their places, and so users can choose any one of them to work with.
The depth of the scan depends on block memory accessed by the tool and last files replaced by them. Many times, it happens that these files return in corrupted form. This means that deleted files be it of any format, may not work always as expected and may malfunction in future.
The main reason for this issue can either be the recovery tool or the file itself. In our case, we could find and recover files up to 4 GB without any trouble of them getting corrupted. This shows that they have given a very sleek method in recovering the files.
Scan Types
Looking at the results now, EaseUS has divided them in traditional three formats. One of them is Normal file deletion folder, then Extra Files, and lastly Lost Partition Files. The results window contains a navigation bar on left side, a file list on middle screen and a search option on top.
The first tab with the name of a drive letter or scanned folder will have the most healthy and recent files. These files have their information like name, date of creation, file type, size, deleted path, and such details intact.
They can be easily restored. The navigation bar on left will show you folder tree in traditional Windows style which you can scroll through to see for your deleted files. As you keep on seeing these files in this tab, use the checkmark button to select ones that you want to restore.
Users can select both folders and individual files to be recovered. You will see many files here that are in an unknown format, most probably system files. Be careful not to overwrite these system files unless you want some big anomaly to wreak havoc on your system.
There is also a preview pane for files like images, videos, documents, etc. which helps to get an idea of the file. In case you forgot file name and location, you can just scroll through file preview and find the file you want. This is useful mostly for recovering lost photos.
The second tab is of Lost Partition Files. In this tab, customers can see a file list like the first tab. So, how is this section different from other one?
Let us say you are using a partition manager tool, or you are installing OS; in both of these cases, you will have to either format entire drive, or delete a current partition to create new ones.
However, instead of simple format options, what if you accidentally click on delete root partition? Once the root partition is deleted, users will lose all drives, and all data will be gone. In such circumstances, most of will get one heck of a shock, isn't it?
So, how EaseUS can help to recover these files? Just like normal file deletion, files deleted during lost partition are also stored in the cache memory. EaseUS also provides a partition recovery tool to restore the deleted or lost partition.
Like normal file recovery, lost partition recovery will work unless you have used a secure wipe feature. The tab of lost partition will show some very old data. Users just need to choose whatever data they would like to recover.
The last tab is of Extra Files which can restore unsupported file formats. EaseUS has given this tab so that all unsupported file formats can be collected at one place. You won't be able to see the preview of these files.
However, the way they have arranged these files is quite remarkable. They have made specific categories for each of these files based on their extracted properties.
Users can see categories like artists, PowerPoint, PDF, excel files, raw camera files, MS Word documents, and other files. All these files too can be easily restored using EaseUS.
Filter the Results
Now comes the last section, i.e., Filter File Types. Is this some new category or will I open a Pandora's box?
Well, this is similar to the sort function we see in computer applications. Just like you use sort function to distinguish files based on size, type, date, etc., EaseUS has given same function sort files for recovery.
Like we see in other software apps, EaseUS has used basic filter options viz. recent files, lost files, desktop, trash bin, graphics, media, documents, emails, etc.
To get detailed filtering, use advanced filter option. In this section, there are five main categories to filter the scanned results. These categories contain files based on Status, Type, Modification time, File size, and Alphabetic order.
As we can see so much variety in filter category, it can be concluded that these are more than enough filters to find your desired files. The time limit for various file types ranges accordingly. We got results for some old text and image files as old as 8 years.
This shows that the software does an excellent job in scanning and restoring these files. The deep scan on one of our drive did take some toll on the system, but regardless, things went quite smoothly. Even while restoring the files back into our system, we had no issues whatsoever.
Since we have seen the process of scanning, recovery, and results, we should now move on to see how many devices the scan will work on and what files it can recover from all these devices.
Types of Data Recovery and Files Supported
When it comes to recovering files from a drive, there are multiple ways for it. The way these files are lost also plays quite a factor in having the chances to recover them.
In cases you used a drive wiper tool that can delete the drive cache too, and it becomes almost impossible to restore those files. If such a tool is used a couple of times, there are zero chances those files are coming back.
To give a crystal-clear picture of how they restore, EaseUS has set some standards for the type of devices supported, file types supported, and data loss scenarios.
Let us review these conditions one by one and see the real scope of this tool. Beginning with the type of data loss scenarios, the three main scenarios supported by EaseUS are Normal Deleted File Recovery, Unformatted Raw Recovery, and Partition Recovery.
As it is evident from the names itself, normal deletion refers to use of delete button from the OS. Unformat & raw recovery includes deletion via unintentional format, hard drive crashes, OS crash, or any other malware attacks.
Lastly, partition recovery as having discussed earlier deals with OS issues like deleted drives, corrupted boot manager, disk accidents, etc. In our testing, we found that EaseUS successfully recovered files up to 6 GB using the above methods. Some files larger than were somewhat corrupted, especially older than a year.
However, few of our mp4 media files, i.e., Blu-ray prints were corrupted, and we weren't able to play them. As you can see, smaller file size and recent deletion date has better chances for complete recovery.
File Types Supported
Next things we must see is the types of file systems supported by EaseUS. Honestly speaking, number of file systems given currently are more than enough to recover most files used in our everyday life.
We will give you a small list to see some of the file formats that can be recovered by EaseUS.
Documents: DOC/DOCX, XLS/XLSX, PPT/PPTX, PDF, HTML.HTM, CWK, EPS, etc.
Graphics: JPG/JPEG, TIFF, PNG, BMP, GIF, WMF, RAW, SVG, SWF, MEF, etc.
Video: AVI, MOV, MP4, 3GP, WMV, MKV, FLV, MPEG, SWF, etc.
Audio: M4A, MP3, WAV, WMA, MID/MIDI, OGG, AAC, RealAudio, MPG, M4V, RM/RMVB, WMV, etc.
Email files: PST, DBX, EMLX, etc. especially from outlook and outlook express.
Other Files: Archive files like ZIP, RAR, ISO, SIT, EXE, SITX, HTML, etc.
As we can see from above list, most of the file types are readily supported. There are no complains to be made here, but we would like EaseUS to include more documents and other application file types like Photoshop, Flash, AutoCAD, etc. as provided in Stellar Data Recovery.
Now that we know what file types are supported, we should look forward to recovering our data. But wait! Can I restore any storage data with it? Alternatively, is it available for desktop use only?
Devices Supported
Do not worry! EaseUS has covered most of the devices known to you. From simple hard drives and computer devices, to SSDs, external disks, USBs, memory cards, camcorder, iPod, RAID drives, zip drives, and many more devices.
Once again, there is no point to complain here too. We are never going to use any device other than above list in our daily lives. For big servers, they store in special RAID drives, which can use this tool to recover files.
Other than above systems, it can also recover files from storage systems like NTFS, FAT, ExFAT, NTFS5, ext2/ext3, ReFS, and HFS+. These file systems are most commonly used across above storage devices, and this shows they have covered every possible storage device.
In our review and testing, EaseUS was able to restore all these file types from various storage devices like computer hard drive, USB drive, memory card, etc. Except for very huge files, which were somewhat corrupted, we did not come across any issue using EaseUS.
They do deserve applause for doing the core task of this application properly. The entire process is very simple compared to MiniTool data recovery, Stellar and Recuva.
UI Experience
When it comes to using the software, it is most important to keep in mind the working of a storage system, the process of data storage and deletion, its recovery and whether those files will be corrupt or not.
In modern times, most of us do not have time to see each aspect of every software and go in-depth to use it. For this reason, most software applications are bound to give UI that is not only easier to work with, but also capable of performing complex tasks.
Owing to these expectations, EaseUS has given a great UI to work on. Also, this tool is available on multiple platforms like Windows, MacOS, iOS, Android, and Email apps.
Windows Interface
One of the most used versions on desktop is EaseUS Data Recovery Wizard. This application over windows system is minimal but contains every feature as we have mentioned before.
Once you have registered the license of product, users can then recover unlimited data from the hard drives. The main panel of EaseUS' PC version will list all connected drives to your computer system.
This also includes raw or hidden partitions. To start using the product, users need to click on any one of the listed drives and click Scan. The scanning tool will scan an entire drive for possible corruption as well as list all items to be recovered.
We have already discussed scan results in earlier sections. The users can save these results and then, later on; they can use them to restore items.
This UI is very simple to use. Only care users need to take sometimes is to check for any malicious files. Since there is no threat detection in this tool, you can accidentally restore a virus or malware, which may affect your system.
The scanning time and restoring time are quite fast. It takes roughly around 30 minutes to scan a PC hard drive of 300 GB.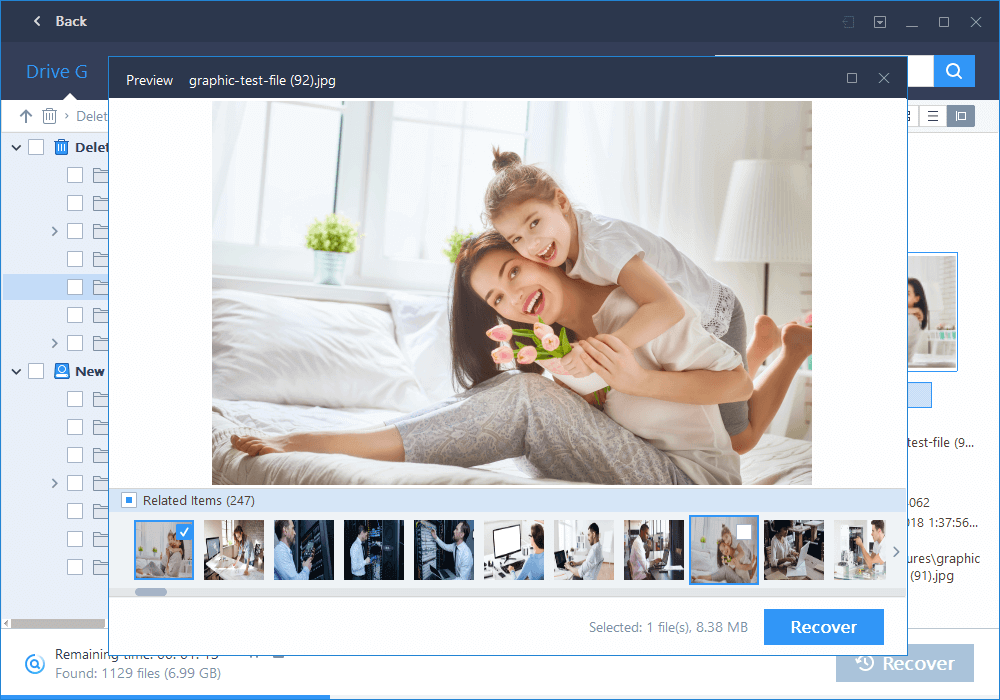 The recovering time highly depends on disk speed alongside type of file and its size. Rip files or raw images can long time whereas simple jpg files, documents, small media files, etc. can easily be recovered quickly.
All in all, desktop wizard worked nicely. Few things were missing from it in our view. One of them is initial scan setup with no filter option in it. What does this mean?
Well, as we know that filter tag is only available after entire drive is scanned. It is only after that, we can select files based on their types, size, etc. Many recovery software has given a feature to avoid this scenario like in Stellar Data Recovery.
This means that EaseUS must give filter option before we can start the scan. It must be for all items from current filter list, like file type, size, and date filter. Once we set these filters, our work will be faster, and we wouldn't have to scan through entire drive for single file type.
Also, for the pricing they charge, they can provide mobile data recovery along with too. The combined cost of both of them is quite costly. Nevertheless, we should check out the mobile version of the tool.
Mobile Recovery
As we make mishaps over our desktop, we also make big blinders while using mobile phones. We are more likely to delete important data from our phones than desktop.
Alternatively, what happens when you find your lost phone back, and now you need to recover lost data from it? If you have saved the data in a separate memory card, you can use the native desktop app to recover it directly. However, when the data is in root memory, you will need to use a separate version, specially made for mobile data recovery.
EaseUS MobiSaver is used to recover data from your mobile phones, be it an Android device or on an iOS system. Sadly, this product comes separately and almost at half the price of desktop product. Costly as we said earlier, ehhh!
Now, you might be thinking in which data loss scenarios can I use MobiSaver app? EaseUS has given this detail too. For mobile devices, errors like Android system errors, rooting errors, accidental removals, virus attacks, and device crashes; one can use the MobiSaver app and try to recover their lost data.
Let us evaluate this product quickly. We used the pro version of the MobiSaver and used it to recover some data on our android device. For most of the Android devices nowadays, it is quite rare to see extra memory cards used in them. MobiSaver does not support recovery for this memory card but only for the internal memory of the phone.
To continue our testing, we installed the product on desktop. Users will need to connect their mobile device to it via USB cable. Also, it is recommended to enable the USB debugging mode for running the recovery properly.
Once you are connected, you need to run the scanning process from the MobiSaver application. but there is one big catch here.
The thing is that users need to have a rooted phone for doing recovery procedure on android phones. This turns out to be a somewhat flawed system. Most users will not afford to have their system rooted to get some minor files back.
However, in case of accidental mishaps like OS crash, rooting issues, etc., it will be easier for users to root the phone and then use recovery option.
The main items that MobiSaver can recover are Contacts, Messages, Gallery, Videos, Audios, and Documents. Most of them are easy to recover using this tool. You can preview these items like in the desktop app in preview pane.
The users can see scan results and select whatever files they want to restore. It is recommended to have your phone well charged before doing both scanning and restoring job.
Now, the system is very different on iOS platform. As far as we know, there is no need to do jailbreak in it. Users just need to connect their iOS device to either Mac or Windows desktop, based on the app they purchased.
Once you have started scanning the phone for lost files, you can see a file list in it. Apart from files mentioned in Android system, iOS recovery also supports restoring call-history, WhatsApp messages, reminders, notes, bookmarks, calendar, and voice memos.
Another thing for iOS devices is restoring files from iTunes backup. Users need to have a pre-saved backup for this feature to be used. If they already have an iTunes backup, they can cut the time by almost half.
Lastly, they have also facilitated to restore your files from iCloud. You will need to input the iCloud login credentials to allow them to access the cloud service and recover your files.
They have mentioned not to save any record of these credentials while recovering the files. However, it depends more on the service providers, i.e., EaseUS, to maintain the privacy of transactions and use a no log policy.
Overall, EaseUS has done an excellent job in keeping the features alive in its mobile version too. The entire process is very user-friendly. Only issue we thought was big, is about that root thing for Android recovery. This limits the usage of app on android phones.
Other than this, giving a separate product for mobile recovery is a bit costly too. They can combine both desktop and mobile recovery and can put mobile recovery as an add-on to desktop app.
EaseUS can alternatively give a way to recover files from other backups like Google drive, or other similar apps. Regardless, they have an excellent recovery tool for iOS systems. This justifies their top ranking in current recovery products.
Email Recovery
This is first time you might be hearing about, isn't it? Maybe you have used it earlier but with a normal recovery software also giving Email recovery is quite interesting.
The Email recovery setup also comes with a separate add-on. The EaseUS email recovery wizard is used to recover Email files like attachments, emails, folders, contacts, notes, damaged PST or OST files.
It can help you recover Emails from MS Outlook. It can restore from outlook version used in Windows XP, 2000, 98 and 97. It is great that they have provided support for such an old product.
Other than this, users can also recover all those lost attachments, notes, etc. The scan results will have all these categories, and so users can select any from the given list.
However, there is no support for other email programs other than outlook, which highly devalues the price of separate subscription. They should also provide support for Mailbird, Gmail, eM Client, Thunderbird, and other such desktop Email clients.
This way they can integrated multiple clients into one setup, under one price. Not only it will justify their plan pricing, but also offer more service to customers and therefore give them a better experience.
Concluding to this section, we can say that EaseUS has done fantastic work in binding all these features; along with such a smooth UI and highly efficient process to help us recover our files.
Apart from some minor issues, any user, be of any background or experience can easily use this software to recover files on their system.
Customer Support
When it comes to becoming a top product in the market, not only a superior product but also a good customer support system is necessary.
For a decent customer support, a good response team, as well as multiple ways to communicate the users is needed.
EaseUS has given a number of ways to establish communication with its customers. They are equipped with Email communication, ticket submission, and live chat. We contacted them via both Email and live chat and received quick response on both of them.
Phone support may be odd for Western customers since location of the support team is under Asian time zone. Live chat worked fine for us, and we were able to solve some technical as well as license related errors with help of one of the representatives.
Overall, most users can manage contacting team on themselves and get a good response from the support team.
Final Words
EaseUS has indeed proven its worth by providing such a seamless service for us. With support for so many storage devices and file types, it has indeed made a top place in the market.
They have also given support for raw file recovery regardless of the file format it has. Not only that, including add-Ons for mobile recovery and Email was also great. However, we would be more happy if they included all these add-Ons under one banner and also lower the plan pricing a bit.
Not to mention the entire setup is small and it hardly takes 30% of CPU and RAM usage, which again shows that developers constantly update and improve the software.
Now the big question, should I buy it or not? Well, in our recommendation, if you are indeed serious about using the product, it is worth a purchase. It still lacks some organizational capacities, but that can be solved temporarily by exchanging the saved scan data across different systems.
The trial version is very shady, and hence we would say to avoid it. It will only show the list of files scanned by the EaseUS. You cannot try the recovery function. This should not be done by EaseUS and a legit trial version, be it for only 7 days must be allotted for customers to see for.
The cost of the subscription plans was balanced compared to other tools like Stellar. It certainly costed less than other products. If they combine mobile recovery into this, they can certainly give heavy competition to other products.
Overall, we would recommend this product as long as you get into frequent trouble with lost data and need hassle-free experience finding lost files. Let us know how your experience with this product was.