IsoBuster Review
By: Smart Projects
Detailed Reviews
With so many methods of storing and exchanging data, we are also accustomed to disasters of accidentally deleting these files. Among these, it's a big concern for many folks to recover their data from these storages, and worse with novice experience.
To access this lost data, help of an expert is needed. This expert is none other than a Data Recovery Software. These tools are designed to facilitate users into recovering their lost data from every supported storage device. The complexity of the tool decides how a user can recover data in tougher situations like partition deletion, wiped drives, boot crashes, etc.
Pros
Basic interface with plug and play data recovery.
It can recover data from even disk drives, and many other types of storage drives.
Has built-in disk allocation, to see detailed file system.
Block map to see the structure of blocks in the drive, which can allow us to predict drive health.
Create a clone image of drives for swifter recovery, or make data recovery of other devices.
It can perform many recovery functions designed specifically for CD, DVD, and other optical drives.
Cons
It has an old basic look. A modern UI will be much pleasing.
They need to offer a devoted trial version.
Introduction
Talking of a tool under this category, we are to review IsoBuster, touted as an ultimate data recovery software. IsoBuster is developed and managed by the company Smart Projects. It is also developed and maintained by a single person, i.e., Peter Van Hove, Belgium, since 1995.
This entire thing started for him merely as a hobby. After which, the product was initially launched to recover lost files from CD, DVD, etc. This was extended to recover data from other storage devices too.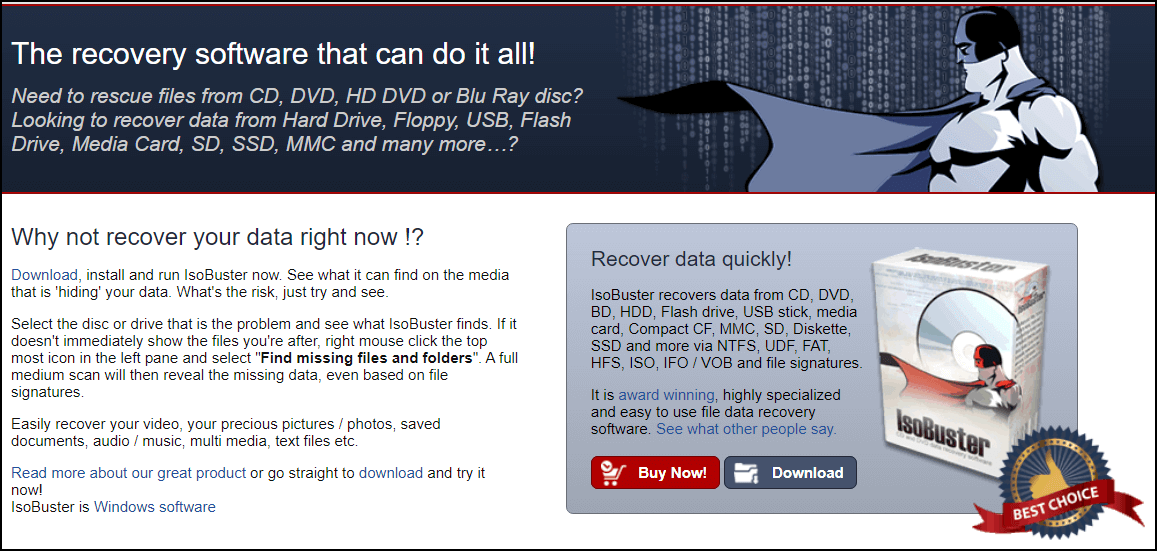 Now, it has support for multiple forms of storage devices from CD, DVDs, etc., to modern storages like SSD, HDD, pen drives, SD cards, etc. It is impressive to see that this product is doing well even with a single man playing the cord.
For this review, we need to verify various features we can access in IsoBuster. The ISO in name may often confuse people that it is only for optical drives, but it has multi-featured recovery. Nevertheless, let us begin reviewing it now.
Getting Started with IsoBuster
Before busting those lost files in various drives, we need to get through a quick walkthrough of this tool. So, the setup of this tool is quite small.
The entire interface of IsoBuster is very forthright. It is similar to the old Windows XP look. Even then, there are few remarkable features loaded into it.
The primary work of this tool is data recovery. Other than that, it also supports several distinct operations with your disk drives. To be honest, disk drives are getting obsolete day by day, and very few data recovery tools support them, which gives them some edge.
The other functions of IsoBuster are mounting drives, compression/decompression, UDF reader, file extraction from optical drives, conduct various boot related operations, file tree generation, etc.
So much is packed inside this little software. Many tools are bit intricate for novice folks. Since the interface is pretty basic, new users will need to read guides before doing anything. Advanced users can easily figure out most of the stuff without help guides.
There is a scan button on the top to generate a list of all the drives active in a system. This will include all the drives attached, be it disk drives, optical ones, or other storage devices. All the partition are also visible here.
From here, you can select a drive, or a volume and right-click to see list of operations you can do with it. For now, we will inspect it based on how many file format it supports for recovery, what devices it will work on, how long the scanning/recovery procedure takes, and also every minor detail given in the setup.
We will begin with a simple scan for data recovery first. So, let's go.
Data Recovery with IsoBuster
As you may have used it numerous times, the foremost step to data recovery is getting the drive for recovery to be scanned. There are various methods used while scanning a drive.
Mostly, the scan is divided as a quick scan, lost partition scan, deep scan, etc. Many data recovery tools give filters before the scan to narrow down searching procedure, and do things faster.
With such classifications, it is easier to divide the scanning procedure. To access the scanning feature in IsoBuster, select a storage drive first, and then pick Find Missing Files and Folders, from the context menu.
Once done, the program will begin scanning a drive. While scanning, it will display the number of sectors which can be accessed in the status bar below. They can also add UI feature showing approximate scan time.
However, we kept a record of the scanning time. In IsoBuster, the time for the scan of a selected drive was around 45 minutes, which we believe faster enough compared to other products in similar category.
So, not much difference with total scan time. Once the scan is finished, you can view the scan results. Once again, we are to inspect a crucial feature of data recovery software.
Scan Results
So, how are scan results so relevant in data recovery? Well, without any indication of various parameters in these results, we cannot separate from tons of files, the specific ones we want to restore. For that, we need this section to be exhaustive.
Once the searching process is done, you can now see a list of all the files found in a drive system. In these results, not all of them can be recovered.
In here, IsoBuster has used a simple list view for the scan results. All the files listed in the sectors of your drive are presented. If you research online, you will know that in a data recovery software, we access memory blocks of a drive to recover files. But, if the cache memory is removed, we won't be able to recover data using common tools. Many times, even superior tools, the likes of which are used by intelligence agencies, won't work.
Now, we can have a Detailed Result View here. There is a button to change the view of the files, but no specific preview pane. Without that, it is straining to switch views repeatedly. For some files, we had issues generating previews.
Then, the Reports Section reveals net errors. We have settings to decide the scan criteria like strict, relaxed, etc. It is dependent on the net errors while scanning.
Based on the number of errors in scanning, you can abort the scan. Other than that, there is a red cross sign shown for files with error.
They can add visual indicators for different methods of lost files like partition delete, freshly removed files, etc. Plus, we can also benefit from result filters like showing only MP4 files, text files, or based on size, date, etc.
In the side menu bar, you can view some file category like NTFS, FAT system files, BOOT files, deleted files & folders.
But then, it's good to see limited team working out such a product. With that, IsoBuster has done respectable work here. Now the question is, what are the post-scan tasks? What is the process of recovering files?
Post Scan Procedures
As we said, once the scan is over, the results will be shown in the left-hand panel. From here, pick Files Found Based On Signature to see the scan results. After this, you can either pick an individual file, or select multiple files for recovery.
One con here is with the UI for selection. Since there are no checkbox buttons to pick files, selecting via holding ctrl key can be frustrating if you are picking from 1000s of files. They need to add checkboxes in this recovery panel.
Then, there are several functions you can do with files after the scan. The top picks are, Extract The Files, Run, Extract & Run, Sector View, Copy File Path, And Properties.
Most of them are self-explanatory. Apart from the file path and properties, none of them are available for free users. Free users can truly enjoy the software if IsoBuster allows a limited edtion trial version..
Overall, the time for data recovery was effective. It didn't take too much time for recovery. You may need some luck to restore very old and large files.
After this, there is also a Disk-Clone Option. Cloning here will create an image/clone of the selected drive/partition.
The process to recover files will be much more relaxed with a cloned image. Users can also take it to other systems for recovering files, and keeping working on their primary system.
The Block Map feature lets you view the current structure of the drive sectors. Here, the green blocks will show healthy files, which are currently on the system.
This is akin to the drive health finder tools. However, it won't generate any error warning for bad sectors separately, except red blocks on the map.
There are some advanced settings in General Options, accessible from the top menu bar. These are used to configure the scanning and recovery features. It is suggested not to do anything hastily here.
Overall, the features in IsoBuster are decent enough for normal recovery. Also, given that there no big teams working on the project except a few developers, they have done their best to include as many things as possible.
This tool can enjoy more sophisticated features, and a modern UI. All in all, you can easily focus on scanning a drive, and then recover the data. Nothing much complicated here.
The recovered files may or may not work depending on the time of their deletion and also their size. Mostly, recently removed files like images, documents, small videos, etc. are very easily recoverable. Recovering larger and older files fully is highly ambiguous, even with tools used by intelligence agencies.
Final Words
Having gone through this tool, we have realized that it is on par with the most products in the same category, even with a minuscule developer team.
The professional version of product is priced at $60, which is relatively closer to other product's price. And, price isn't an issue when we want to recover important files, isn't it?
IsoBuster works great as an uncomplicated and intuitive data recovery tool. Their support for optical drives is a big plus point. Their plug and play interface will work best for all kinds of users, be it novice or pro-users.
With simple clicks, we can recover our lost data with it. It is constantly leaping the chart in its category even with limited resources. That shows the software and its developers are working hard and product is working for most of its userbase.
With that, we end our review with a thoughtful gesture to the efforts made by the developers of IsoBuster. It is indeed, a quick and effortless top product in recovering our lost data.