Outgrow Review
By: Outgrow.com From USA
Detailed Reviews
One of the critical components of marketing is to grab user's attention, that too in a good way. Outgrow uses the interactive power of quizzes and polls to create a situation mutually beneficial for website owner as well as the visitor. This marketing tool helps you create interactive content to experience more user engagement, which should ultimately lead to more business growth.
Pros
Assign values to answers and use mathematical equations for the quiz.
Create outcome quizzes involving sound logic.
Works well for polls, as well.
Multiple templates sorted by industries and other niches.
The quizzes are responsive and go well with most avenues.
Analytics section to give a peek into the details.
Enough integration options to synchronize leads with relevant marketing automation tools.
The support team is competent enough to deal with the majority of user queries.
Cons
Can be a bit difficult to manage outcomes for calculators.
Introduction
Marketing is a very dynamic field. There is no template for a successful marketing strategy. One needs to think on their toes to come up with ideas which would help the business prosper under current circumstances.
However, among all the confusion and chaos around great marketing ideas, there is one ideology for marketers to rely upon. They can have positive user engagement as one of the end goals.
Now, this is much easier said than done. An average netizen is well-aware of most of the tricks and techniques used by marketers to lure viewers.
A viewer would not want to take your offer unless there is something in there for him. Majority of services are aimed at providing something of value to the user, but since we live in a world of instant gratification, there should be some immediate benefit.
This is where Outgrow comes in to help you. Outgrow helps marketers put together interactive content, which ends up providing something of value to the visitor.
The engaging nature of the content and the reward at the end of the process do a great job of attracting visitors which matter to the business.
You can then make use of all this user engagement to gather leads and put them through marketing funnels.
In this review, we will have a closer look at all the ways Outgrow offers to grab the viewer's attention. We will do some in-depth analysis of the different methods of engagement.
We will compare the marketing methods suggested by Outgrow with the conventional ways being used for online marketing.
By the end of this review, you will not only have a better understanding of how Outgrow works but maybe a better understanding of marketing techniques and methodologies, in general.
Pick the type of content most suited to your business
Before we get into the use of interactive content on a website as a marketing technique, let us first understand what it means by interactive content in this scenario.
Outgrow offers a variety of ways using which you can make the visitor take part in some interactive process. At the end of this process, both you and the user will have something of value.
For instance, let us suppose you have an e-commerce website which deals with gadgets, and you want to target users who are looking to buy a laptop.
Choosing the right laptop is not an easy decision for most people, and you can offer some help in this case.
You can have a quiz which comprises of various questions such as a user's preference of operating system, preferred RAM size, budget, etc. You can create a questionnaire that will help someone boil it down to the meaningful options when it comes to buying a new laptop.
So, when a visitor takes this quiz, she will end up knowing about all the laptops which fit her needs and budgets, and you will have a potential customer.
Even if the visitor does not end up getting a laptop right after the quiz, you will now know what the user wants, and therefore, you can send her some appropriate advertisements and offers.
Quizzes are just one form of interactive content. It can be a survey, test, poll, etc. When you start with Outgrow, it will offer you a variety of options for the type of interactive content you want to put up on your website.
Depending upon the business and the situation, one can pick a suitable form of content to proceed with the campaign. Let us go through the content types we have on offer.
Numerical Calculator
Any kind of survey or quiz which would involve you using some basic mathematical calculations to produce a result is appropriate for this category.
Numerical calculator category can be used for monetary predictions, such as how much a mobile phone would cost, the annual spending because of a lifestyle, the yearly savings of a lifestyle, etc.
This category can also be appropriate for estimating the chances of occurrence of some event. One can create a quiz which calculates the probability of someone falling off a bike, managing a successful blog, etc.
This content type will use the responses provided by users and then apply some formula to generate a result based on user input.
The beauty of this content type lies in the fact that you can use it to deal with both serious and casual topics. All you need to do is come up with a formula and assign some number to various options.
Outcome quiz
Unlike the previous category, you do not have to deal with numbers in this case. For an outcome quiz, you can create a series of question for the user. Depending on the combination of choices the visitor picks, you can set the tool to show an appropriate outcome.
All of us have come across these kinds of quizzes at one point or another. It can be to tell the user what book they should read, if they are a dog person or not, the car they should buy, etc.
Even though there won't be any math or formulae used in this case, you would still need to use some logic and make sure the outcomes are in sync with the options chosen by the visitor.
The more refined your logic will be, the better user experience it will generate, and the better chances for you to achieve the goal. One should always remember that most of the content they create on this platform is supposed to help the user in one way or another.
Assessment
It is easier to assess results when there is some number attached to it. In this content type, you will get the option to generate scores and values based on the user's input.
One can use assessments to predict scores, takes tests, and so on. Setting up an assessment page is much easier. Of all the options present for an answer, all you need to do is mark the correct one.
In the end, cumulative score of all the responses will be presented to the user.
One can invite visitors to find out if they have enough knowledge of some pop culture entity, give a score for user's knowledge of some sporting event, put a number to how well they have managed to take care of their online security, etc.
When it comes to our favorite topics, most of us would like to put a number to our obsessiveness, and this section is made specifically for such quizzes.
Polls
Polls are simple, polls are fun, and polls are an excellent way to get some more user engagement.
All of us must've participated in an online poll at one time or another. As a marketer, you can create polls such that it helps the user more interested in what you have got to offer.
For instance, you can have survey for users to check what percentage of people prefer boots over jeans and how many of them like sneakers. Any curious online shopper would like to know what the world is thinking about boots and jeans, and participate in the poll.
After the poll, you can showcase the collection of boots or sneakers that you have got on your store. The chances of someone buying footwear from your store are much better right after such a poll.
And even if you don't end up getting a sale, it was a successful attempt at lead generation anyway.
It depends on the marketer's creativity to use the simplest form of interactive content available on Outgrow.
eCommerce recommendations
Apparently, this is the kind of quiz you would use to help the user by giving them appropriate recommendations for whatever it is that they are trying to buy online.
One of the most annoying parts of online shopping is tons of options. We know how nice it is to have options, but when you are browsing through a store looking for t-shirts, and there are five thousand of them in the catalog, then the luxury of options can seem like a punishment.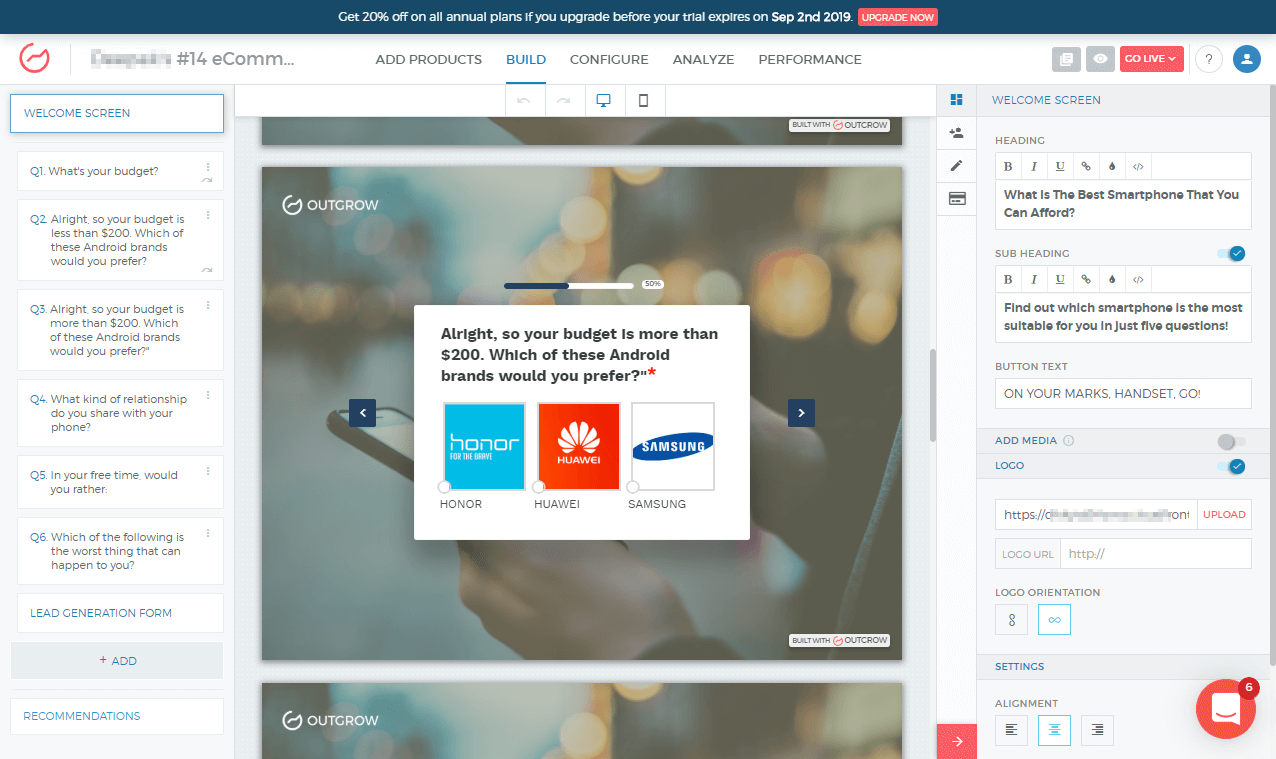 One can use this section to help the user trim down on options. The brighter side of this process will be that the visitor is highly likely to make a purchase from the recommended options since the items will be according to her preference.
And once again, even if there is no sale, you will end up having better knowledge of user's preference. It will help you deliver better offers and deals to them.
Chatbot
Even quizzes and surveys can turn out to be dull, at times. Chatbots are an easy way to present the same questions in a much more interactive manner.
Chats have become a usual activity for most of us. We interact with our colleagues, friends, family members, and all sorts of people on chat applications.
So, why not use the same way to ask questions from users. A chatbot quiz will seem more like an interaction rather than a set of questions. Some of the users may prefer this format, or it may go well with the theme of your campaign or website.
Another appropriate occasion to use chatbot interactions is when there are a lot of questions in the quiz. People like to have long conversations, but they do not like long quizzes much the same.
Giveaway
When we talk of interactive content, it doesn't always mean quizzes or questions of one kind or another. It can be anything that makes the user stop and participate in the process.
In the beginning, we also mentioned that it should have something to offer to the visitor, as well. Giveaways are a suitable match to all the description of interactive content we just went through.
It is an excellent method of attracting large audiences. Giveaways help give back to the community and possibly grow it even more.
You can offer some of your services for free, offer coupons and vouchers, and so much more. The only possible downfall of a giveaway is that not all the users can win the giveaway.
A marketer should ensure that a giveaway is not the only way he has got to grow the business.
Form/survey is also content type on this platform, in beta mode, at the time of reviewing this product. While it is still unsure if we will see this content type in future versions of Outgrow, we feel it is worth mentioning some of the features of this content type.
Form/survey is created with the purpose of collecting data only. Unlike previous types, we won't be offering something to the user in the end.
This content type may be more appropriate for internal activities rather than marketing. One can collect input from employees, get feedback from clients, etc.
One should not find it much difficult to find ways to engage more users and visitors with all these different kind of content types.
Outgrow has done a great job of ensuring that the marketer does not run out of ways to put some interactive content on the website. Another advantage of these many options is that one can always keep mixing up things and put new ideas to the test.
Creating the marketing page/section
Once you decide the type of content you want to publish, the next logical step would be to design and personalize the template.
Appearance matters, and you need to make sure that people want to participate in the quiz the first time they look at it.
Outgrow offers two ways to design the content. You can either pick one of the layouts that the content type has got to offer and create it from scratch, or you can choose an appropriate template and get some head start.
The platform provides the user with options irrespective of the way they choose to create the quiz.
If you opt to build it from scratch, you will get to choose the layout option. There are subtle differences between the layout options available on Outgrow, but each of them can be suitable for specific use cases.
Some layouts will present different questions on different screens, while some will separate them only under sections. Similarly, some of the layouts will have the option to upload a background image, while there will be others offering specific areas to do the same.
One can easily preview the different layouts and pick the one which seems most appropriate to take care of their needs.
Once you choose the layout, it will be upon you fill it up with suitable options, answers, images, and so on.
If you are not in the mood to do that sort of heavy lifting, you can opt for templates instead. The template section will present to you a long list of niches to pick the one to which you belong.
Depending on the quiz type you picked earlier and the niche you selected, you will get one or many templates for the quiz.
The different templates under a class will not only vary in terms of the layout, but they will be populated with different content, as well.
You can choose to use these templates as the motivation for your quiz, or you can decide to make only a few modifications and use the template the way it is.
Unlike layouts, the templates come populated with questions, options, images, formulas, etc. It won't require one to spend a lot of effort before publishing the quiz. One can keep as much of it as he wants and make only the necessary changes.
Irrespective of the way you choose to create the quiz, you will reach the editor or builder of the quiz. The builder is where you will do most of the cutting, chopping, pasting, etc. before the quiz is ready to go live.
The builder follows a classic three-panel design that you encounter on most editors. The left panel is dedicated to all the questions of the quiz.
If you are using a layout which follows a plan with different screens for different questions, then every element of the panel will take you to a new screen. If you follow the layout with separate sections for separate questions, then the elements will take you to the respective section.
It also makes up for an efficient navigation panel.
The middle panel or the canvas is where you get to see how the end product is going to look like. Any changes that you introduce in the quiz will be reciprocated instantaneously on this panel, and you will have a better idea of what you are dealing with.
The right panel is where you make all the modifications. It deals with everything ranging from the text and images to the number of options available in the answer.
The quizzes created of Outgrow are not going to be used the same way by all the users. Some will use it as a pop-up, some will place it inside the side panel, and there will be more ideas, as well.
The service providers allow the user to deal with all the different use cases with relative ease. However, there is one more variation that users need to keep in mind, and that is how the quiz will appear on desktop and mobile devices.
Outgrow provides a preview of the quiz for both the screens to showcase how responsive the quiz is going to be.
Since there were so many options for the kind of quiz you can create on the platform, the editing options also vary depending on the content of the quiz.
For instance, you will get to allocate numerical values to responses and apply mathematical formulae in case of calculator quizzes. For outcome quizzes, you get to map the responses to different outcomes.
The usual stuff, such as images and text can be edited the same for all the quiz types.
Each quiz comes with a dedicated section for the lead generation form. It is among the essential parts of the questionnaire for the maker, and the tool allows to modify appropriately. It is usually going to be present right before the results screen.
Finally, the outcome section allows you to make sure you provide correct and relevant responses to the visitor at the end of a quiz.
There is nothing much to elaborate or explain about the editor present on Outgrow. It is intuitive and straightforward enough for anyone to get a sense of what to do on the builder.
Analytics and reporting
Once you have created the quiz and published it, the next step would be to wait and gather the leads. Meanwhile, you can monitor how visitors are interacting with the quiz.
You can probably figure out some trends in the user behavior and make some notes for the quizzes you create in the future or use the knowledge to improve upon the current campaign.
Outgrow comes with a detailed analytics section to help the user keep a close eye on all the progress made in the campaign.
The analytics section consists of three tabs. Let us have a brief look at all of them.
At first, we have the overview section. It gives a broad idea of what's happening around the campaign. It provides an insight about the traffic, the interactions, distribution based on area, distribution based on browser, etc.
There is a graph in the overview section showing the number of unique and total visitors. You will see the number of users who started the quiz and the number of them who ended up providing the information.
The conversion rate helps gauge the health of the campaign. The difference between the number of visitors starting the quiz and the number of conversions can help you decide if you should make some changes in the current strategy or not.
You can set benchmarks and goals for all these stats available in the overview section and try to reach them for all the campaigns. The user distribution based on various parameters can help one optimize the content.
The next section is called 'user details.' It will give you some insights into what everyone has been up to when they reached the home screen. You will get to see what answers they submitted, the buttons they clicked, and so on. The section provides details of actions of both leads as well as the visitors who never got converted.
The final section in analytics is called 'user funnels.' It will provide the data from the point of view of the quiz. You can see how the response was for each section of the quiz, and try find any area of improvement, if possible.
The analytics section provides enough information and in enough ways that you don't find it challenging to have a grip on what's happening around the campaign. It can prove to be of great benefit when used correctly.
Integrations
Integrations have become essential for all the tools which help with the business. There is so much to do in a business, that it's challenging to find a tool which does it all.
And the fact that businesses are different in nature and need different kinds of tools makes it even more difficult for anyone to come up with an all-in-one solution.
The best way is to stick with tools which specialize in a function and find a way to make these tools compatible with each other.
Since Outgrow will help one with lead generation, it must be integrable with tools such as mailing software and others which help with marketing automation. It would make it much easier for the individual or the organization to move from lead generation to subsequent stages.
The user will be able to integrate Outgrow with hundreds of other applications using Zapier integration. You can even create segments for the leads and synchronize them with different tools depending on what the section contains.
You can integrate Outgrow with Google Analytics and be more thorough with the monitoring part.
There are enough integration options for Outgrow that it won't disrupt the usual processes.
Conclusion
Lead generation can be a tricky business. It requires one to be creative and efficient with the ideas. Outgrow helps the user right from the idea part.
They will tell you how Quizzes are a superior way of grabbing user's attention and why you should have them in your lead generation campaigns.
It begins with options for you to pick the kind of interactive content you want to have in your campaign. The variety of options help take care of the needs of most of the businesses.
You can conduct polls, calculate some data for the user, show results based on the user's preference and so much more.
These different content types open so many avenues for marketers. They don't need to stick to a particular way of asking questions. Things can be made as enjoyable as they get.
The process of creating the quiz itself is a piece of cake. You can either pick a layout and specify the design of the quiz all by yourself, or you can go for a template where a lot of stuff is already completed.
The editor on this platform is as good as they come. It presents enough modification options and keeps the whole process very natural.
Outgrow assists the user after the quiz is published with its detailed analytics section. You can use it to make improvements in future quizzes or make corrections in the correct one.
We like how Outgrow approaches lead generation and breaks it down into a few easy steps for the marketer to boost the campaign.
Outgrow provides a trial version, which is a great way to test out the capabilities of this tool. We would encourage our readers to use the power of Quizzes and give Outgrow a try.