GetResponse Review
By: GetResponse Sp. z o.o. From Poland
Detailed Reviews
The quality of email marketing tool you use can have a major role to play in the success of your business. GetResponse is among the better known of such tools. It comes loaded with features to help one with email marketing and much more. The highlights include automated workflows, Autofunnel, autoresponders, and much more.
Pros
Better deliverability rate of emails.
Creates responsive emails.
RSS to email.
A/B split testing.
Autoresponder to send out emails automatically.
Allows one to create automated custom workflows.
Create and publish landing pages, forms, and surveys.
Plenty of integration
Cons
Has a steep learning curve.
The naming system for lists can be annoying.
Introduction
It is imperative to nurture a good relationship with the audience if one wants to sustain the business over a longer period of time. Email marketing can help one to turn potential customers into customers and existing customers into loyal ones.
As the userbase grows, it becomes increasingly difficult to take care of all the email interactions. Such cases demand better techniques and methods to deliver emails. This is where email marketing software come into play.
GetResponse is one such tool which can help you with email marketing campaigns and automate a lot of the processes. The tool takes care of so many other aspects of marketing that you can even consider it a marketing agency on your desktop.
Some of the popular features on GetResponse are lead generation, landing page creator, Autofunnel, and a few more. In this review, we will go through all these features and understand their role in marketing.
There will be some analysis of the usefulness of these features and how easy it is to use GetResponse in general. You can expect some comparisons with other popular software in the same niche, and in-depth analysis of all the sections.
By the end of this review, you will have a much better idea of how good is GetResponse, if it capable enough to serve your needs, and if you should give it a try.
Creating lists and adding contacts
With your hands on a new email marketing tool, they might itch to start right away with creating email campaigns and sending emails. But before you get into that, you will need a list of emails accounts to whom you may send these emails.
If you are entirely new to email marketing and starting with a new marketing campaign, it may take some time for you to have a list of contacts. GetResponse will help you in collecting those email contacts, but we will discuss that bit in later sections of this review.
Here, we will discuss the options available for you if you have a list of email contacts. You may have those contacts saved on your device, on some cloud application, or maybe in some other email marketing tool.
There is a way for one to import contacts into GetResponse in any of these cases. The tool will first ask you to create a list in which you want the details to be imported.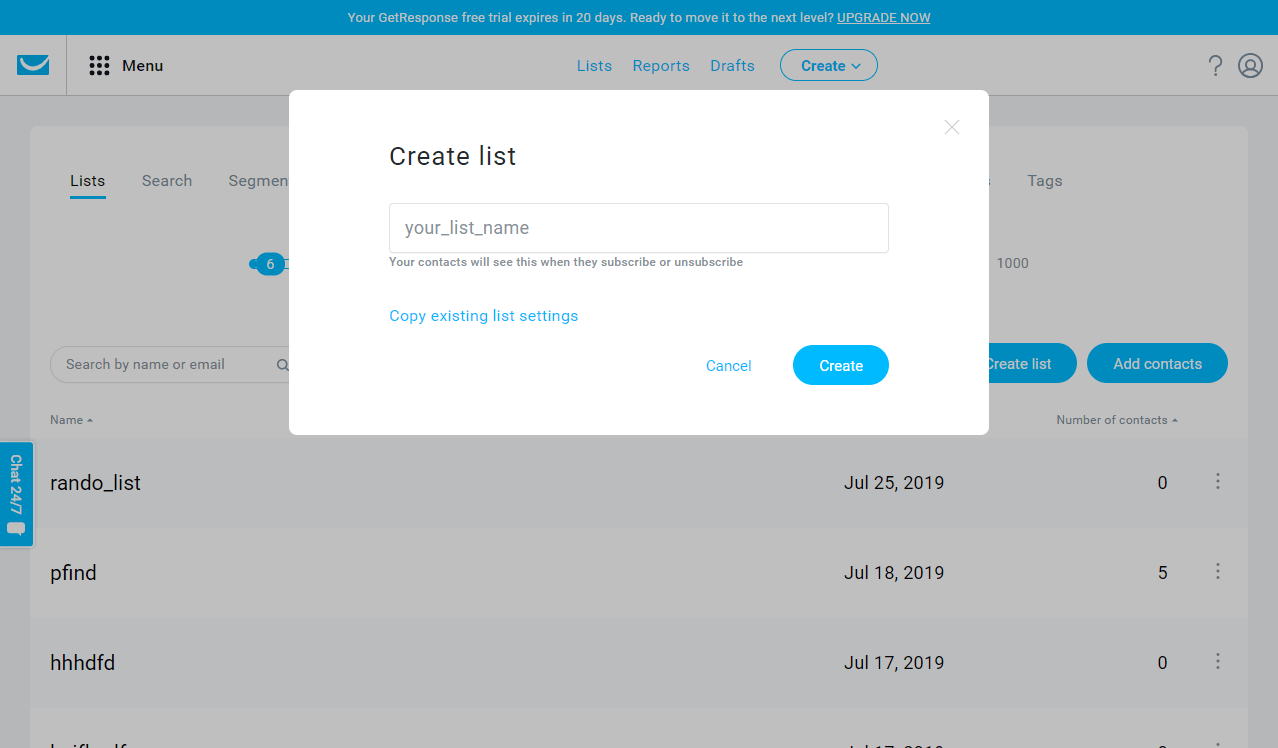 You can have multiple lists on your account based on different needs and purposes. You can have one for your newsletter subscribers and others for customers using your services. One may find lists useful in a lot of other cases too.
The one thing which you may not like about lists is the rules for naming them. The rules don't allow the use of capital letters or spaces while naming the lists. It prevents one from applying an effective nomenclature when naming the list.
After choosing the list, you have options to either upload contacts manually or add them in bulk. While there is only one way for manual upload, you get a range of choices for bulk uploads.
You can upload a file from your device. If you have the contacts on a spreadsheet or in some other document, you can attach them in this section, and the tool will decipher all the columns and give you a preview of it. You can modify columns if needed and then save the contacts.
There is a small list of cloud-based storage applications and tools which take care of businesses other than email marketing. You can connect GetResponse to one of these apps and import the contacts. Some of the featured applications are Google Docs, Magento, Formstack, etc.
You can paste the contact information of users in this section. All you need to do is to make sure that there is only one contact per line, and there are commas separating the added information. This section can be a bit annoying at times, but it serves the purpose in most cases.
Finally, there is the option to import your mailing list from different email marketing software. At the time of this review, there are four tools mentioned in this list- ActiveCampaign, MailChimp, AWeber, Constant Contact.
Depending on the way you used to add contacts in your lists, the tool may take some time to reflect them in your list. But once they are visible in lists, you can start away with sending emails.
Lay of the land
GetResponse is one of the comprehensive email marketing tools with features going beyond just email marketing. It is, therefore, necessary to know how to find the different elements of this tool.
Let us begin with the dashboard. It is where you get a summary of everything that is happening around your account. It is a detailed layout of sections which are nothing but widgets, and you get to control the widgets which appear on the dashboard.
You can have a widget to give you stats about newsletter campaign, lists, new contact, and much more. These widgets will be merely indicators of what's happening in the section, and you get an exhaustive report in respective sections.
There is a widget library which severs multiple widgets. You can see what the purpose is of that widget and have it on the website.
You can have the ones which are like banners and give you different numbers for the whole section or campaign collectively. And then there are ones which provide information in tabular form with a lot of details about the listed elements. This kind of widget may be useful when you need to compare data.
Widgets come with some modification options. You can change timelines, sample space, dates, and other kinds of data on the widgets whenever possible.
The fact that the dashboard is completely customizable, helps one make the most out of it. It is up to the user if they want it clustered and packed with information, or if they want it clean.
GetResponse comes with a top panel or you can call it the navigation panel, as well. It provides you shortcuts to the most important sections. There are direct links for reports, drafts, and lists.
The 'create' button gives you the options to create newsletters, autoresponders, landing pages, and forms. It emphasizes the importance of these elements at the same time, as well.
The menu button provides direct links to different sections of the tool. And it does a great job of letting users know about the capabilities of the tool.
The tools are classified into two sections communication tools and growth tools. Under the communication tools you get, email marketing, autoresponders, automation, webinars, and simple CRM. For growth tools, there are Autofunnel, landing pages, forms, Facebook Ads.
The classification highlights the fact that you can use GetResponse for both communicating with your audience and customers as well as to grow your business.
Finally, you will get files and integration section links on the menu button.
Email marketing campaigns
There are a lot of ways for one to reach out to users. One can use online advertisements, offline advertisements, social media campaigns, and a lot more. Email marketing is one among these methods in which the service reaches out to the user through their email inbox.
With social media taking over the online ecosystem, the effectiveness of email marketing may come as a surprise to a lot of users. There are a few niches where email marketing works wonders for marketers.
One can attribute a lot of reasons for the success of drip campaigns. It appears more professional, personal, courteous, and many other things. It is not easy to pin-point the exact reason for the success of this mode of marketing, but one thing becomes very clear in this analysis. It is that every business should have a sound email marketing strategy among other tools.
Newsletters
One of the easiest and effective ways to stay connected with users is sending them newsletters. You can keep them updated about the new offers, blogs, sales, events, and everything else worth notifying.
Blogging sites may have newsletters which are sent weekly to the users, whereas e-commerce websites can do the same for a new line of products they introduce, or price drop of products.
There will also be some once-in-a-while occasions which demand you to reach out to users. It can be birthdays, subscription anniversaries, someone subscribing to the newsletter, etc.
GetResponse allows users to create newsletters for all kinds of purposes. Let us go through the process of creating and sending emails on this tool.
You will get two options for sending emails in the email marketing section. One of them is newsletters and another one is RSS-to-email. We will talk about the latter in the next section. Let us now focus on newsletters.
GetResponse provides two way of creating newsletters. You can either create them using the drag and drop editor on the platform or create one using HTML. If you have enough knowledge about HTML and are interested in creating a unique template for yourself, then you have the necessary tools for the purpose.
For all the other cases, one should go with the drag and drop email editor. The tool will ask you to first type-in an appropriate name and subject for the email. After this step, you will be redirected to the template section.
The sheer volume of templates available is impressive. There is one for every need and every occasion. You can go through the categorization of templates and find the one most suited to your niche, or you can pick the one you find most appealing and modify its content appropriately.
Some templates come with different color schemes, giving more variety in options to users. The next step would be to select any one of these templates and edit the template in the drag and drop editor of the tool.
If you like how the design and placement of each element on the editor, then you can simply modify the content and images, and the template will be ready to send to users.
If not, then you can add or remove design elements from the template. You will notice that design elements are present under different categories. The categorization makes it easier for one to locate elements and to understand their purpose, as well.
There are a few tools in the top panel of the editor. They allow one to tinker with some of the settings such as size and alignment.
People will be interacting with your email on all sort of devices. Some may open it up in their mobiles, while there will be some who prefer to check their emails on a desktop. It is your job to ensure that your email is readable and appealing on all these cases.
With GetResponse's editor, you won't have to worry much about this issue. As you edit the template, you get a preview of how it will look on a mobile device. All the email templates created on this tool are responsive enough, and you can expect them to populate properly on mobile devices.
If you prefer the old-school way and don't want your emails to be graphic, then you get the option to create plain text emails as well. These can turn out to be useful B2B approaches and other events which require you to stay formal.
Once you have taken care of the appearance of the email, and contents of it using either of drag and drop editor or HTML or plain text, you can proceed with setting up with how you wish to circulate the email.
You can pick the email lists and segments to which who you want to send the emails. There is an option for manual selection of contacts as well. You can then schedule the message for a suitable time.
GetResponse provides some useful features even during scheduling of emails. You can enable/disable one of the two switches namely Perfect Timing, and Time Travel.
Since people in your mailing list can be from different parts of the world, sending the email to all of them at the same time may not turn out to be beneficial for you. You want the recipients to interact with your emails, therefore, you want emails to reach them when they are most likely to open them.
With the Time Travel option turned on, your emails will reach users according to their local time. All you need to do in this case is mention the time, and everyone in the mailing list will get the email at that time irrespective of the time zone.
With Perfect Timing, GetResponse will figure out the time when recipients are more likely to open the emails and send them the email at that time. It will help you make the more out of your email campaign.
Both these features are different from each other but useful in their own ways. You can schedule the email with or without these settings and leave the rest of it on this tool.
RSS to email
There are blogs and sites on the internet, which have an RSS element attached to them. These websites put out content on a regular basis. If you are a blogger, you would want your subscribers to know about your new posts and articles when you launch them.
Similarly, if you are a business, you would want your customer to stay connected with your ecosystem. You can make sure they are aware of all the content you put out on the website.
For both these cases, the most efficient way of keeping users informed about the content you upload is to send them an email for every time you upload content.
You can automate the whole process of them receiving an email when you upload content. All you need to do is attach your RSS feed URL in the RSS to email section of GetResponse. You will have to take care of a few other steps too, such as naming the mail and taking care of the sender's credentials.
You can make the tool generate emails for every new upload or you can set up a regular schedule so that an email is sent regularly anyway.
You will once again get plenty of template options in this section which can also be edited. The noticeable feature of all these templates is that all of them have the RSS element attached to them.
You can design the template as per your liking, and then select the mailing list or segment for the emails. Once you are through all these processes, GetResponse will send emails to your subscribers either regularly or whenever you upload a new post.
A/B testing
There are multiple factors affecting the success of a marketing campaign. It can be the audience you are targeting, the mode of promotion, the way of promotion, and all other sorts of things. There are too many variables.
If we come down to email marketing, then you will once again find a lot of variables. It can be the subject of an email that users may like or dislike or the time at which you send out the emails may affect the success of your campaign.
The only way to know about the effectiveness of these variables is to test them out in the real world. You can opt for A/B testing to introduce some variations in the messages and test out which one works better.
Under A/B testing, both versions of the mails will be sent to an equal number of contacts. The contacts will comprise a small percentage of the complete mailing list. The version which gets more interaction from the audience will then be sent to the rest of the mailing list.
You can access this feature while creating newsletters. Under A/B testing, you get the option of varying one of the four variables to determine which variant works best for the campaign.
One can change the subject line and try for some really catchy ones. If it is the subject which compels your audience to open up the mail, then you will know what kind of subject lines to go for.
Changing the sender credentials can also be one of the ways of getting recipients to interact with the email. Some people do not open emails because they find sender's info fishy. You can change the sender field for your mails and find out if it affects the number of users interacting with your mails.
What can be a bigger factor than the actual contents of the mail? You can send out emails with different content for split testing. It can help you imply better strategies when sending out content in the future.
Even though there is a feature on GetResponse which tries to determine the best time to send out emails to ensure more interaction, you can try varying the time manually. Sometimes people find it difficult to believe that changing the delivery time of mails can have such a significant impact on the success of a campaign.
You can use split testing to refine your strategies and boil it down to best practices for the business.
Autoresponders
With autoresponders, you can set up the tool to automatically to send an email or a series of emails to the new subscribers in a list. You can use this feature for marketing, connecting with users, handling out courses, and lot more.
We could have included it in the email marketing campaign section, but there are so many possibilities for this section that we felt it deserves a section of its own.
Let us first try to get a better idea of what autoresponders are all about.
When a new user joins your mailing list or subscribes to it, you may want to send that user a series of emails which include everything from welcoming the user onboard to giving them a tour of the website or introducing them to the new product in your catalog.
You can't throw all these emails at the user at once. There needs to be a certain build-up to you pitching the product and some time for the user to know your service better.
You can have a set plan as to when do you want to launch those emails if you don't want them to be sent on particular days, what should be the timing of sending emails, and much more.
You can carefully plan all these elements on Autoresponder. Let us go through the process of creating an Autoresponder on GetResponse.
It starts with you naming the autoresponder and then choosing the email list. You can choose multiple email lists, and funnels in this case. We will throw some more light on funnels in later sections of this review.
You will then have to choose the day on which you want to send the email. On autoresponders, the point of response is the time when a person subscribes. The day of the subscription is Day 0, and then you can count the days subsequently.
So, if you want to send an email to a new subscriber on the same day of subscription, you can pick Day 0. You can set a delay of hours, set a particular time of the day or send the email immediately.
GetResponse allows you to select the days of the week on which you do or do not want any emails to be sent.
You can choose one of your saved messages from the draft, or you can create a new email template. The processes available for creating are the same which were available for newsletters. You can design the template and save it in the autoresponder. You will then have the option to activate the autoresponder if you feel good to go.
In case you want to send a series of emails to a new subscriber, the autoresponder has got your back. You can once again opt for creating a new autoresponder. You need to select the appropriate email list, and then choose the appropriate day on which you want the send the email.
Rest of the processes will be exactly the same, and you can go about creating perfect emails for subsequent days.
Once you are done with adding autoresponders, you can view the whole mailing list on a calendar view. You will be able to see the emails set up for various days, and make sure that everything is in order.
If you feel that emails need to be delayed or preponed, you can simply drag and drop them on the appropriate days on the calendar view. This feature adds so much flare and functionality in this section.
You can have multiple series of autoresponders set up for different mailing lists. You can have one set for taking care of new subscribers, another to cater out your online course, and much more.
It was just one of the ways in which one can automate some processes on GetResponse. We will get to see some more in the upcoming sections.
Webinars
This is not a common feature on email marketing tools, but GetResponse is packed with features and Webinars come included in the package.
Webinars can be a great way to connect to one's userbase or cater content and courses to subscribers. You can use this platform to create successful webinar campaigns.
The process of setting up a webinar campaign is way too simple. All you need to do is name the campaign, add a suitable description, mention the agenda or provide some relevant description, specify time and dates, and manage some other minor details about the campaign as well.
Once you are done specifying these minor details, your webinar is good to go. You can then proceed to send invites for it or create sign-up pages to ensure that do not fall short on attendees.
If you are using the Webinar to cater out some course, then you can add all the subscribers of the course into the mailing list and send them invites.
If the webinar is to promote something, then you can create landing pages and reach out to as many people as possible.
Create automated workflows
Developing strong relationships with customers can be a long process. It may include a lot of actions undertaken by you to keep the customer involved and maybe some interest was shown by the user in your service to suggest what should be your next move.
One may need to undergo a long process not just in case of developing strong customer relationships but to sell products, gather feedback and a few other processes, as well.
If your mailing list is small, then you may be able to take care of these long email conversations manually, but as the sample space grows, the task becomes next to impossible. The sheer number of contacts and the different types of cases generated from within these contacts can be unbelievably tough to manage.
GetResponse provides you an automation tool in which you can replicate all the possible scenarios, and therefore, set the tool to automatically send appropriate responses.
There can be tons of situations in which you can benefit from an automated workflow already set up on the platform. It can help you get more sales, collect more leads, prevent customers from leaving the service, find out the loyal customers and prospects, promote products and event, and so much more.
For every automated workflow, there will be a trigger which would start the whole process. The trigger would then be followed by an action from the service provider or the user. Depending on the outcome of that action, one can add subsequent stages in the workflow involving more triggers and actions.
Let us go through this section to get a better idea of how to use automation to its full potential on GetResponse.
You will not find the option of creating an automated workflow in the top panel along with the options for the likes of newsletters and landing pages.
The workflow is different from these elements as they are meant for specific purposes such as communication and promotion, whereas automation comprises these elements and it can be used to achieve broader goals.
If you are wondering what those goals can be then you don't need to go too far looking for an answer. When you opt for the option of creating a workflow, you will find numerous templates consisting of examples of use in practical situations.
You will find examples for very basic tasks such as welcoming a subscriber onboard to complex tasks such as scoring your contacts by their level of engagement with the service.
All the templates show the number of elements used in the workflow, giving you an idea of its complexity. You can sort these templates by various categories such as lead qualifying, post-purchase, cart abandonment, etc.
GetResponse has been very generous when it comes to providing examples and templates on the platform. The readily available examples not only make it easier for one to learn about the features, but they can also be a time-saver at times.
You might save some time in this case if you find a template which is just right for the purpose. It not, then creating a new one is not going to be a big deal as well.
You can opt to create a workflow from scratch. Every workflow will begin with some action. It can be someone subscribing to one of your email lists, a person not proceeding with buying items saved in the cart, visits a landing page, tagged, scored, etc.
The trigger condition will vary depending on the situation and need. All the elements which can be used for triggers are listed as conditions on the side panel. You can add them later in the workflow if needed, as well.
When you add the trigger element, you can deal with its properties at the same time or leave it for later. The properties will again vary with elements, and they are all easy to manage.
You will want to follow the trigger with some action. Some of the action elements on the workflow are sending a message, moving the contact to a list, copying contacts, adding tags, adding scores, waiting, etc.
Some of the trigger elements will be binary in nature, that is, either the condition will be satisfied or not. Depending on the outcome for a trigger, you can branch out different actions for the same trigger.
Branching will help you add more flexibility to the workflow and make it more dynamic. You will be able to include more use cases, as well.
There is one more category of elements called filters. It helps you sort outcomes by various metrics. There are filters by range, amount, stage, etc. You can add them to the workflow and be more specific about the details.
You can have a logical relationship between the elements and connect the dots between them to signify the relationship. Once you publish workflow automation, the tool automatically takes care of all the activities that are supposed to happen under it.
You can keep monitoring the outcomes and modify the workflow as and when needed. Workflow automations are nothing less of a boon for email marketers. All they need to do is create a robust and effective workflow, and leave the rest of legwork on the tool.
Autofunnel
Autofunnel is one of the exclusive features of GetResponse. One may compare it to the automated workflow at times, but Autofunnel is easier to set up when compared to automated workflows, and it has more capabilities when it comes to reaching certain goals.
Autofunnels are highly goal-oriented. The three goals for which you can set up an Autofunnel on the platform are to create and expand a contact list, to sell a product, and to promote a webinar.
While one could have used automated workflow for just about any activity, Autofunnels take care of only some profitable activities.
It was you who was supposed to do all the planning and strategizing in case of automations, whereas all you need to do in this case is follow the lead from the tool, and create landing pages and emails when needed, and connect to payment gateways for some cases.
Let us begin with the assessment for a lead generation funnel. It is the simplest one among all three types of funnels and the easiest to set up. You can use it to create a list of contacts which are more active and engaged with the service.
It consists of only two steps, one is the user signing up for the service, and the second is you welcoming the user to the community or thanking her to sign-up for the service.
There are buttons to create sign-up pages and welcome pages on respective steps. When you click on them, you will once get different kinds of templates for the pages. You can either select one of them or create one from scratch.
The funnel will automatically keep track of all the users who sign-up for your services through the campaign and keep you informed about all the progress.
The second type of funnel you can create on GetResponse is a sales funnel. It has got two variations. One is to lead the user to your sales page and the other one comprises of the whole process starting from leading them to the sales page and ending at collecting payment and showing you the numbers.
The funnels involve connecting them to a payment gateway so that you can take care of all the actions at one place.
You can have suitable pages to collect contacts then a few more to invite them to buy your product.
For the sales funnel, you can either create a store on GetResponse or connect your Webstore to the funnel. With product links and descriptions in place, your funnel will get more precise and effective.
When you are done connecting payment gateways and stores, you will reach the funnel. Here you will once again get detailed instructions about what you should do to achieve your goals.
As we just mentioned, the process will often start with collections of emails. You will once again create sign-up pages for this category.
It will then be followed by connecting with the audience and telling them about the service, offer, or the company. The funnel will prompt you to create appropriate emails for this step.
Once you have established good relations with the contacts you can approach them to buy your product. You can create one sales page using the funnel for this purpose.
The final step would be the contact tuning into a customer and buying the product. There is the option of creating a confirmation page in this step.
The funnel provides you a summary of how many contacts you added, how many views you got, money earned, and a few more details.
The third kind of funnel available on GetResponse is for promoting a webinar. It can either be a paid webinar or a free one.
All you need to do is take care of the settings of the webinar, the funnel will guide you through the rest of the process. It begins with the promotion of the webinar and reaching out to contacts. You will need to create appealing sign-up pages and emails for the two cases.
You can then take care of the number of attendees willing to join the webinar. Finally, you can create a thank-you page for those who attended the webinar.
In the case of paid webinars, you will have to connect the payment gateway to the funnel, as well.
All three funnel types are great ways for one to achieve profitable goals. The funnel chalks out a plan for the user, and the constant monitoring of the progress turns out to be good enough motivator.
Has more marketing tools than you expected
GetResponse houses more marketing tools compared to most email marketing software out there. You can leverage these tools to grow your business. Here are a few of them.
Landing pages
The primary function of email marketing tools is to take care of the bulk emails that one needs to send out while managing the business. The tools keep introducing new features to attract more users to the platform.
It is because of this stiff competition between email marketing tools, that it is now very common to find the option of creating and publishing landing pages on these platforms.
Landing pages can be a static website or part of a website which is designed so that it highlights all the positive attributes of a service and motivates the user to take some action. This action can be subscribing to a service, buying a product or service, signing up for a newsletter or anything else which would be beneficial to the service provider.
One can use landing pages for acquiring sales, generating leads, promoting content, and much more.
When you start creating a landing page on GetResponse, you will once again get a ton of template options. Each template has a name suggesting what it can be used for, and there are multiple categories on the side panel for you to filter the templates.
You can choose them by niche or by appearance and appeal. You will once again get an interactive editor to design the landing page your own way. It has a drag and drop editor allowing you to place all sorts of elements.
While designing landing pages, one should keep in mind that landing pages should not be filled with a lot of interactive options which deviate from the intended action. Ideally, the only option available while designing these pages should be the one pointing towards the intended action.
The elements present in the editor are well suited to designing an effective landing page. The editor takes care of the fact that some people might see the landing page on their mobile devices. The landing page you create this way will be responsive, and there is an option to edit how it looks on a mobile device.
Once you have taken care of the appearance of landing pages as well as the thank you page, you can take care of the SEO settings for the page. You can take care of domains and subdomains, add an analytics service if needed, and add tracker as well.
Once you have taken care of all these details, you can publish the landing page online and get more sales, leads, or whatever it is that you wanted to achieve with the page.
Forms and surveys
If you can make the audience spend some of their valuable time in providing you some information, then you are will on your way to building an active community.
Forms and surveys are can help you gather insights and reviews from users. It can then help you know what people want, improve your strategies, and know if your business is going in the right direction.
GetResponse allows you to create beautiful forms and interactive survey pages. You can create and launch them from the platform itself. The form manager comes with an excellent editor, and you get multiple input options for surveys.
One can gather valuable insights directly from subscribers and customers using this feature.
At the time of writing this review, they are preparing to launch a feature which would allow you to manage Facebook Ads. It would further strengthen the marketing section on this tool.
Integrations
The online ecosystem is filled with all kinds of applications to serve different purposes. Just like GetResponse is for email marketing, there are productivity apps which take care of other processes too.
In an ideal case, the user would want to use all of his favorite applications, but, at times, it can be difficult to streamline a process involving the use of multiple apps. Who knew that non-compatibility could be such a bummer?
App integrations help the user move towards that ideal condition where all the apps are compatible and one can easily use all of them to complete a process.
In case of an email marketing tool, app integration becomes even more important as one may need to import email contacts from different sources, connect campaigns and events on different platforms to the email marketing tool, and much more.
GetResponse comes with a lot of integrations option. You can connect it to e-commerce services, payment gateways, CMS platforms, CRM platforms, etc.
You will find an integration option for all popular productivity apps. For other instances, you can use API access and create integrations yourself or you can ask the GetResponse team to create a custom integration for you.
Conclusion
GetResponse is, without a doubt, the most advanced email marketing tool available out there. The platform is loaded with features, so much so that at one point we were almost annoyed by constant budding up of features one after the other.
Some services introduce tons of options just for namesake, but all the tools on GetResponse were both helpful and unique.
The tool is so much comprehensive and exhaustive that it may be overwhelming for a few users, and rightly so. GetResponse might be too good of a tool if someone is looking for a service which would help them collect email contacts and send out newsletters.
A lot of services and bloggers at the beginner's level need email marketing software only for the aforementioned reasons.
But if your needs go beyond that, then GetResponse might just be the right tool for you. You can create newsletters out of RSS feed, carry out A/B split testing, let the tool decide an appropriate time to send out messages and a lot more.
You will be able to create automated workflows, landing pages, and so much more on this platform. Webinars can be a surprise for some users. GetResponse help take care of both paid as well as free webinars.
You can use Autofunnel to reach your goals and monitor the progress with ease. There are tools to take care of most of your online marketing woes.
We would encourage all our readers to give this excellent email marketing tool a try. You can sign-up for the free trial, and experience the features yourself.