Any Video Converter Review
By: Anvsoft Inc. From Canada
Detailed Reviews
Every day in modern world, we need some sort of entertainment, which is usually in form of audio-video inputs from various devices. Now, what if we want our playlists on other devices.
For such instances, either we need these files on every device, or we may try cloud playlists. Cloud playlists may not be feasible for everyone, and so only option left for offline users is to convert these files.
This may sound like a big annoyance and therefore, we need ways to bulk convert these files for specified devices, along with maintaining quality. For that, we need a high-performance Video Converter. These video converters must support all formats for all devices.
Pros:
Supports video conversion with super effortless steps.
Has tons of file formats and device
Can record videos too with an inbuilt screen recorder.
Can also merge multiple video files into one.
Inbuilt DVD-burner to copy files into the CD/DVDs.
Download manager to download audio and video from tons of websites.
Separate media player to enjoy your movies.
Workable customer support
Cons:
Video conversion time-span is lengthy compared to its counterparts.
The quality is also average after media conversion.
No manual settings once you have selected a preset
Not so good video editing effects. Need to improve them significantly.
Screen recorder was too much buggy in our testing.
Video downloader has issues with YouTube Skips audio in them sometimes.
Buggy media player. Better not to use it.
No 3D video conversion.
Free version is spammy and prompts you repeatedly to buy the product after each conversion.
Overview
Amongst such tools, we have come across Any Video Converter. Under the banner of AnvSoft Inc., this product has been top-rated. Since its launch in year 2005, they have gained massive popularity in this field. They claim to have acquired millions of satisfied customers under their belt.
Any Video Converter is one of the robust product for video conversion. Not only video conversion, but it also has many sub-features to support similar tasks. Apart from video files, you can convert your audio files too.
In the ongoing review, primary goal for us is to evaluate core features in Any Video Converter and then check for secondary features in it.
Intro to Any Video Converter's UI
Well, before we begin our task, we need to have all hands on deck. This means that we need a working device with proper capacity as well as working software for its testing.
Users can download free trial version of Any Video Converter from website of AnvSoft. From there, just install it and activate the trial version. The UI of Any Video Converter has a plain desktop product type look. Most of the features are visible on the top tabs.
Before converting files, we need some excellent models to assess the claims for high-quality conversion. For that reason, we have with us some video samples, ranging from average SD quality to HD, 2k and 4k mode.
These videos range into varied size and time-spans. After collecting them, you can begin your tests to check the working of Any Video Converter.
Many factors decide the quality of output files and software performance. Of course, high-end devices with better CPU/GPU will yield faster and better results. But the problem is that very few people own such devices. For that, we used an average system to check the product. This will give us a better idea of how the product will perform on most devices.
Apart from the video converter, you have option to use some more features like DVD writer, video recorder, video player, screen recorder, and video downloader. Along the lines of traditional video converters, many alike products have given many extra features for their package.
The UI and conversion procedure is uncomplicated and so, even a person with novice experience can utilize these services efficiently. Let us head on to check all the above core as well as sub-features, one by one.
Testing the Video Converter
The video converter can be accessed by the main interface itself. Once you go to this interface, you will have to input new files in it. From here, add the files by using Add Button or using Drag & Drop. After this step, you will have to pick multiple options to adjust settings in the video.
The panel is quite distinctive. The center portion has the file and includes associated file info. This info is primarily of file name, size, length, resolution, FPS, video codec, audio type, and subtitle language.
There are three necessary items over it viz., convert now, cut video and effects button. From the lists of so many video formats, pick one.
There are two panes on both sides. The left side panel is like queue menu. It has list of all files downloaded, converted, recorded, and recycled. Then, on the right-side panel, there is a space for video preview.
It has some basic play controls like play, pause, stop, and sound. Besides these function, there were some editing ones like cut, crop, and edit video button.
There are three settings for video editing. These are Basic settings, Video settings, and Audio settings. To alter a video, you need to use this. In the basic settings, users can edit video settings like name, output folder, start/stop time, video resolution size and quality.
The second one is video settings, with video codec, bitrate, frame rate, aspect ratio, and encode pass. All of these are typically shared in every converter. Some of the options for distinct conversion were missing like lossless compression, VBR mode, etc.
The video codecs were limited to x264, x265, mpeg4, and Xvid. The bitrate is changeable from 192 to 12k. However, you can add custom bitrate besides drop-down menu.
Now once again, with all these settings, there comes lots of confusion. Why? Because apart from pro-users, novice ones may not know the correct meaning of these words and therefore they need to display some help text in front of each option. Video Converter Factory and a few other video converters have done this.
The last part is audio settings. Like any other audio editors, they have given settings for audio codec, bitrate, sample rates, audio channels, and audio status.
In audio codec, only three choices are there, viz., AAC, AC3, AND MP3. For audio bitrate, it is 128-256 bit. You can customize it for higher values too. Generally, higher bitrate means more data stored per second in that audio.
The audio channels also have three usual settings viz., 1, 2 and 5.1. Other settings for 2.1, 6.1, and 7.1 channels are missing. However, average users may not need them.
Now, they are all common compared to another video converter. So, Any Video Converter has not given us any out of the box options here.
Other than this, for post-conversion, options like shutdown, sleep, hibernate, etc., weren't there. This needs to be added, in case the video conversion takes too long.
Unlike many counterpart tools, there is no option to see the estimated size and time for conversion. Individual settings can't be changed if you select specific device from the list above.
Also, there was no direct option to use hardware acceleration. It has to be set manually from settings. Unlike many comparable tools, they do not claim to entirely transfer SD videos to HD quality. However, we tried it nonetheless. From a sample low quality SD file, we converted it to HD form.
Talk of the results, they were quite average. The quality suffered bit more than the original one. The audio was better though. Now, we had to test the conversion of larger files like 2k, 4k, to more manageable format as in HD, SD, etc.
Naturally, the conversion is expected to be smoother. The average time compared to other video converter was quite alike with few minutes difference. The converted videos can be seen in the left side navigation pane.
This was all about the overall video conversion. From our experience using many such products, we did not encounter anything superfluous with Any Video Converter. Only difference you notice is in the UI setup. In that matter, Any Video Converter had very nominal setup with all critical features.
Sub-Settings in Video Converter
These sub setting have some changes you can make while converting the video. The main ones include changes in video resolution, cropping, video effects, watermarks, etc.
All of them are given by Any Video Converter. To access them, click scissor icon on video converting zone. With that, a new pop-up will appear with these three options, viz., video cropping, effects, and watermark.
In the first option, i.e., video cropping, the top section has buttons to flip videos either horizontally or vertically. The crop option has manual input too.
If you are uncertain, use crop rectangle on preview pane. In the preview pane, resize this rectangle manually to set a desired crop size. Drag the field to crop-area you want.
The next section is again a cakewalk. The Effects Tab has some top-notch video effects in it. The three main effects are for brightness, contrast, and saturation control. There are some additional video effect like sharpen, cartoon, sepia, vertigo, gamma, invert, etc. All these are common with every video effect software.
The next one was the Watermark Tab. As usual, users can either input text, or preset watermark image from here. There are some advanced text settings for text watermark, with tons of fonts and formatting.
In any case, there was one disappointment here. Unlike other top products, users cannot install a floating or bouncing watermark in it. Neither you can make watermark specific to a time frame. Such advanced feature can be easily added in it.
After this, one last sub video editing feature remains. This is a video clipper. As we have used it often, Video Clipper is used to trim a particular section of video.
The Video Trimmer can be accessed with scissor icon on preview pane. In the video clipper, apart from usual player buttons, you are given start-point, end-point, new segment, and move segments button.
You can either use of the endpoints button and select the time-frame or use manual time entry for exact trimming. Click apply and convert the video. With this, we end all the things you can do in video converter. As told before, there was nothing noteworthy with this converter.
Only difference was that the settings for video conversion were on front. Users need not to roll around looking to alter things. They only need to include a hovering help text over each settings.
Overall, it was a decent video converter. The settings for post-conversion were quite limited. There were no direct choices to pick options apart from shutdown button like sleep, hibernate, etc. Some codecs were missing and few audio channels too. Some more video settings like VBR, lossless mode, and many such unique setups were not given.
We hope that they try to add more advanced features for pro-users in future. With current setup, it's more than enough to deal with daily video conversion.
Format and Devices Supported
When it comes to video converters, we need to check the formats and devices it supports? Why do we need to check it?
For all these questions, the answers are quite distinct. Without a system to support the file conversion, it is pointless. Also, if the converted format is not supported by your device, that is also bad. Contrary to manual conversion, we need to check for the device-specific conversion too.
To do that, users need to see list of formats supported in file conversion. They need to have device specifications loaded into the tool, such that selecting the device will automatically convert files into compatible format.
We need much higher stats for better and quicker file conversion. Moreover, we gauged it on such a conventional system only. The conversion process was sometimes lagging due to high CPU usage. Other than that, we did not find any trouble using it.
Some of the file conversion took prolonged time. When compared for a file conversion, it took longer time than Video Converter Factory, Movavi, etc. for converting a 4k video file. It may depend on process sometimes, but since the gap was of more than an hour, which shows it does take longer time for conversion.
In case of various formats for conversion, they have divided the list with input and output formats. For input formats, it includes all types of formats from DVD types like Blu-ray, to regular DVD iso files, and video-ts files.
It also had a place for video formats from 4k to 3GP, MP4, MKV, and 40+ such media formats. The output formats have been categorized as audio, video, disc, and images. They had encompassed every feasible format here. You can make PNG and GIF from video files too.
After that, comes device-specific support, where you select the device from given list for conversion. The tool has some preset values assigned to it. These settings are preset, and so you do not need to alter it unless you want to improve things further.
For example, if you choose a 2k mp4 file to be converted for an HD device, it will automatically adjust the resolution, bitrate and other such things. This helps in making it a one-click converter, and assisting novices.
Any Video Converter has support for many popular devices like Apple devices (iPads, iPhones, etc.), Samsung, Google, LG, Sony, Nokia, Microsoft, Nintendo, Archos, etc. Based on the devices available in these brands, you can convert the files accordingly.
Overall, these are all more than enough to convert your favorite media files. Other notable things here is that the UI is sleek for selecting the video formats.
There is a pick-up menu on top of conversion option. From here, it is easy to select device from the icon of their brands and then select an exact one. You cannot alter specific device settings from here. Choose manual mode in the end for arranging your own criteria for conversion.
This closes our discussion for the core functionality of Any Video Converter. We have gone through all the procedures of video conversions and various conversion formats. Evaluating from that, we would say that AVC has done an admirable job here.
The UI has a very minimal learning curve and decent stock of advanced modifications. Some more advanced video editing features can be included in it. Apart from that, our experience with Any Video Converter was hassle-free.
Compared to other similar top products, we would say it was only a few steps back. With more analyses, we hope they further improvise and make it much better. Moving on, there are some more types of jobs that are possible with AVC.
Secondary Features in Any Video Converter
As mentioned before, the core functionality of Any Video Converter is to convert a video from one format to another. All of them are playable on the device.
They have included sub-features like DVD burner, Video downloader, Video recorder, and Video player in it. We can review them briefly here.
DVD Burner
DVD burner programs were on peak usage before the advent of USB drives. Almost everyone had this on their computers long back. The utopia can be seen here from that time.
There are basically supported for two DVD sizes viz., 4.5 and 8.5 Gb. You can use rewritable disks too here although there is no option to erase the rewritable types. To use this feature, all you need to do is select CD-drive. Add the video files you want to burn, and then write the data on disk.
Users can opt to alter some settings for media files to be burned. Users can also change the template of the CD drives and install a navigator in it. Under Disk settings, users can alter write speed, video size, label, etc. Then, there are same 3 options like in the converter menu, viz., basic changes, video, and audio options.
The available formats for DVD conversion are NTSC and PAL movies along with AVCHD 720p and 1080p format. These are typical for DVD movies. Since few people use it nowadays, it is hard to gauge the necessity of having tons of file formats in it.
Any Video Converter has therefore given only basic functionality for this. Not many video converters give this. They must have continued to use the program till date, since it may have been hotshot in those times.
Video Recorder
Another cool feature common in most video converters is Video Recorder. With this, users can directly capture screen and then convert it subsequently using this program.
When it comes to screen recorder in Any Video Converter, we had some rough experiences. We were not able to record any videos and selecting the manual area button will dead freeze the application making us use force close to shut it, even reinstalling didn't work.
This was really bad. As braced on their websites and forums, users just need to install the software, play the video, and then hit the record now button to capture, which wouldn't work for us.
This made a huge disappointment for us. The feature did not work even once in our tests. Not sure if it is intentional for trial users, or its under maintenance. Regardless, it must be finished with proper implementation for every device, or else it's of no use.
The setup is certainly ordinary. All you need to do is select a region you want to record and hit Record Button. There is a shortcut key to start recording. You can also see the recorded size in it. The format of the recorded files is mp4.
We can conclude that the feature is not proper. Other tools like Video Converter Factory have given much better, and most importantly, a working screen recorder. Hope they patch the issues with it soon.
Video and Audio Downloader
One more exciting feature in Any Video Converter is regarding a video downloader. Like traditional video downloaders, we just have to input URL of the video and then it will auto-download that file.
There are many sites supported by them for video download, including the self-pleasure ones. To assess it, we used few video URLs from famous sites like YouTube, Vimeo, and Dailymotion.
Click Add URL button on top navigation bar. On the new pop-up window, use + icon to add URL in the queue. You can directly drag & drop URL from your browsers.
Adjust the priority of downloads with up/down button. There is one essential item missing here. They have not given an option for video preview, template preview, or any other video stats like length, title, size, available formats, subtitles, etc.
This is a big con in it. Other converters like Video Converter Factory have detailed this section. Any Video Converter should pick up and input proper innovative options in this function too.
Regardless, hit the download now button to start queue. Once the download finishes, you can see them in the main panel. There is one more shocker for you guys here.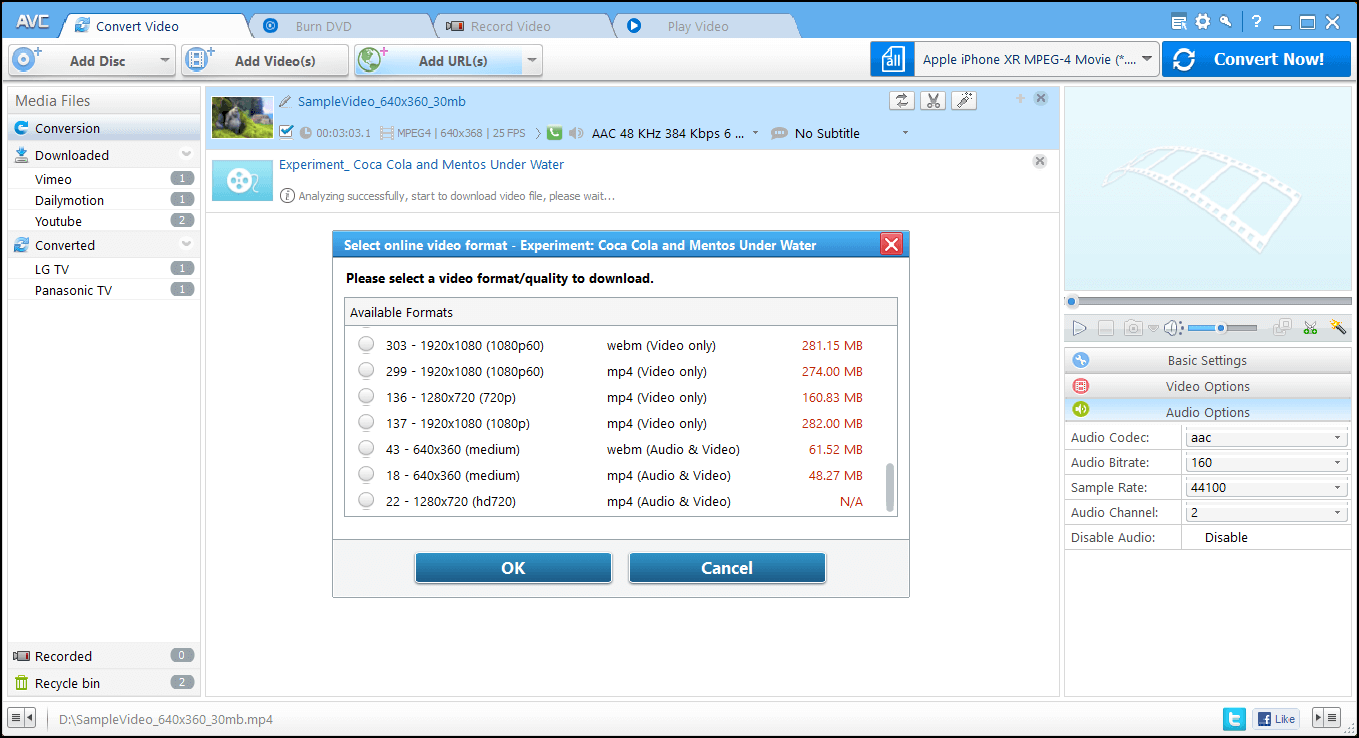 In a few instances, the audio from sites like YouTube was missing. Due to this, we had to dig through all settings to see if things were okay or not. The problem was inherent in the auto quality mode selection.
Sometimes YouTube videos have different audio files than videos. The auto mode selects the best quality available, downloads only video and no audio. To remove this, users need to change general settings from on top of AVC setup.
From there, go to the video download button and choose manual selection in quality tab. After this, users can select quality of video before downloading it. While choosing the quality, users will need to select ones with both audio and video tag. There's no subtitle downloading too.
Such things can create a nuisance for novice users. Even free download managers like EagleGet perform better than this. For other URL, things worked fine. Compared to other products like Video Converter Factory, this section disappointed us. This shows its mediocrity.
The audio downloader still worked fine. We used it for downloading videos from SoundCloud, etc. Spotify links didn't work. Although they have made a separate product for Spotify, they must have given support here too.
Only thing we can hope, is they improve this blunder, and learn from other equivalent products about their services. Novice users may get lost if they do not know how to dissect such issues. Overall, this proved to be another less than average feature, and it was better to opt for separate video downloader.
Video Player in AVC
What good is such a video converter that cannot play some videos? Nothing! However, AVC has given a video player separately. Users can directly watch videos or play audio or DVD files in the software itself, from the last tab in AVC setup. Switch to it if you need to use its features.
Like any standard video player, it has play/pause/stop, forward, backward, audio, time jump, and fullscreen buttons. Once again, in our tests, we found this part also has some bloopers.
Many 2k, 4k video files were not playable with this player. For some which played, it was a laggy experience. This video player slowed entire system as if it was converting some videos. Overall, it was a nightmare to deal.
Sadly, except for the video converter, every other feature seemed more of an annoyance in our tests. This has left a bad reputation for us. They need to address these bugs soon. We are still not sure if these things are all intentional, given that we were using a trial version.
With these, we conclude feature review of Any Video Converter. As we have seen in our experience above, the only thing that put a smile on our face was their core feature i.e., video converter.
Apart from that, most of these secondary features were middling. Some of them were there just for annoyance. The settings were less complicated in the video converter. But, they must work hard on these sub features if they want to add real value to their product.
With a minimal windows setup and no significant background process in the system, AVC setup lagged too much for us. Compared to Video Converter Factory, and Movavi Video Converter, they have not worked thoroughly on these sub features. We can only hope they get up and improvise it before people totally undermine the product.
Conclusion
Now for the conclusion, Any Video Converter is quite old in this field, and so they have mastered the core feature, i.e., video conversion.
The subordinate features were a run-of-the-mill. We had some issues with couple of them as discussed above. They have to really come out and improve them, to get in the game. One irritation was lack of checkboxes in settings tab, which made our system force shutdown every time after conversion.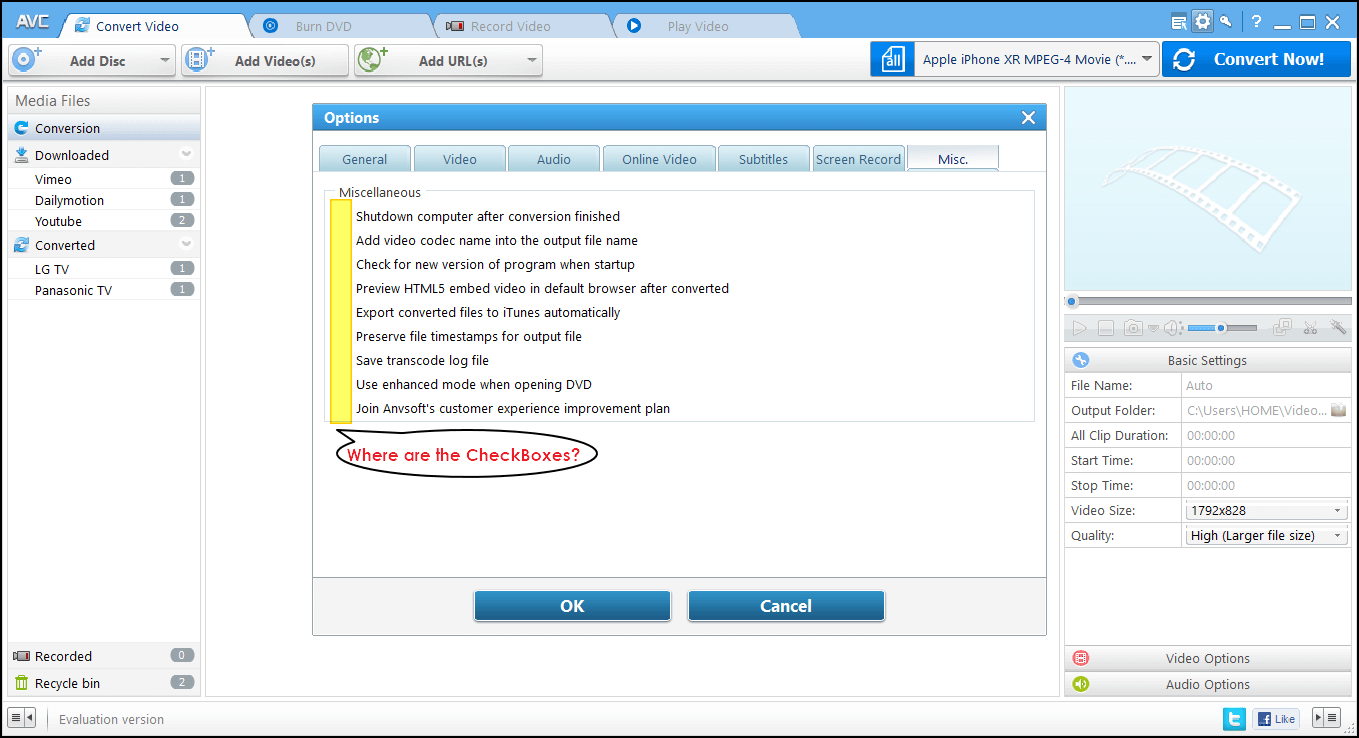 The DVD burner is also good, but obsolete to be honest. Instead they can add better video editing features and even a 3D video converter like in Aiseesoft Video Converter. Also, the UI needs to made bug free. Imagine the frustration of the buyer if they face such issues immediately.
Also, the customer support is decent and needs to be improved. When it comes to final recommendation from our side, we say that there are better options like Video Converter Factory, Aiseesoft Video Converter, Movavi, etc., who have bug-free experience. Although, Any Video Converter is tad cheaper than these, we'd still not recommend it in current state.