Time Doctor Review
By: TimeDoctor.com From Australia
Detailed Reviews
What's the biggest challenge in maintaining an office and its employees? They must make enough money/investments, have proper salary, follow work culture, and blah blah blah.
However, do you know that even after having all the investments, all facilities, there is no guarantee that your employees will complete their task sincerely in time or say will not be surfing Cat vs. Dogs Compilations on YouTube!
So, how do I, as the admin make sure that I can keep an eye over each of these staff members and make sure they'd be doing their work properly? This is the question that you went searching on web and then came here to read the review of one such tool, isn't it?
Pros:
Time tracking and employee monitoring are noob friendly.
Get a free demo of the premium setup for 14 days.
Employee monitoring includes screenshots, keyboard, and mouse movement per minute.
Come with inbuilt billing and invoicing features.
Useful time management features, including adding breaks, adding extra hours, deleting time, and so on.
Supports more than one payment gateways like PayPal, Wire Transfer, Payoneer, etc.
Reports on poor time usage along with web & app monitoring.
Also supports attendance and GPS tracking of employees.
Warning message for using non-productive apps like Facebook, VLC, YouTube, etc.
Client management and payment inbuilt in the system.
Includes many valuable integrations for many extra things.
Cons:
Scattered report section. It also lacks better presentation ways.
No inbuilt penalty system for late/absence without leave.
The UI has somewhat older looks, which can be reformed by devs easily.
Project management needs a full revamp to make it more useful compared to other equivalent products.
Needs full details in web and app usage with exact title and URL for same, else it causes confusion when a staff member is doing some relevant work on unproductive sites.
Does not take screenshots or app monitoring in mobile interface. Also, mobile interface needs much better overhauls.
No support for keyword monitoring and automatic task switching.
Complicated billing and invoicing with too many reports and data scattered across different sections.
Additional cost per user which may not be healthy for a small firm's budget in case they have frequent recruits.
Overview
For this, we are going to introduce to you a robust tool called Time Tracker Software. As hinted in the name itself, this tool is keeps track of work-shift for your team and then report it to admins, along with a bunch of other stats.
Among such tools, we have one of the top software that is booming in market, known as Time Doctor. Just like a slice and dice doctor, this app also dissects the tracked time, team performance, and billings, making life easier for the admins.
Time Doctor, formed in year 2012, designed by owners of staff.com, has reached peak heights in current software category.
In the year 2015, they claimed to have tracked over 1 million hours for 109 countries. It also has 60+ employees spread over 25+ countries.
With headquarters at LA, USA, this company has delivered a very competitive product to aid offices around the world. Along with usual time tracking, it also supports few tools to do employee monitoring and has a salary management system too.
In this review, Time Doctor is going to be evaluated completely by us, and we will later give our verdict on how amazing the tool is or is all these data merely a hoax.
Using The Tool
As we all are here to assess the features of Time Camp, we are going to check its basic functions first. The first step in proper usage of this tool, is to learn how time tracing process is done.
In general, time tracking uses a stopwatch to monitor the time in which you are doing productive work on your machine. When you take breaks or slack a bit, the timer stops and can resume again. It also notes various apps and links visited to make sure you are working as planned.
Now, in many time trackers, there is an extra feature of screenshots too. This helps admins to keep a keen eye on desktops of their team. Other than that, top time trackers like Time Doctor have can do automatic billing, invoicing, etc.
After a day, you can see the reports for total work done by your staff members in this tool. This software has given a nice two-weeks trial mode. So admins must fully explore it and then decide, if these services are worth it or not.
There are certainly lots of features to be explored here, and so we will check them one by one in section below.
Commencing to evaluate the features of this tool, we are going to check for key features that they advertise and then see other sub-features. This will give us an idea of what's in the basket and if that is worth it.
Time Tracking
The first and foremost thing or task of any time tracker tool is to store recorded work shift time and then generate reports based on it. These reports are then seen by admins for further actions. As we have said earlier, time tracking in here is done via full automated clock, and it even records the breaks and away time easily.
To see the time tracking, users can head on to the time tracker in the main dashboard. From here, head on to the timesheet report. There you can clearly see time records. After this, select the employee you want a report of, and it will display it.
In this timely report, admins can only see on-work time. It is the time noted while you were working in that project. This time does not count the away time, breaks, or unproductive time.
Unlike other apps Hubstaff, DeskTime, TimeCamp, etc., there are few details in this dashboard regarding time management. The tracked time is under several categories in the given app, which is not specified in Time Doctor.
The second tab regarding time monitoring is TimeSheets tab. In this tab, admins can see total work-time for each user, and teams can see their own work-time. This time report can be sorted based on day, month, week, etc.
The other feature for admins is Edit Time feature. As we all know, due to some discrepancies, the recorded time may not show, or you must have forgotten to turn the app ON, or maybe it crashed while you were working.
Under these situations, time trackers have a provision for adding time. Generally speaking, this time cannot be added by team members except admins. To add time into your worksheet, or edit the current one, click edit time tab on left side navigation bar.
This will open a list of all recorded time. In this list, admins need to click the time whose settings they want to change. The non-working time or breaks must not be edited. The main editable items in it are Project Name, Task Name, Start Time & End Time, Reason For Editing, And Screenshots.
Using these items, one can input time accordingly and make sure not to miss any productive time. There is one very interesting thing given by Time Doctor here. Click the timeline view at top left in this section.
Now, you can see entire timeline of your work shift for that day. It will show this on per hour gap. There is a bar graph showing time info. The UI is designed very sleek. There is a zoom tool just on the right of this timeline view.
Using this tool, one can jump to a particular time frame directly without scrolling all over. In lengthy time frames above 12 hours, it can be very difficult to scroll over all pages, so adding this zoom tool is very helpful.
In this timeline view, admins can directly hit empty timelines and then add work time to it. It is quite evident from this entire procedure that even for a novice user, the entire process can be quite laidback.
When compared to other apps like eBillity, TimeCamp, and Hubstaff, time tracking has been made very basic in Time Doctor. They have not involved time shift nomenclatures like idle time, productive time, desktop time, away time, private time, and so on.
This was all about time tracking in Time Doctor. Since they gave us a very elementary setup, it ranks a bit lower than other apps as mentioned above. They need to include many things in time monitoring dashboard. The first thing is to have a better visual representation of data.
That is, use more graphs and pie charts than mere numbers. Clicking on any section of these charts must redirect to give further details about that time. Representing breaks, idle time, unaccounted time, etc. on the same page, along with same graphs must be done.
They still have given advanced time tracking like other apps. The timer automatically detects inactivity as set by admins and displays a pop up before it starts counting it as idle time. When you take long breaks, it will ask "What were you doing," in which you can select breaks as for coffee, lunch, and so on, or can input your own.
Overall, a few more criteria like productivity time, unproductive time, idle time, and more visual data representations can make time tracking really impressive. Other than this, Time Doctor has given a remarkable performance in this section.
Employee Monitoring
Are you a company CEO or monitoring admin? If yes, this is going to be an interesting department for y'all.
Almost every time tracker comes with basic staff monitoring in form of app usage, screenshots, idle times, productive apps, unproductive apps, and so on. In case of Time Doctor, there are some basic tools to snoop on your staff members.
The first crucial feature given here is Screenshots Feature. Using this feature, Time Doctor takes screenshots of every employee's desktop at every 10-15 minutes interval. This can help admins in figuring out precisely what team members are doing currently.
Since the timing is random, it is difficult to figure out when the screenshot will happen. To see them, admins can go to screenshots tab on left-hand navigation pane. It will also show number of keystrokes and mouse clicks per minute.
Now, apart from mere screenshots and keystrokes, it is quite important to know the activities your employees were doing. Not only this, we can also find out the websites and URL visited, and time spent on them.
To check for these, admins need to go to report section and select Web & App Usage. From here, you will see a new screen which will list out all web URL and apps used.
Click the Websites tab and see the list of all sites visited. They have also listed the time spent on these sites. However, there is one small flaw here.
The thing is that they only capture main domain of websites and not the sub-URL. This can be a bit problematic in deciding if the staff member was using YouTube to learn the new coding task that you just gave or was watching How to annoy your Boss 101.
They must revamp this feature to capture exact URL, and then put time summary on it. They can later group them together as it is done in Hubstaff. Similarly, application monitoring lists out all application used by that member. This monitoring is done by the native desktop app of Time Doctor.
There is same issue as it was with the URL section. Unlike DeskTime, Hubstaff, TimeCamp, etc., they do not capture the title of application used. This again allows incomplete information to be reached to admins.
Well, you got to know exactly what that last bencher is typing. He may be using MS Word but would be typing love letters.
Other than this, there is a productivity section too. As seen in other apps, productivity is used to measure amount of time a person has used is operative or not.
In this case, a section called Poor Time Usage measures the productivity of staff members. As the name itself clues, it will show web apps like Facebook, Instagram, media players like VLC, etc., which you were using, which are usually not work-related.
However, the system does ask users first before noting these apps and websites. This is like asking thief did he steal anything. Another flaw in this system in our view.
Then what is the ideal thing to do? Well, the best way is giving keywords in project management system as given in TimeCamp. For example, say your employee need to do content writing for VPN product.
Now to learn about it and grasp more details about a product, they may use some tutorials from YouTube or other websites. Adding keywords like VPN, privacy, secure, encryption, name of product, etc. will allow the system to understand main task and report it accordingly.
Another issue that we feel must be addressed in productivity monitoring is making it fully automatic. Admins must be able to assign certain apps and URLs as productive, and anything other than that must be strictly logged with full details.
This feature is given in other apps like TimeCamp, Hubstaff, etc. Also, there must be productivity and efficiency charts in same section. At the moment, this feature needs a lot of things compared to other top products.
Regardless of this, this employee monitoring system can help to monitor your employees, not the highly sneaky ones, though. Although screenshots can give you further details, they can match the timings accordingly to switch back when screenshots are to be taken.
Concluding to this part, we would say that they have tried to implement many things in here, but unlike top products Hubstaff, TimeCamp, etc., they still need a robust and detailed execution.
Overall, this section gets a mediocre rating in our view until they come up with a better version of it and follow given advice or do something even better than that.
Final Reports
Going through all these data, it is now time to see entire report of collected data. This captured data is of no use if they do not give us a detailed shift reports, with both technical data and visual graphs. For this, go to Reports Tab, on the left side navigation bar.
In this tab, admins can see any kind of report they want to. The main items in report sections are Timesheet, Time Use, Timeline, Poor Time Usage, Web & Apps, Attendance, and GPS Tracking.
The first option Timesheet, is the one that we already have discussed before. This report will generate time usage for a day, week, or month. This reports total work time and total productive time and other times with their durations.
So much for a timesheet, isn't it? When we tried to export reports, we got only the total time. This was not good for the software. Other competition products like Hubstaff, DeskTime, and even eBillity have given a detailed timesheet report.
In this report, they should have given time stamp for each project, along with project name and usage. It must also show a preview of top 5 activities in timestamp when you hover mouse on it. Such things are implemented in most equivalent products. And so, this section is another disappointment.
The next part, Time Use gives some details into above report. It will list out time usage by all members or selected ones, with project names, and elapsed time. As you can see, this suggestion was given by us before too.
The upcoming part is TimeLine section. In this report, more details are added beyond above two reports. This report adds start time, end time, net time, task and project name, and current working status. It will also show breaks and unproductive time.
Overall, these two sections must be default part of the timesheets itself. Dividing it unnecessarily into three sections makes it too long to browse through all content together. Regardless, it still lacks a graphical approach in time representation like given by TimeCamp, DeskTime, and Hubstaff.
Poor time usage report is already discussed by us before. Same with Web & App usage report. Both need relevant improvements as we have discussed earlier. We can only hope that developer do some work on them or produce a much better tactic.
Next section to be reviewed is Attendance Report. Just like we used to do in school days, where all our leaves and holidays would be compiled together in a year-long report, Time Doctor has also implemented same in attendance records.
After you have selected this option, head on to date selection on top right, input the relevant time range for attendance report. After this, you will see a full report.
Under this report, they have used items like date, shift start time, actual time started, shift length, min hours, actually worked hours, break time, status, and reason. All this is enough to give full attendance report.
However, it would have been better if they used a visual UI representation like red for leaves, yellow for breaks, and so on. This would have made reading reports easier than scanning it all. Same execution can be done in the exported excel sheet.
Lastly, there is a section for GPS tracking in reports section. As we know it already, this feature allows staff members to track their time on mobile phones. Using it, they can also access details of online tracked time.
On the GPS page, you will see the location of logged devices. However, it did show us the exact location via GPS.
This was all about the reports section in Time Doctor. We have already pointed out the discrepancies encountered in this tool, and we believe that developers will take note of it and solve them in better ways. Other than this, the product has a mediocre report section when compared to giants like eBillity, Hubstaff, and TimeCamp.
Now, after all this tedious work, we have to make sure the staff members are rewarded accordingly and so we need to check the payment functions of this service.
Salary and Billing Calculator
As the title itself says, this section is going to echo payments options, structure, calculations, and so on. This is to make sure you do not get underpaid or overpaid.
There are several options in payments section, and so it is essential that novice users get the help of an accountant or any person with knowledge in this field. This is because even in the trial run, you are likely to screw a few things.
The first thing to do here is to set up payroll settings before we can calculate payout. For this, go to the option Current Payroll in the payments tab.
In this part, you will see total payroll or blank space if you have not allocated rates. Hit the Payroll Settings button, and then you will be directed to payroll menu.
In this menu, admins can add users, their work shifts, rates per hour, payroll period, and methods. They can add hourly limits, max payroll period, and also payment methods.
The main payment methods given by them are via manual cash or check, PayPal, Payoneer, and TransferWise. All these options are quite robust, but they could have added an option to integrate other payment gateways like Stripe, CCAvenue, PayUbiz, etc. TransferWise is limited to some countries, and so admins must check before doing the bulk transfer using this method.
Now let us move back to generate total expense report. Click Current Payroll Button again. Now that you have set a payroll option, set the date you want to see payroll for, and hit generate.
In the report generated, you can see that it is appropriately categorized. In this report, there are main items like pay method, period, hours worked, rates, adjustments, additional bonus or deductions, and final total. Now, integrate any payment method from above and pay the salary of your employees on time.
Click the Edit Absence/Late Reasons, and you will see a report of your staff members who were late. You can customize reasons and add them accordingly. However, there is no option to penalize late arrivals. Adding this feature can be helpful, and we can directly chain it in final payments.
The subsequent part is Review Manual Time. Usually, in office hours, there are times when we continue some general discussions, or the timer malfunctioned, and we are unable to record the time. In this situation, if there is no provision for adding manual time or editing the work away time, it can cause some big trouble for employees.
To help with this, Time Doctor allows to add and review manual time. In this section, you can only review manual time added, e.g. when you were away for too long, or timer didn't start automatically. Once you do that, it will send a report to the admins, and then they can approve that time.
You will see a pop-up for breaks, and it will ask you to input reasons for away time. You can select break options, or you can give a relevant reason for it. Then comes Request Payment from Clients. In this section, admins can use payments options to pay their clients or take payments from them.
As you can find in this section, there are only two payment methods from client, i.e., Payoneer and manual mode. Enter the amount and other details about recipients and then select clients form whom you want payments.
However, there is one thing lacking here. Unlike eBillity, TimeCamp, Hubstaff, etc., you cannot generate a proper quotation for your clients. This means that in invoice section, they have not added quotation function, nor it is present in this section.
Next comes the Send Payment button. As you know it yourself, this section will allow admins to send payments to their staff members. Once again, the invoicing and payment section were separated, and this can confuse many users.
Unlike Hubstaff, eBillity, TimeCamp, etc., who allow admins to generate a detailed invoice and then continue payments from that page itself, Time Doctor has made a separate part for it.
This must be avoided since it contributes to a lousy UI experience. Nevertheless, there are two more sections like this as Request Payment List & History and My Payment History.
Now that we have come this far, you can quickly grasp these two concepts too. Both will allow you to contact and find reports from your clients on payment list and history. Payment history will show you the list of payments that you have made till now.
Overall, the payment feature is enough for normal usage. However, compared to eBillity and Hubstaff, which give a more detailed approach to it, they still need to revamp this setup accordingly. One of the major things is to make sure the procedure is sequential, and users need not refresh or jump from one page to another.
There are enough payment options for any type of money transfer you do. One more thing they can add is more option in manual section like cash, check, or drafts. They must also add a feature to add IDs of these manual methods and only then, it can become a fully sophisticated payment setup.
Other Features
As far as core features are seen, we have covered them all in the above topics. It is now time to go through some sub or extra features of Time Doctor.
We will also discuss in brief various integrations and interfaces of Time Doctor and review them here. It is time to move on to section called projects and see how they have given project management there.
Project Management
This is the part where authenticity in time tracking begins, and also this is the part to be checked for if you need to see how organized tracking features are.
Like we see in a traditional project management software, things are not much detailed as it should be here. Wait, is there an issue here with this system? Probably yes. Let us see how. Go to the Projects tab from the reports section and then you will see that the entire setup is very abysmal.
The users can only add project name, task name, and subtasks into it. This made it a bit disappointing. The thing is that only adding projects and tracking time for it is not enough.
Other tools like eBillity, TimeCamp, Hubstaff, etc. have given much better features in this section. Unlike Time Doctor, they have given much detailed options. For example, TimeCamp has a feature to add task keywords into a project or subtask. It scans title window for these keywords, be it for a website or any other application.
Based on these titles, TimeCamp automatically switched tasks or project making it a sort of automation. In this case, Time Doctor even lacks basic project description along with other project related customizations.
Overall, they do have some of the most advanced project management tools as integrations, but that must not slack from providing even basic project management features in your product. We hope that Time Doctor works on this issue and comes with a better version of the same.
UI Experience
The next section that we must check on is UI experience of Time Doctor. As we have seen before, UI is one of the crucial factors in deciding if the software is going to be useful or not. Bad UI in such tools can give a bad reputation to the product.
Good UI not only allows you to monitor and track your employees faster but also helps you generate and understand reports.
As it comes to UI, Time Doctor has given its services on desktop as well as in mobile interface. On desktop over Windows or MacOS, users can download the native app, install it, and then use it.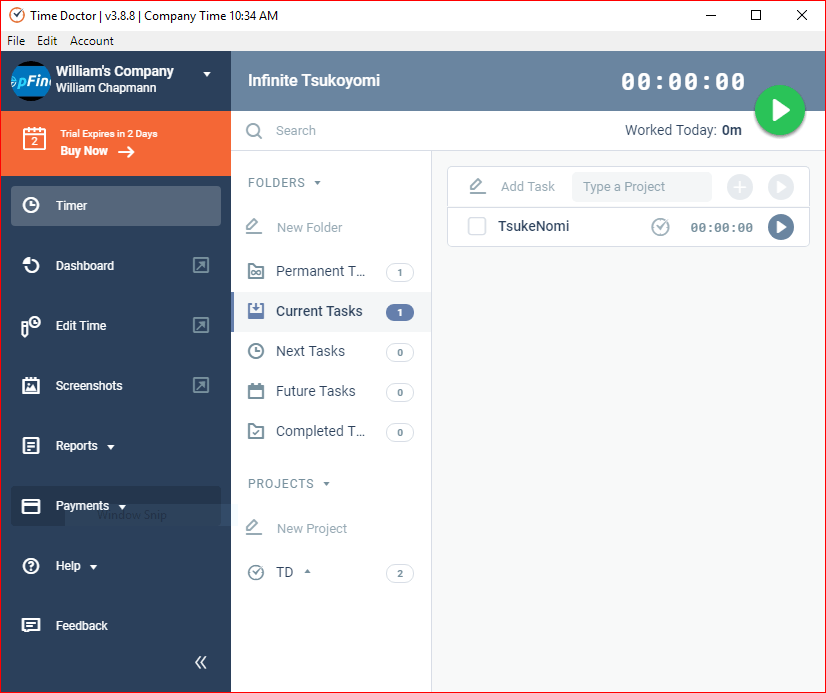 For mobile, they have given an application on both Android and iOS. Just set it up to track tasks on your phone too. However, mobile interface does not snoop like desktop stuff and so it makes some more difficult.
Also, the mobile interface has only some basic task switching. You can just switch tasks, start timers, look at the dashboards, and so on.
There is nothing too useful in it, and so we would say that it is mediocre. The thing is that other product like TimeCamp, eBillity and Hubstaff have given much better mobile interface which has better functions than this.
Regardless of it, we would say that the UI is indeed very simple. Some areas need more categories and data. Payments section needs a more unified approach to reports, invoices, and checkouts. Keeping a different section for each of them is not an innovative idea and often makes it tough for users to understand.
Integrations
Even though the time tracker has many functions, one issue you may face is having to accommodate for multiple features in a single setup. Many times, too many details into a single setup increases complexity and increase the setup prices.
To counter this, it is better to accommodate more integrations into it. For this reason, Time Doctor has given scope for having many integrations at its disposal. Let us see what these integrations are and how helpful they are.
Project Management: In this field, it became very crucial for Time Doctor to give as many integrations for project management, given that they have very mediocre inbuilt features for it.
For this, they have given top apps like Asana, Basecamp, Basecamp3, Evernote, FreshBooks, GitHub, Monday, Zapier, and so on.
Payments & Invoicing: This section is needed to verify payment structure of the staff members. The inbuilt system is quite robust to incorporate any payment and invoicing, but extra add-ons are always good.
In this part, FreshBooks, Teamwork Projects, Workflow Max are given to deal with any payment or invoicing related stuff. However, for payments, they could have added more payment gateways like Stripe, CCAvenue, PayUbiz, etc.
Helpdesk & CRM: Some may wonder how these integrations help Time Doctor, but the thing is that they take help of Time Doctor in undertaking the support work faster. After integration with them, users can do time tracking in these tools and so it will become easier to manage customer support work and report tracking.
For CRM tools, only Zoho CRM is included currently. They can also include top products like Salesforce, Agile, Net Suite, etc. in future for further support.
Communication & Team Collaboration: As we have seen earlier above, most project management have communication and collaboration tools like Asana. To give extra features to it, Time Doctor has added Podio, Slack, and Zapier too in this department.
Finally, from the above list, we can say that they had made significant efforts to incorporate any lacking features, and this makes them worthy for applause.
Concluding to features part, we would give a verdict that they indeed have used some nice features to aid admins and staffs in monitoring and time tracking. There were a few slacks in between like inbuilt project management system, reports section, and payment section as we have mentioned above.
Adding on to those suggestions or something even better than that, will really push Time Doctor on top chart in this category.
Conclusion
Did you read the detailed review above before coming to read this? If not, please take some time and read it first, especially if you are new in understanding this field.
When it comes to using Time Doctor, the entire setup is amateur friendly except the payment and invoicing part. The reports section needs only a bit of touchup. Other than this, they maintained the feature qualities till end.
Time Doctor has made some genuine efforts, and you can see them if you use the tool. Although the trial version could have been extended to 30-days for getting a complete feel of time tracking for professionals, you will nevertheless grasp the usage in 2 or 3 days.
As far as it goes for an endorsement, we are likely to suggest going for premium service once the trial offer runs out. It has got enough features and automation to manage small companies and firms. However, for bigger setups, we would suggest trying out Hubstaff.
Now, did you try it? Let us know if you were satisfied with this product or not?