RescueTime Review
By: RescueTime From USA
Detailed Reviews
Isn't it bothersome to be part of the admin department of a company, where you constantly need to spy on the employees, to make sure they are doing their jobs properly? Now, in modern offices, we use cameras and other stuff to monitor staff personals.
But the reach of such devices is limited, and for big organizations, using physical means to monitor them is not feasible. Then what is the solution? Is there any software tool that can do this for us? Searching for such answers, you came here, isn't it?
Pros:
Most simplistic time tracking with minimal setup.
Decent employee monitoring features in it.
The app and URL monitoring is quite detailed and shows exact titles and page URLs.
Comes with browser extension to view your report directly.
The productivity reports and usage report for websites and apps have lots of visual and graphical data.
Use focus time feature to avoid distractions. Has inbuilt filter to block unwanted sites.
Can create goals and alerts in it.
Offline time addition is present.
Decent amount of integrations to work with.
Cons:
Only useful for everyday app monitoring. Does not have a timeline or timesheet
No attendance reports.
No project management and client management
Does not have screenshots
No billing or payments
No team management Admins cannot view reports for individual employees.
Expensive plans given the features they lack compared to other products.
Overview
To relieve you of your stress, we say that there are indeed many software which can be used to not only monitor your employees, but also automate billings for you. Such software is called Time Tracking Tools. They don't just track time or billing for you but provide a detailed report of productivity of an individual or entire team in single dashboard.
As you may be somewhat familiar with them, they are used with many features with time tracking and app monitoring as their basic work. Among such tools, RescueTime is available in the market to fulfill your needs.
RescueTime was founded in the year 2008, in Seattle, Washington-USA. Started with elementary time tracking functions, it has evolved to become one of the top products in market.
In this review, let us explore this tool and then test out all of its features. For this, they have given a feature for two weeks of trial mode. This will need your valid card details. For our review, we are using organization version of RescueTime. In this version, you can add members in your team and then it will help you to monitor them.
For now, let us first test how this tool works, and then we will decide if given features are good enough or not.
Using The Tool
As said before, time tracking is the core feature of RescueTime. To begin with, admins need to create an account based on these requirements, i.e., either for an individual or an organization.
After choosing the trial setup, users need to setup account settings like shift timings, rates, inviting team members, and so on. After this, just download and install the setup on desktop and then you can begin the tracking process.
Go to the main dashboard of your account and there you can see all data collected by RescueTime. We will discuss the details of this data later in the review. For now, there are certainly more features in it which you need to see.
Apart from normal time tracking, you can also monitor apps and other activities done on your desktop. The entire tool is very minimal if you compare it with top products like Time Doctor, Hubstaff, etc. However, before judging it directly, we would like to gauge its features, and then we'll give our full verdict on it.
Time Tracking
RescueTime has used a very basic method to conduct time tracking. Is it a new method or what?
The native desktop app is used to do time tracking work. In time tracking, unlike other apps as Hubstaff, Time Doctor, etc., you won't be able to see details in the desktop app. For that, users need to go to main website of RescueTime and login from there.
On the main dashboard of web interfaces, admins can see time usage of various apps. In this tool, many users will feel that too many critical things are lacking. The major ones are missing in the time tracking apps. These are timesheets, attendance sheet, time logs, etc., which are not given in RescueTime.
In main panel, the top part will show logged time till now, along with usage graph, spotlights, no-log time, goals, and main highlights. This report can be sorted based on a daily, weekly, or monthly basis.
Now comparing these features with top products Hubstaff, Time Doctor, DeskTime, etc., the product seems mediocre. All the time-related calculations and results are on first page itself.
Other than things mentioned above, there is very least info on other things. This is one of the drawbacks of this tool. We can only say that they grow time monitoring components in this section. There are several detail button here to redirect you for detailed info over other pages.
Other than that, you can also add offline time from here. You may be quite familiar with concept of offline time. Offline time is simply breaks or inactivity time in your shift.
Go to the offline time menu and select the option. In this panel, you can see the color code blue for work time, grey for offline time, green for other time, and so on. These things can be customized accordingly.
As we had said before, RescueTime does not log offline time by default. This means that users need to manually turn it ON for registering activities like lunch, tea breaks, etc. Once you do that, like other tools, prolong inactivity will be seen as offline time.
Admins can set it for 5 minutes, 10 minutes, and so on. This feature is not advanced as in other tools, but it can do the trick. Concluding here, the time tracking features are minimalistic, and so we are not satisfied with given features in this section.
Employee Monitoring
For this section, there are certain number of things that need to be taken care of. One of them is to make sure the system to monitor employees is automated and has enough ways to find the productivity of employees.
As we know, the main things to be monitored in this part are apps and websites used by the staff members, their time on particular apps, along with a list of productivity apps. This section can be accessed in the main panel itself.
As you can see on this panel, they have tried to make things short and sweet. They have added a pie chart and bar graph on it. The pie chart uses percentages as per productivity apps, unproductive apps, neutral apps, and so on. If you hover across a sector, you can see the time spent on it too.
There is one big disappointment here. What is it? Well, one of the most crucial things nowadays in employee monitoring is the screenshots feature. Sadly, RescueTime does not have a screenshots feature. This is a feature even low-grade time trackers give.
To access more details on employee monitoring, you will need to go to the reports section. They have used the concept of productive and unproductive apps to do employee monitoring.
As we know, productive apps are used mostly in office work and apps like MS word, Notepad, MS Office, guides, or design apps like AutoCAD, Edraw, etc. too. The admins can categorize these apps as per their needs, and that makes it easier to personalize entire setup.
We really liked the algorithm used by them here. They have several categories here like business, communication & scheduling, design, entertainment, news & blogs, shopping, social media, utilities, and so on. There is further customization in it too.
This makes a broader database of sites and their relevant categories to be added. Owing to this, unlike other comparable products, RescueTime offers better app and site monitoring. Also, admins can manually change this categorization. Items in each category can be personalized individually too.
Apart from this, they do not offer any extraordinary perks here. This is the limit of RescueTime in staff monitoring. There are other minor features too, but they have separate use, and so we will discuss them in below section.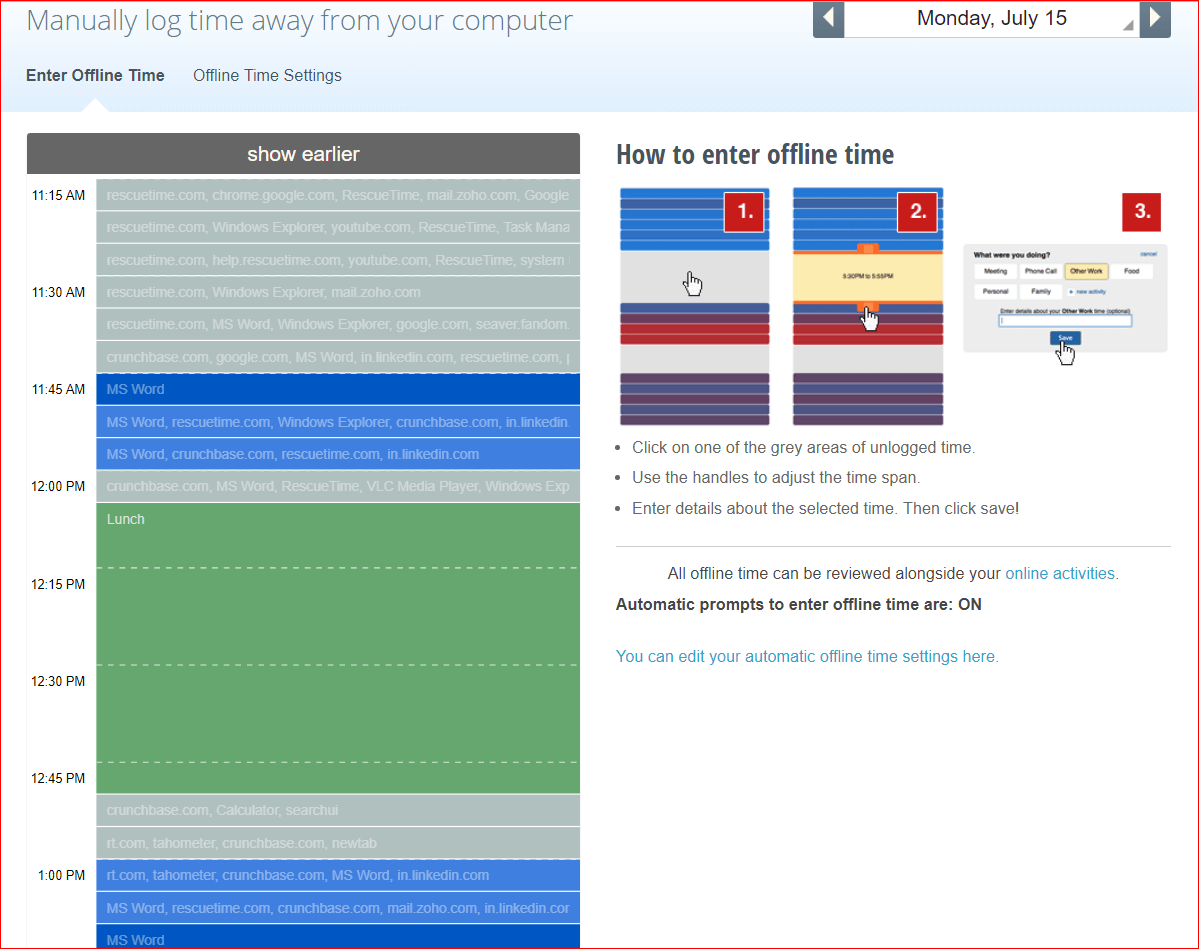 Other Features
Now, compared to top shots Hubstaff, Time Doctor, TimeCamp, etc., RescueTime has minimal features. It is missing many core features in time management and monitoring. Nevertheless, there are few of them which can turn out to be useful. We need to evaluate them and test if they work or not?
Focus Time
The first of the unique feature in RescueTime is Focus Time. What exactly is this focus time? Does it cost extra? Well, this is a unique feature given by RescueTime, and it also comes along with standard package.
As you can guess from the name itself, focus time is used to focus on a task on-hand and helps in avoiding unnecessary tasks and distractions. Each one of us have faced lots of distracting things while doing work.
Sometimes it's the tension of last 30 minutes of football match that is making it crazy for you to focus or is it the delivery of your stuff that you are eagerly tracking online! Under all such situations, it becomes very difficult to focus on work.
For that, you can utilize RescueTime's focus time function. Go to the settings icon on top right, and it will pop up few options for you. Click focus time option from there.
The central panel of focus time will list out some option for focusing like site blocking and unblocking. The best way to avoid these distractions is to block them from here.
RescueTime has given three main modes to deal with it. Normal mode, intermediate mode, and strict mode are used for blocking these apps. Normal modes restrict the "very distracting" sites, while intermediate mode blocks "very distracting and distracting" sites.
The final one, i.e., strict mode, is used to restrict any app or site not categorized as productive. They have given options to block things for the entire session or for just for a while like 15, 20, or 30 minutes and so on.
We tested out this feature, and it was working very well. Although it did not block any native apps, it did block many unproductive sites on the spot. However, it would be much more better if they implemented a pop up to block distracting apps in our system.
We were able to play solitaire on Windows 10, but it still didn't block it. This needs to be addressed by RescueTime soon. Admins can manually set app productivity level, and that will automatically configure things later on.
Alerts & Goals
Regardless of skeptics, this feature is handy and even top products like Hubstaff, Time Doctor, etc. do not have it. They have given one more feature here known as Alert & Notifications. Using this feature, users can create alerts to remind them of taking breaks, changing task, etc.
You can customize it to be displayed either via a pop-up on your screen or using email notifications. Similar to alerts, there is also a Goals setup option.
As we know, setting certain goals for a day can be easier to track self-progress in work and also gives us the incentive to utilize our time accordingly and focus on other tasks after one of the goals is completed.
To set a new goal, click the button set a goal on the right. There are loads of options to be chosen for your goals like productivity more than X hours, unproductive time less than X hours, choosing to spend time on activities like business, marketing, communication, software development, social media, etc.
The customization here is similar to one in productive apps categories. Overall, both these features are quite helpful. Compared to top products like Time Doctor, Hubstaff, TimeCamp, etc., this feature is on par with them. Even these top products do not offer such personalized settings for these features.
Advanced Filters & Keywords
Now, you may wonder what's this advanced filter thing? Advanced filters here is used to screen out certain time period that you want to be spent separately. Using it, users can opt to include the time-shifts they want to be monitored.
This section not only creates a work shift for you but also helps in settings goals and alerts accordingly. To begin with, simply put a time filter for the office-shift. Select the work days, time schedule, and save the changes.
Users can also assign a specified time window such that RescueTime will record data only in that time period. This can help in customizing various tasks in office and then monitor them accordingly.
For monitoring purposes, RescueTime has given one more feature in here. It is called Keyword Set. What is the use of a keyword tool in monitoring?
As we know, we switch tons of applications depending on our work task, and to configure it in RescueTime for every app can become a tedious task. To avoid it, we can use the keyword set tool.
In this tool, users need to add keywords that are used regularly in their line of work. Say for finance managers, adding keywords like sale, percentage, loss, revenue, term-end, QuickBooks, etc. and directly sort these words in productive zone.
They have given certain input codes to conduct activities like wildcards. In wildcards, + sign searches for both terms together, - sign for excluding items from group search, and so on. This shows how much detailed feature they have given.
This feature is not given in other products like Time Doctor, Hubstaff, DeskTime, etc. Compared to TimeCamp, which offers a similar feature, the scope of this feature is a bit limited here. In TimeCamp, they have given a provision to auto change tasks, goals, and projects based on these keywords.
Overall, both these features are handy and compete with top products. Both of them need a bit of touch up in future, and they can put the best product in this category.
Finally, we have gone through every function and conclude that RescueTime has done excellent work based on their given features. They still lack many fundamental features of time tracking and employee monitoring. We hope they add a more and more latest feature to this setup.
Final Reports
Have you learned about every feature as we said above? What to do next? How to summarize the data from time tracking and app monitoring?
Well, for that, we need to use the reports section of RescueTime. This section can be accessed from upper navigation bar. The reports section contains reports for several things like time, app usage, productivity, goals, highlights, and so on.
Apps & Websites
The first choice is apps & websites. In this panel, users can see the activity graphs. RescueTime has used same color scheme as before for visual aesthetics.
The activity graph has there sub-tabs to show data for entire shift, computers time only and for offline time. In the all-time list, you can see the blue graph for productive apps, white for neutral ones and red one for non-productive ones.
In computer time, it will show the time spent on different activities on your desktop machine. The last tab, offline time, shows the offline time like lunch breaks, coffee breaks, etc.
Just below this graph, you can see three extra options viz., day timer, export reports, and categorize activities. Below these options, there is a detailed list of activities or apps used. We thought that this list could have some better improvements.
The thing that can make it more readable, is separating the websites and apps in different columns. Other than that, if you click on any activity or URL, you can get further details like which files were opened in that app or what exact URL was open in that domain.
Every other time tracker does not give these details, and so RescueTime gets a lead here. Furthermore, users can use the search button on top to find a particular app or URL activity.
In same section, there is a second tab that will give monitored data based on hours. This seems to be represented much better in our view. They have used some fantastic methods to represent different data here.
For each activity, a color is assigned accordingly. The X-axis has an hour division based on the shift. The Y-axis has percentage time on it. Based on the amount of time used by each activity in that hour, they arrange these colors on bar graph.
Below these graphs, app-usage/hour is given in full details. The last tab in this section is trending apps. Here, most used apps are displayed on a graph. This was the total setup for reports on apps and website usage.
Categories and Productivity
As we had defined various categories for apps before, the reports section for categories displays these details. It will show the graphs based on categories that are used most like design, business, marketing, utilities, software development, etc.
Besides same section, use the subcategories to view further detailed time report on type of work in above main classes like writing, intelligence, surfing, emails, search, browsers, etc.
The hour graph and trending graph are same as we discussed earlier except that they have used category names instead of individual apps here.
Now for productivity report, they use same method. Based on productivity values assigned by us for various apps and URLs, they now show the graphs with very productive, neutral, productive, unproductive, and very unproductive bars.
They use concept of Productivity Pulse. It is nothing but simple pulse graph based on time spent on productive apps. The more you have used them, the higher this number goes. You can once again see the hour graph and trending graphs here. This has become their standard protocol for any report section.
Similarly, there are reports on goals and highlights. The goal settings will show how much target is done for current day. Also, users can add highlights for a day's work like achieved the sale target, last day of sale checkout, and so on.
Organization Report
Searching for an eclipsed moon, we finally got to see the organizational capacity of RescueTime. Go to the Your Organization from the top navigation bar.
Sadly, there is no way to view reports for each individual staff member here. The data shown here is combined. This is a big con when we compare it to other similar tools.
There is a graph generated on top based on several hours worked by members of the organization. You can also see the top categories of apps and sites here. You can also see most apps used by members in a given hour zone.
It will show the logged hours for each activity type. The combined report seemed underwhelming to us. Same data could have been visible for each employee's dashboard. Many details were missing like average work hours, average time per app activity, most productive staffs, most slacking staffs, etc.
Compared to combined reports given in Hubstaff, Time Doctor, etc., they need to add more information to it. Currently, it is tough to decipher a conclusion from it. So, this section is average and needs better developments and most importantly, individual staff member's reports.
Conclusion
Coming to the last part of our review, we would say that RescueTime falls into mere productivity monitoring zone than strict time tracking and employee monitoring.
Many essential features are missing from it like timeline, timesheets, screenshots, individual staff member report, comprehensive organization report, etc. Due to this, RescueTime cannot be put into the category of time tracking or staff monitoring.
They also have no provisions for billings, automated payments, or related items. They have given only handful of integrations like Slack, Google Calendar, Zapier, IFTT, Gyroscope, Beeminder, Git, GitHub, Automatic, Exist.io, and Zenobase.
All these are very basic integrations, and so they have nothing new to offer here too. The UI of the tool did not offer any trouble in use. There were some features stacked here and there, but lack of core features is holding its true potential.
The pricing seemed too much for what they are giving. Even a couple of unique features do not justify the limited core functionalities. We can only hope that RescueTime focuses more on time-tracking and staff-monitoring and adds core features and reports to it. For now, we would recommend using products like Hubstaff, Time Doctor, etc., which not only offer better services, but have more value in the same price range.